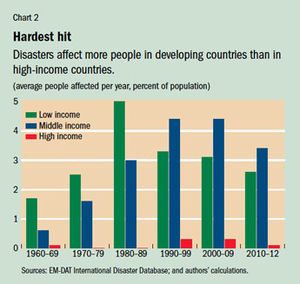 Deaths, economic losses and other negative impacts from disasters have caused losses equivalent to 42 million years annually since 1980, a measure that is comparable to the burden of tuberculosis worldwide, the United Nations said.
More than 90 percent of the total "years" lost in disasters between 1980 and 2012 were in low and middle-income countries,
representing a serious setback to their development, the U.N. Office for Disaster Risk Reduction (UNISDR) said.
"If these figures show that disaster loss is as much a critical global challenge to economic development and social progress as is disease, they also show that
it is a challenge unequally shared,
" the UNISDR said in a report on Wednesday.