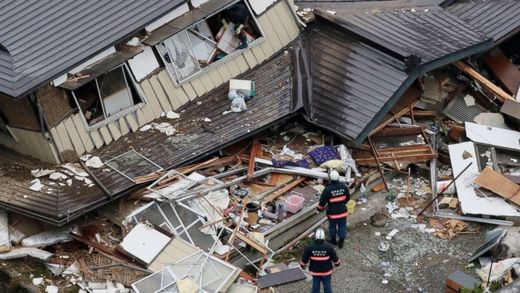 The damage from an overnight earthquake in a mountainous area of central Japan that hosted the 1998 winter Olympics proved more extensive than initially thought.
A daylight assessment Sunday found at least 50 homes destroyed in two villages, and 41 people injured across the region, including seven seriously, mostly with broken bones, officials said.
The magnitude-6.7 earthquake struck shortly after 10 p.m. Saturday west of Nagano city at a depth of 5 kilometers (3 miles), the Japan Meteorological Agency said. The agency revised the magnitude and depth from initial estimates. The U.S. Geological Survey recorded a magnitude of 6.2. Since the quake occurred inland, there was no possibility of a tsunami.
Ryo Nishino, a restaurant owner in Hakuba, a ski resort village west of Nagano, told Japanese broadcaster NHK that he had "never experienced a quake that shook so hard. The sideways shaking was enormous." He said he was in the restaurant's wine cellar when the quake struck, and that nothing broke there.