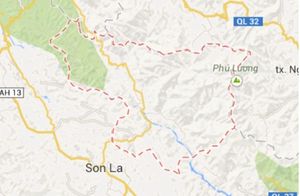 The northern Vietnamese province of Son La experienced three earthquakes in a row on Saturday night, one of which reached a magnitude of 4.3 on the Richter scale, the Earthquake Information and Tsunami Warning Center said.
The three quakes struck Muong La District and their aftershocks were felt in Hanoi, 278 km away from Son La, according to the center under the Institute of Global Physics.
The first quake measuring magnitude 4.3 rocked the district at 7:14 pm, with its epicenter around eight kilometers underground.
The tremor lasted for about 30 seconds, shaking or throwing household furniture and tools to the ground, local residents said.
Many people rushed out of their houses during the earthquake, locals said.
Another quake happened in the same district at 8:20 pm, with a lower strength of magnitude 3.2. Its epicenter was the same as that of the previous one.
More than an hour later, the third earthquake, measuring magnitude 3.5, hit the locality at 9:42 pm, with its epicenter about seven kilometers underground.