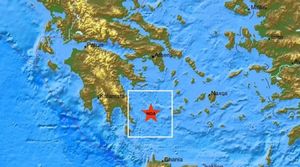 An earthquake with magnitude 5.6 occurred between the Peloponesse and the Cyclades in Greece at 6:44 am on Aug 28, 2014.
The epicenter was located beneath the seabed about 140 kilometers (86 miles) south of Athens and near the island of Milos.
There have been no reports of injuries or damages, however, the shock was widely felt in Athens and Crete.
The U.S. Geological Survey gave a preliminary magnitude of 5.6, while the Greek Institute of Geodynamicsr gave it as 5.7.