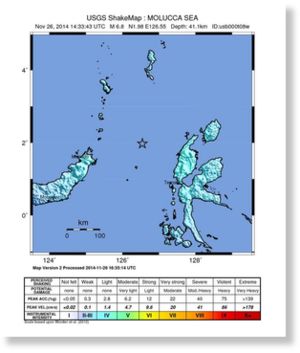 A powerful earthquake struck off the coast of eastern Indonesia late Wednesday, prompting villagers to flee to higher ground, but officials said a tsunami was unlikely.There were no immediate reports of injuries or serious damage.
The U.S. Geological Survey said the magnitude-6.8 quake hit about 161 kilometers (100 miles) northwest of Ternate, the provincial capital of North Maluku, and was centered 41 kilometers (25 miles) below the seabed. The U.S. National Tsunami Warning Center said based on historical records the quake was not sufficient to trigger a tsunami.
George Rajaloa, a resident of Ternate, said by telephone that many people ran out of their homes and away from coastal areas out of fear that there would be a tsunami.
USGS data