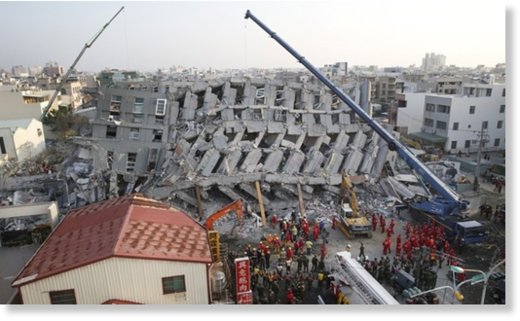 At least 23 have died in the quake in Tainan as the city's mayor admitted it would be 'very difficult' to reach 100 still trapped deep under a collapsed building
Rescuers in the southern Taiwanese city of Tainan were fighting against the clock on Sunday to save more than 100 people still trapped beneath rubble of an apartment block 24 hours after a strong earthquake shook the island.
A 20-year-old man was pulled alive from of the wreckage on Sunday but the city's mayor admitted that emergency teams face a "very difficult" challenge to rescue dozens of other people who remain trapped.
At least 23 people were killed when the 6.4-magnitude quake struck early on Saturday morning, many of them in a collapsed 16-storey apartment complex which contained almost 100 homes packed with families gathering for the Chinese new year.
"Of the 132 people desperately waiting for rescue, 103 people are buried very deep, there's no way to get to them direct, it's very difficult," said Tainan mayor William Lai on Sunday.