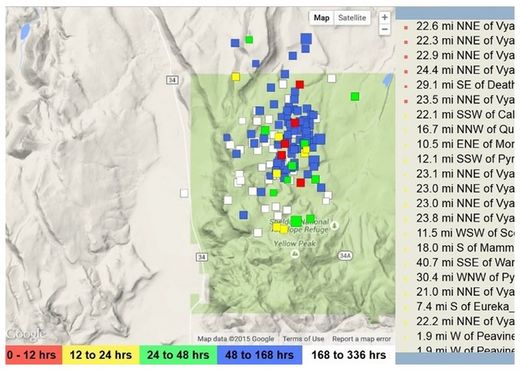 Scientists at the Nevada Seismological Laboratory say there has been a "swarm" of more than 5700 earthquakes in northwestern Nevada since last July. They include 21 4.0 temblors.
In 2008, the community of Mogul, west of Reno, also experienced an earthquake swarm.
Graham Kent is Director of the lab on the University of Nevada-Reno campus. He says the number of tremors in that swarm pales in comparison to this one.
"A magnitude 5.0 was the largest and a couple fours's and a bunch of three's and you look back at it and go 'wow!' that was hardly anything."
Kent said this kind of seismic activity is rare anywhere. He says the location of the swarm, which is below an antelope preserve, makes it a perfect place to study earthquake behavior.
"This is a great petri dish. So, now we have this kind of gold-medal swarm going and it doesn't affect a lot of people. So, what we can learn from this, hopefully we can apply the next time there's a swarm underneath a community."
More than 200 quakes 3.0 and stronger have been measured in the Sheldon National Wildlife Refuge since last July.
Seven of them were 4.5 or stronger.