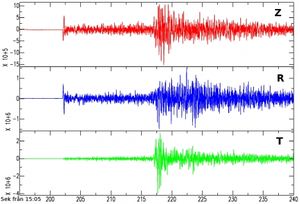 An earthquake measuring 4.1 on the Richter scale shook parts of central Sweden on Monday and experts have revealed it was the strongest in a century.
The quake hit in the afternoon between the towns of Mora and Sveg.
"There was a bloody great bang, it was like a bomb," Åke Hedman near Ljusdal told the
Aftonbladet
newspaper. "It was as if there was a lightning bolt directly above me - only ten times worse," the 57-year-old added.
Björn Lund, a seismologist at Uppsala University, said the earthquake is
the strongest Sweden has seen since 1904
when an area by the Koster islands was hit by an earthquake measuring 5.5 on the scale.