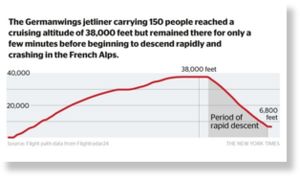 When I heard about the crash of Germanwings Flight GWI9525 in the French Alps on the morning of March 24th, I was shocked, but to be honest, not that shocked. It's not that I expected it to happen, but this was the fifth such incident in the last year. If that frequency is maintained, the statistically-very-low chances of meeting an untimely end on a commercial flight will have to be recalculated.
In the immediate aftermath of the crash I, like many others around the world, waited patiently for the details. What could possibly cause a modern, albeit a little aged, first-generation Airbus A320 to suddenly drop out of the sky and slam into a mountain side? I had a few theories, among them the incapacitating effects of an 'EMP' from an exploding overhead space rock. The
shocking rise in fireball/meteorite sightings over the past 10 years
makes this plausible, and might well have been the
cause of the crash of AF447
into the South Atlantic ocean in 2009. But I waited, and I expected to wait because investigations of this sort can, and should, take quite a while to complete.
When dealing with airplane crashes, the most important information, even more important than the cockpit voice recordings, is the Flight Data Recorder (FDR) or ADR (Accident Data Recorder). The FDR records instructions sent to all electronic systems on an aircraft, including the auto-pilot and the security system for the entry to the cockpit.