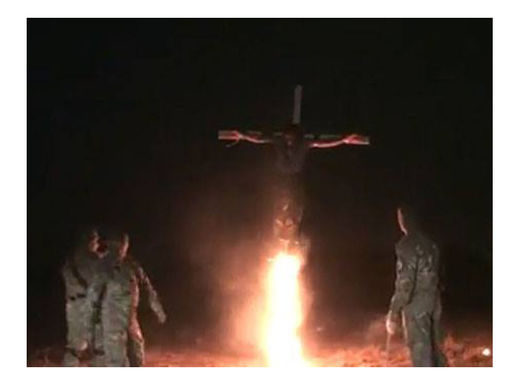 The pro-Kiev, ultra-Nazi Azov battalion in Ukraine has allegedly sent a
snuff film
depicting the brutal execution of a Ukrainian 'separatist' to militia fighters and hackers from the hacktivist collective known as Cyber Berkut. The video, shown below, is graphic, so be warned. It shows a group of armed men holding down a gagged man on a cross, tying him to it with duct tape. Nails are then hammered through the palms of his hands, the man's screams audible through the gag. While the actual nailing is not shown, the camera then moves in to show the nails in his hands. Then the cross is lifted, set in the ground, and the base is lit. The video cuts out as the fast-rising flames meet the crucified man's feet.
According to Cyber Berkut, the video had an accompanying message, stating the the footage was filmed near the village of Shirokino and warning that all separatists - 'traitors' to Ukraine - would face the same fate.
Cyber Berkut has been releasing leaked documents, audio, and video for the past year or so. They're the ones who released the phone call between EU High Representative for Foreign Affairs Catherine Ashton and Foreign Minister of Estonia Urmas Paet, in which they discuss the Maidan snipers. (You can see a list of some of their leaks on
Wikipedia
.) The video was then publicized by LifeNews in Russia, who confirmed its authenticity. LifeNews tends to be rather sensationalistic, but that does not necessarily imply the video is a fake.