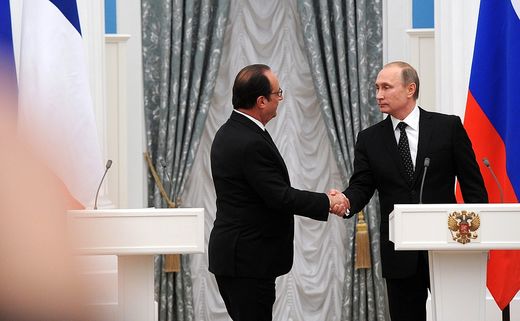 France and Russia have agreed to cooperate in the fight against the Daeshbags. The news comes after Hollande and Putin met in Moscow yesterday, where they agreed to share intelligence, intensify and coordinate airstrikes together, and jointly make sure their airstrikes concentrate on "terrorist" groups, including Daesh. Putin clarified:
... we will exchange information with France about the areas that are being held by healthy opposition, not terrorists, and will refrain from delivering air strikes at them. We will also exchange information, when we - France and Russia - know for sure that certain areas are captured by terrorist organisations, and we will coordinate our efforts with regard to those areas.
It looks like France really is allying with Russia, to the extent it is able -- something the U.S. has refused to do. Putin said he and Hollande "are looking at this kind of cooperation as concrete and practical input towards forming a broad anti-terrorist coalition,
a broad anti-terrorist front under the auspices of the United Nations
. I will note that the number of nations sharing this initiative is growing." He also said that both parties "agreed to continue working together very actively within the framework of the International Syria Support Group and
promote the fulfilment of all agreements reached within this group
, first and foremost with regard to the deadlines and parameters for holding intra-Syrian talks."