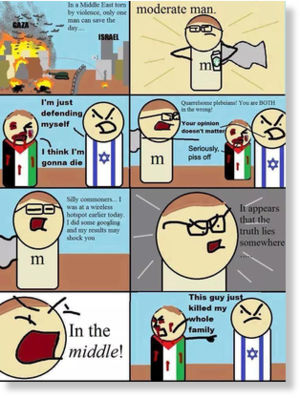 I had a discussion on Facebook recently over the Gaza conflict. I was posting about the horrific abuses of Israel, he was countering with the supposed equal abuses of Hamas. After we traded points a few times I came to see where our difference of opinion actually lay. You see, fundamentally we both see things from the same side - war is ridiculous and the atrocities of this conflict are completely inexcusable. Killing children or civilians is completely psychopathic. We both want an end to this conflict. And yet we were arguing.
Where my friend was hung up was that the article I had posted wasn't "balanced". It was calling out Israel on war crimes, human rights violations and the like, but it wasn't citing any of the equally horrific things that Hamas has done. The familiar "human shield" argument was trotted out, as could be expected.
On the one hand, this position is really indicative of someone who is not properly informed and relies on liberal media for information. In other words, it's the Zionist position, that both sides are equally at fault and that the situation is "complicated", and that Israel has a right to defend itself (against its prisoners, apparently).