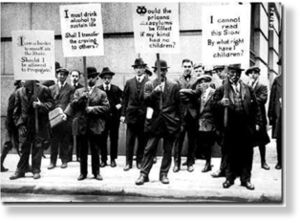 If seen as a science of heredity, eugenics was nothing new. Humans had been practicing breeding methods for millenia, in the interests of getting the best out of their crops and cattle. But, when applied to human beings as the ultimate solution for social problems, eugenics became the means through which a new, psychopathic, and technocratic regime would materialize.
Though repugnant to many today, eugenics did not exist in a vacuum. The social problems caused by civil and world wars, mass industrialization, the loss of an agrarian way of life, and the proliferation of disease and drug addiction in urban areas, called for solutions. But, like a computer virus, there was a more insidious idea within eugenics that amounted to
equating most of society with cattle - expendable units and worthless eaters
. Instead of leading to salvation, eugenics would end up bringing concentration camps from the colonies back home to local neighborhoods to deal with this human junk.
Today we do not have eugenics. We have the War on Terror. Both have institutionalized terror and Big Lies, and have served as the carrier of the insidious virus of racial hygiene, however well disguised.