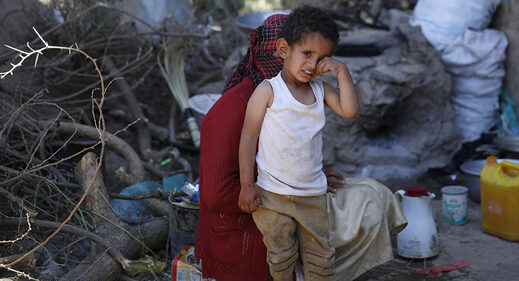 Saudi Arabia's unilateral blockade of Yemen since late March 2015 has caused a humanitarian crisis of epic proportions in the Arabian peninsula. It is extremely difficult for journalists, aid workers and diplomats to access the country, but from the little information that does leak out, it is clear the situation there is dire. From a population of 25 million - about the same as Syria's pre-2011 - at least
16 million Yemenis are
without clean water
, there is a critical shortage of medicine, and
6.5 million civilians are at risk of starvation
, including
1.7 million children presently at risk of malnutrition
. Peter Maurer, head of the International Committee of the Red Cross (ICRC), said after visiting the country
last August
: "
Yemen after five months looks like Syria after five years
."
Widespread aerial bombardment by air forces of the Saudi and Gulf states - with significant direct and indirect military assistance from the US and UK - has killed thousands of Yemeni civilians. During a press briefing early this year, the UN High Commissioner for Human Rights
reported
that "
the number of civilian casualties recorded between 26 March and 31 December, 2015 [is] 8,119 people, including 2,795 killed and 5,324 wounded.
" However, Dr. Judith Brown, who worked in Yemen for the UN High Commissioner for Refugees,
points out that
the death toll resulting from this military intervention is probably much higher than reported
.