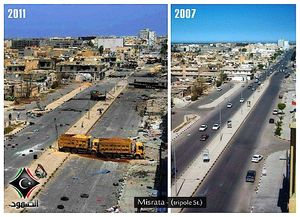 If you have yet to listen to last Sunday's
Behind the Headlines interview with James and JoAnne Moriarty
on Libya, I urge you to do so. While Sott.net carried numerous reports on the U.S.-sponsored destruction of Libya, the Moriartys' first-hand account not only reveals new details you've probably not heard anywhere else; it paints a picture that brings the stark reality home in a way that just reading reports and analyses cannot. The reality of what happened (and is still happening) in Libya is worse than we can possibly imagine.
The Moriartys were in Libya at the time of the 'uprising' and 'revolt', and the Western coalition's 'subsequent' invasion (the two were really the same thing). They saw it all first-hand. They engaged in a fact-finding mission, documenting atrocities. They were captured by Al Qaeda (i.e. the U.S.'s 'rebel allies'), interrogated and threatened with being chopped up and burned. But they managed to get out of the country with their lives and tell the story of what they saw.
It is nothing like we have heard from the mainstream media.
The so-called uprising was
not
spontaneous.
It was planned in advance.
The 'rebels' were nothing of the sort. They were Western-trained, Western-financed, and Western-supported terrorists: Muslim Brotherhood, Al Qaeda, Ansar al-Sharia, the same people that would soon move over to Syria and Mali, and later become 'ISIS'. Within days, these mercenaries had already created a Bank of International Settlements-approved private Central Bank and Libya's substantial wealth (the country was debt-free), in the form of cash deposits and precious metals, was looted.
Thousands died in the first days of the indiscriminate slaughter carried out by coalition forces under the ruse of establishing a "no fly zone". The media's job was to blame atrocities on Gaddafi. In fact, the atrocities were committed by 'our guys': rape, torture, murder, decapitation, burning alive, skinning flesh, cannibalism - if you've heard about it in horror movies, it happened in Libya in the name of Western freedom and democracy.
All the hallmarks of ISIS that so terrify the world today were endorsed and supported by our own governments in order to destroy Libya and prevent it from becoming a viable African alternative to Western death culture
. American 'democracy' in action.