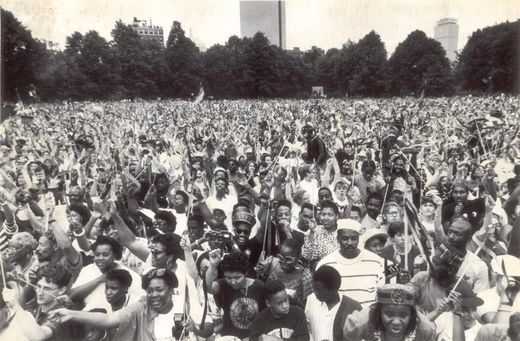 In the summer of 1990, four months after being released from prison, Nelson Mandela went on a triumphant tour of the United States. I remember his visit to Boston where he spoke before a crowd of 250,000 gathered on the Esplanade. It was a festive atmosphere with lots of bands playing music from different parts of the world, families with children, ordinary people, and activists, young and old. The sense of hope was palpable. In South Africa, the people had won! There was even hope that Boston's troubled racial history of the 1970s and 1980s could be overcome. The mayor at the time, Ray Flynn, recalled the event:
"It was the first time that I recall standing and looking out at a massive audience and seeing white and black, young and old, people from the neighborhoods, people from the suburbs," Flynn said. "It was almost like a Celtics celebration, only this had a greater significance than even that."
Just a few months earlier, the Berlin Wall had fallen in November 1989. People were crossing boundaries and breaking bonds that had held them back. Not all the uprisings were successful, the Tiananmen Square uprising in China in June 1989 was brutally suppressed, but overall you could feel the sense of hope for a better world.
There was only one problem. In the United States, the Bush family was in power. If there was one thing the Bushes could not abide, it is ordinary people rising up against their oppressors. That sort of thing goes against their whole business model. So the sense of hope had to be crushed, and sure enough, just several weeks after Mandela's tour, the world was plunged into what felt like something from the 1930s when Iraq invaded Kuwait. There were news reports of forces massing on the border with Saudi Arabia. An old-style war between invading nation states? Could this really be happening?