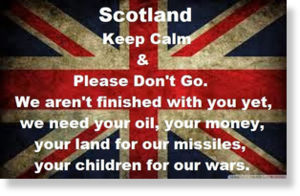 The
change.org petition demanding a re-run of the Scottish referendum
, "counted by impartial international parties", has now reached
93,000 signatures
as incredulous reaction mounts to the highly dubious referendum vote. Even Ron Paul
expressed extreme scepticism
about the result. The British media, meanwhile, is having a field day mocking the viral video footage of suspect activity at counting venues across Scotland, laughing off the fact that the only international observers to report anything about how the referendum was conducted were
Russian
observers, and dismissing Scots' calls for recounts and fresh referenda as being "sour grapes" based on "conspiracy theories".
But
are
these 93,000 (mostly) Scottish citizens, and the thousands of Facebook users demanding an investigation, just deluded sore losers?
If we look at the British voting system in general, we find a somewhat less than glowing 2008
report from the Council of Europe's human rights watchdog
stating that
reforms to the postal voting rules introduced by Labour made electoral fraud in Britain "childishly simple". The British voting system was now open to fraud and the system "makes it extremely easy to add bogus characters to the voters' lists", the report stated.
But to conclude that the Scottish referendum specifically was likely rigged for a 'No' vote by 'British' intelligence, we need to provide reasonable evidence that the British elite have the necessary character 'qualities', motive and operational history to engage in such a serious crime. We must also provide reasonable cause to believe that the British government and media opinion polls, that generally predicted a majority 'No' vote in the run-up to the referendum, were false, that the majority of Scots intended to vote yes, and that rigging of the vote was therefore necessary. Most importantly, we must present a plausible scenario, backed up by evidence, that British agents had the opportunity to commit this most undemocratic of crimes.