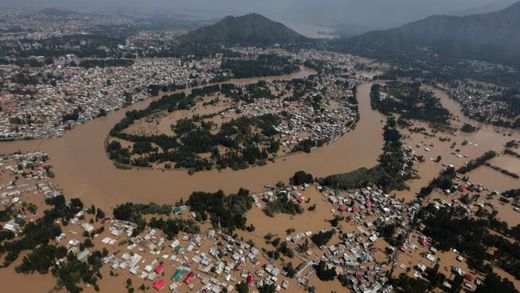 An epidemic threat is looming large over flood hit Srinagar with thousands of carcasses of livestock lying dead in the streets of the summer capital.
In Army's largest dairy farm at Bemina on the Srinagar-Baramulla highway, bodies of hundreds of Jersey cows and buffaloes are lying unattended for the past eight days after the flood hit the city. The farm opposite to the Army's cantonment, Toto Ground, is spread over hundreds of canals of land in the middle of residential area.
Doctors termed the situation as "very threatening" saying if the dead animals were not removed and buried along with decomposing agents, the situation could lead to an epidemic outbreak. "
This situation is a breeding ground for deadly diseases like cholera, hepatitis and typhoid
," said a known doctor at SMHS hospital.
A young boy who identified himself as Saifullah Gulzar of Al-Shakir colony, Bemina said there were 370 cows and buffaloes in the Army run farm. He said the farm got submerged on Sunday,
September 7. "The main gate of the farm was closed which led to the death of the animals. Only seven cows could be saved while they were being washed away by floods," said Gulzar. While most of the carcasses have got stuck in the mud and flood water in the farm, many of them which were washed away by the flood were lying on the roadside, on the Srinagar-Baramulla highway.