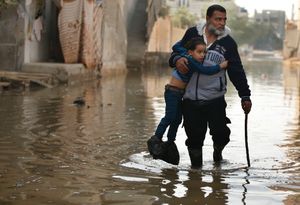 Israeli occupation authorities opened up dams to the east of Gaza city on late Friday.
Eyewitnesses said many residential areas and farming land east of Gaza city were flooded when the Israeli authorities opened up the dams.
The residents of the area appealed to the concerned authorities to intervene before sewage water completely submerge their properties.
Earlier on Friday, Chairman of Government's Disaster Response Committee Yasser Shanti said the Israeli authorities opened up dams just to the east of the border with the Gaza Strip earlier in the day.