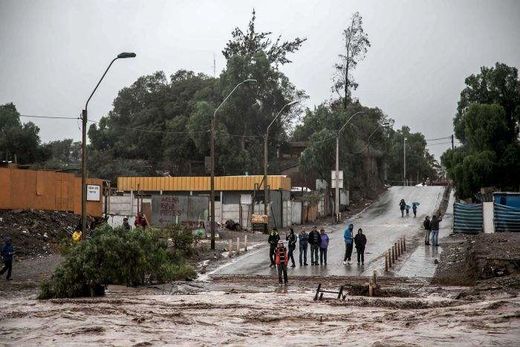 Flooding caused by the heaviest rains to hit northern Chile in decades
has left at least
three people dead and 22 missing
, officials say.
The torrential storms, which began late on Tuesday, also caused mudslides and rivers to breach their banks, stranding thousands of residents.
Chile's national emergency office (ONEMI) said nearly 61,000 people were without power and almost 50,000 lacked drinking water in the usually arid regions of Coquimbo, Atacama and Antofagasta.
Two of the fatalities were in the Atacama region while the third was in the neighbouring city of Antofagasta, the deputy interior minister said.
Twenty-two people were reported missing.
President Michelle Bachelet travelled to the affected areas to assess damage and help lead rescue efforts.
"We're doing everything humanly possible to get to where [those affected by the catastrophe] are as quickly as possible," Ms Bachelet said.
The government declared a state of emergency, ordering the military to coordinate support operations and take control of public order in the Atacama area.