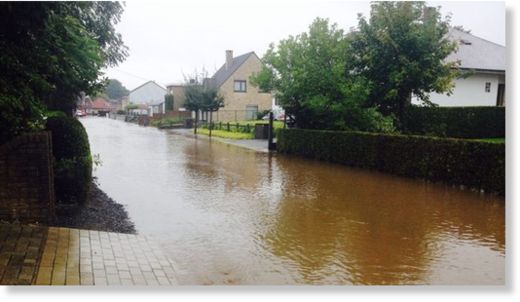 Around 36 hours of constant rainfall that began Tuesday 26 August 2014 caused flash flooding across Belgium including the provinces of Hainaut, Liege, Walloon Brabant and around the city of Brussels.
Hundreds of calls were made to local emergency services after homes and streets were flooded. The flooding caused chaos for motorists and at one point several motorways were also flooded, including the A8 and A12. In Brussels the tunnel road network was badly affected. The NATO, Montgomery and Arts-Loi tunnels were all flooded and closed to traffic at some point.
A family had to be evacuated from their flooded home in the Ath municipality in the province of Hainaut. No injuries were reported.
Rainfall Levels
Figures from WMO for a 24 hour period between 26 and 27 August 2014:
* Chievres - 53 mm
* Semmerzake - 56 mm
* Koksijde - 59 mm
Belgium saw some severe
flooding in late July when heavy rain inundated wide areas of northern Europe
. Two people died in the floods in Germany.