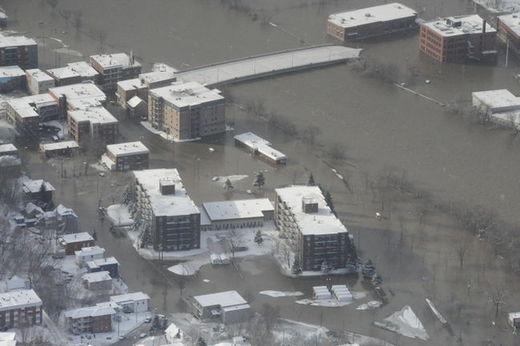 The spring thaw and steady rain triggered floods that inundated Quebec towns, washing away homes, forcing evacuations and causing a landslide.
In Sherbrooke, Que., in the Eastern Townships, the Saint-Francois river reached a record 25 feet Wednesday and floodwaters cut the city in two.
Firefighters rang doorbells just after midnight on Wednesday and asked 480 people to leave their homes, bringing the total number of displaced people to 632.
Downtown streets flooded and quickly froze in Sherbrooke as morning temperatures neared -10 C.
The situation was also precarious in Saint-Raymond, Que., east of Quebec City. Torrential rains caused the Saint-Anne River to rise at breakneck speed on Tuesday evening, flooding the downtown core. Mayor Daniel Dion told QMI Agency that 300 people were told to leave their homes.