Steve Goddard tips me to this article in the
Canberra Times
on May 16th, 1974:
Support for a theory of a cooling world
It has some interesting claims in it that sound much like climate change claims made today. Apparently they detected large albedo changes via satellite, with a 12% increase in snow and ice in the Northern Hemisphere that started in 1971, and continued through 1974 when this article was published: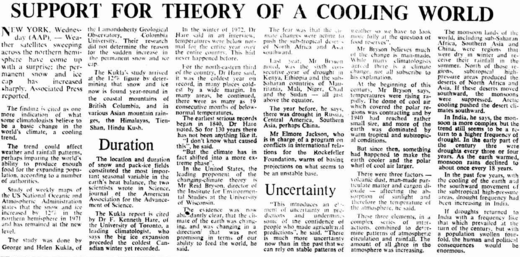 Interactive image
here
.
They claim that due to albedo changes which help induce cooling, wind, drought, and rainfall patterns will become worse, much like identical claims made today about the effects of warming.
The article also claims, quoting Dr. Reid Bryson, there would be increased uncertainty about "stable patterns of weather" that may affect "food reserves", and he also claimed "much of that change was man-made". Sound familiar?