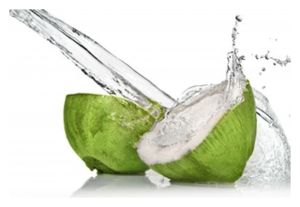 When I first started getting into the world of organic "superfoods," I was a broke 23-year-old kid fresh out of college who had no idea where to start.
It all began after reading the classic book
The Hundred Year Lie
about chemicals in our food supply and continued when I tasted organic carrots for the first time. That's when I knew I had been missing out (they actually tasted like carrots are supposed to taste).
Eventually I made eating healthy and organic as the foundation of my new lifestyle. I started slow, adopting a budget of about
$20 every 10 days
that I would use only on organic food.
I started with the essentials: organic mixed greens, spinach, carrots, kale and other produce, and resolved to eat all of these foods even if it was straight out of the box or bag (I had no cooking skills at the time).
Small changes like these made a huge difference, and I started getting curious about all the new "superfoods" being talked up on natural health websites, like coconut water.
The health food store became my favorite new destination, and the large paper boxes of coconut water caught my eye almost immediately. But just as soon as I began to notice them, they were gone, and the manager told me more times than I could count times that she didn't know when they would be in stock again.
Coconut Water Mania had officially begun.