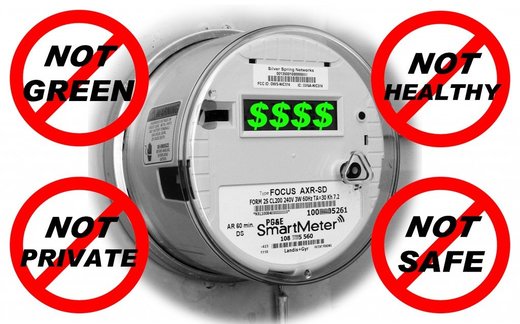 All around the USA, Canada, the EU and other countries, utility companies are employing "no-option enforcements," along with threats of disconnecting and interruption of utility services, for refusing retrofitting safe analog meters for electric, natural gas and water utilities with EMF-RF-microwave-emitting, health-damaging (Non-thermal adverse health effects) AMI Smart Meters. [1]
Utility companies' lobbyists and public relations campaigns regarding AMI Smart Meters apparently cite safety statistics and information that say,
"cell phones are astronomically bad and Smart Meters are next to nothing,"
as found in the PSO of Oklahoma trifold brochure explaining Smart Meters.
One determined Owasso, Oklahoma, resident, Mr. Joe Esposito, took it upon himself to perform a test to challenge PSO's trifold brochure statistics regarding AMI Smart Meter safety, after listening to Dr. Dietrick Klinghardt, MD, [2] discussing health concerns from Smart Meter EMF-RF exposure.