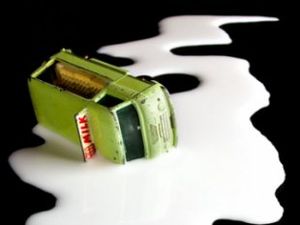 Despite 20 years of "Got Milk?" mustache ads, milk consumption in the US falls more every year.
The National Dairy Promotion and Research Program and the National Fluid Milk Processor Promotion Program cite competition from calcium-fortified and vitamin-enhanced beverages, milk's lack of availability "in many eating establishments" (You can't find milk anywhere!) and a growing percentage of African Americans and Latinos in the US population who are not traditionally big milk consumers.
Many other groups also shun milk, from teenagers and young adults to dieters, athletes and health-food eaters who reject the cholesterol, fat, calories and allergens. Several Asian ethnic groups also avoid milk, as do the lactose intolerant, the allergic, people who drink or smoke (the tastes don't mix) and animal and environmental activists. In fact, Dr. Benjamin Spock, whose pediatric advice shaped the entire Baby Boom generation, recommended no milk for children after age two, in his later years, to reduce their risks of heart disease, obesity, high blood pressure, diabetes and diet-related cancers.