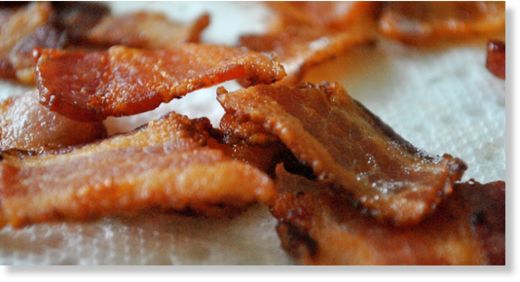 There is a saying, that everything new is long forgotten old. But what if it wasn't forgotten, but twisted and purposefully concealed under a pile of lies, personal interests and greed? For over 50 years we've been hammered with lies about saturated fats being bad for us, but now, after countless cases of seemingly healthy and young people dropping like flies due to heart attacks, the tide is slowly changing toward old-time wisdom that there is no better remedy for the body and soul than bacon, fatty broth and home made butter. And scientific research can back it up.
For example, take a look at the recent research done by
The Ohio State University
:
Doubling or even nearly tripling saturated fat in the diet does not drive up total levels of saturated fat in the blood, according to a controlled diet study.

However, increasing levels of carbohydrates in the diet during the study promoted a steady increase in the blood of a fatty acid linked to an elevated risk for diabetes and heart disease.

The finding "challenges the conventional wisdom that has demonized saturated fat and extends our knowledge of why dietary saturated fat doesn't correlate with disease," said senior author Jeff Volek, a professor of human sciences at The Ohio State University.[...]

When that marker increases, he said, it is a signal that an increasing proportion of carbs are being converted to fat instead of being burned as fuel. Reducing carbs and adding fat to the diet in a well-formulated way, on the other hand, ensures the body will promptly burn the saturated fat as fuel - so it won't be stored.

"When you consume a very low-carb diet your body preferentially burns saturated fat," Volek said. "We had people eat 2 times more saturated fat than they had been eating before entering the study, yet when we measured saturated fat in their blood, it went down in the majority of people. Other traditional risk markers improved, as well."[...]

When looking at palmitoleic acid, however, the scientists found that it consistently decreased on the high-fat/low-carb diet in all participants. The fatty acid then showed a step-wise increase in concentration in the blood as carbs were progressively added to the diet. Elevated levels of palmitoleic acid in the blood have been linked to obesity and higher risk for inflammation, insulin resistance, impaired glucose tolerance, metabolic syndrome, type-2 diabetes, heart disease and prostate cancer.[...]

"There is widespread misunderstanding about saturated fat. In population studies, there's clearly no association of dietary saturated fat and heart disease, yet dietary guidelines continue to advocate restriction of saturated fat.

That's not scientific and not smart,"

Volek said. "But studies measuring saturated fat in the blood and risk for heart disease show there is an association. Having a lot of saturated fat in your body is not a good thing. The question is, what causes people to store more saturated fat in their blood, or membranes, or tissues?

"People believe 'you are what you eat,' but in reality, you are what you save from what you eat," he said. "The point is you don't necessarily save the saturated fat that you eat. And the primary regulator of what you save in terms of fat is the carbohydrate in your diet. Since more than half of Americans show some signs of carb intolerance, it makes more sense to focus on carb restriction than fat restriction."
But what better way to test a theory if not on those who are constantly in the spotlight? As it turns out, a famous actress Anne Hathaway decided to give herself a present on her 32 birthday and start following low-carb and high fat diet.