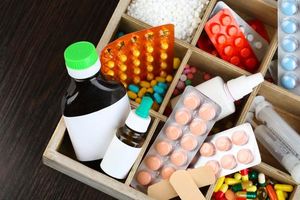 Prescription painkiller and heroin addiction has laced its way through America, and effective anti-addiction treatments line the medicine cabinets of thousands of homes. Government researchers have discovered though drug treatment is effective in assisting addicts with their deadly dependence, in the hands of a child, it becomes lethal. They published their
findings
in the journal
Pediatrics
.
"Our hope is that we see a decline," the study's lead author Dr. Daniel Budnitz, the director of medication safety at the federal Centers for Disease Control and Prevention, told
The Associated Press
. Budnitz added that there have been changes in the drug's packaging since the study was completed, and he hopes it may help reduce the risks of easy access that threaten children.
The anti-addiction drug that has everyone worried is buprenorphine, which has proven to be an effective treatment since its release. However,
for every 100,000 patients prescribed buprenorphine, 200 young children have been hospitalized, which is four times as high as the second most accidentally swallowed drug by children used for treating blood pressure
. The study analyzed data between 2007 to 2011, and although it did not focus on the amount of deaths it's responsible for, there were children who died as a direct result of swallowing these pills.