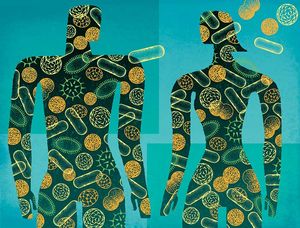 "We barely know what we are doing when it comes to probiotic supplementation," I admitted to my patient, "but we do know that we are on the verge of the most sophisticated understanding of human health and disease since the dawn of medicine, and it comes down to our symbiotic relationship to our body's microbes."
The abuses we have brought upon our gut flora are largely obvious - we have been eating loads of sugar, processed vegetable oils, pesticides, genetically modified foods, and living in a bath of and industrial chemicals.
But what
should
our microbiome look like?
It turns out that the answer to this question is unlikely to derive from a
randomized placebo controlled trial of the latest probiotic
on the market. Because we can only guess what the Paleolithic diet actually looked like, the most valuable nutrition data, to my mind, comes from naturalistic surveys such as the invaluable contributions of
Weston A. Price
who traveled the world assessing the dietary patterns of those traditional societies who were free from the scourge of modern chronic diseases, seemingly brought about by the adoption of Western sweetened, canned, and processed foods. In this way, he was able to identify a through line connecting diverse dietary practices, which included consumption of animal foods, natural fats, and associated minerals and fat-soluble vitamins. These traditional cultures, however, are coming more and more under the influence of industrialized food products and modern medical "care".