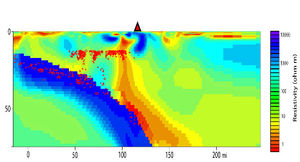 Scientists from the University of Utah
have determined
that Mount Rainier, one of the most prominent peaks in North America, will erupt again. The question of when remains unanswered, but science has recently discovered how:
By measuring how quickly Earth conducts electricity and seismic waves, they've effectively "mapped" Rainier's magma "plumbing.
"
"This is the most direct image yet capturing the melting process that feeds magma into a crustal reservoir that eventually is tapped for eruptions," says geophysicist Phil Wannamaker, of the university's Energy & Geoscience Institute and Department of Civil and Environmental Engineering.
"But it does not provide any information on the timing of future eruptions from Mount Rainier or other Cascade Range volcanoes.
"