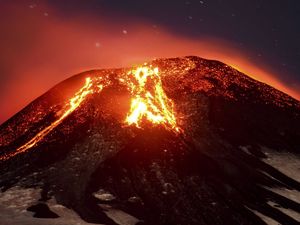 Volcano Villarrica in southern Chile erupted in the early hours of Tuesday, sending a plume of ash and lava high into the sky, and forcing the evacuation of nearby communities.
The volcano, located near the popular tourist resort of Pucon around 750 km (460 miles) south of the capital Santiago, is one of South America's most active
. It last erupted in 2000.
A column of ash and rock particles shot up to 3 km (nearly 2 miles) into the sky overnight. Although the initial violent eruption was short-lived, intermittent clouds of steam and gas continue to issue from the volcano.
A major lava flow is not expected, said Luis Lara, head of national geological service Sernageomin on Tuesday morning, but that could change.
"After an eruptive pulse, which was pretty intense but very short at 3 am, the volcanic system remains unstable and it is possible that something similar could occur again in the next few hours,"
he said.
Some 3,385 people had been evacuated as a preventative measure, said Interior Minister Rodrigo Penailillo. There were no reports of any injuries.