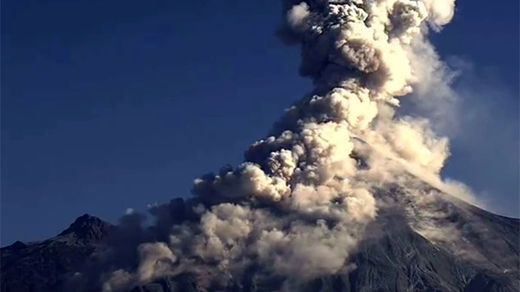 A huge ash column exploded into the sky from one of Central America's most dangerous volcanoes on Wednesday, reaching airplane-level heights of the atmosphere.
Mexico's Colima volcano played host to a
"strong vulcanian-type explosion"
at 9:15 a.m. local time on Wednesday. The mountain belched an
ash column more than 4 km above the summit
, with
volcanic matter rising to 29,000 ft (9 km)
. The resulting ash flow eventually drifted to the northeast, Volcano Discovery reported.
A webcam focused on the active stratovolcano captured the powerful blast.
A small pyroclastic flow that descended the steep slope of the volcano was generated during the explosion.
The Protección Civil (Civil Protection) said there is not a forecast of ash falling in the region, which is located in southwestern Mexico, according to Mashable. The volcano, which is also known as the 'Volcano of Fire,' straddles the states of Colima and Jalisco.