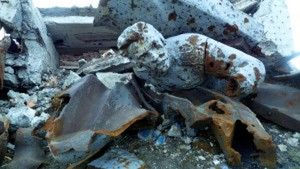 Asia Times' roving correspondent Pepe Escobar just returned from a reporting trip to the Donetsk People's Republic (DPR), the pro-Russian enclave in the Donetsk Oblast province of eastern Ukraine. The area's been the scene of heavy fighting between pro-Russian rebels and the Ukrainian military.
I've just been to the struggling Donetsk People's Republic. Now I'm back in the splendid arrogance and insolence of NATOstan.
Quite a few people - in Donbass, in Moscow, and now in Europe - have asked me what struck me most about this visit.
I could start by paraphrasing Allen Ginsberg in
Howl
- "I saw the best minds of my generation destroyed by madness".
But these were the Cold War mid-1950s. Now we're in early 21st century Cold War 2.0 .