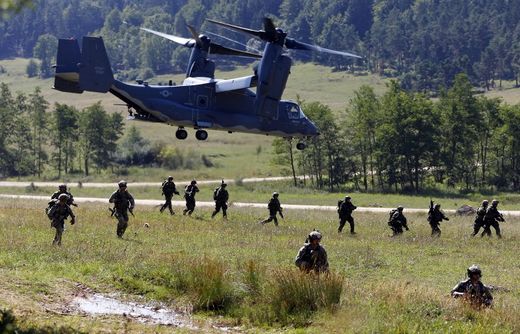 Over the last 18 months, against the backdrop of the war in Ukraine, the relationship between Russia and the West has deteriorated considerably. One aspect of the confrontation, as previously documented by the ELN, has been a game of Russian-instigated dangerous brinkmanship which has resulted in many serious
close military encounters
between the forces of Russia and NATO and its partners over the last 15 months. Another aspect, however has been
the increased scope and size of the military exercises conducted by both Russia and by NATO and its partners
in the Euro-Atlantic area since the Ukraine crisis began. To assist the public and wider policy community in understanding the realities of this new and dangerous security environment in Europe, the ELN has prepared
a short policy brief
and
two interactive maps
presenting in detail the anatomy of two recent, large scale military exercises. The two exercises profiled are:
A Russian 'snap exercise' conducted in March 2015, which brought together 80,000 military personnel.
The NATO 'Allied Shield' exercise conducted in June 2015, which brought under one framework four distinct exercises taking place along the Eastern flank of the Alliance, totalling 15,000 personnel from 19 Members states and three partner states.
Comment:
Russian Security Council Secretary Nikolay Patrushev
said on Tuesday
:
The United States and NATO are increasing their military presence in European states neighbouring Russia. Hotbeds of military tension are being created near our border. There have been continuous attempts at bringing anti-Russian political regimes to power in former Soviet states.
This is what Russia has to deal with. In August alone Russia carried out
79 military exercises
, focusing on Central Asia. More are scheduled for September, including joint drills with other CSTO members (Armenia, Belarus, Kazakhstan, Kyrgyzstan and Tajikistan).