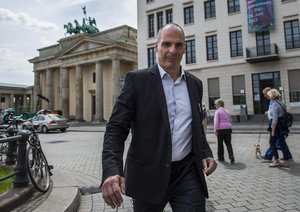 Former Greek finance minister says Europe is disintegrating, run by a cartel and in dire need of reform.
Europe is sliding into "a modern 1930s" and authorities are "making it up as they go along", Yanis Varoufakis has warned as he launches a new movement which he says will "democratise" the continent.
Speaking to
The Independent
as he outlined his vision of the DiEM25 (Democracy in Europe Movement 2025) project, the self-described "erratic Marxist" says he wants to remove power from an unaccountable, authoritarian elite and distribute it fairly to the continent's citizens.
Seven months after resigning as Greek finance minister,
Mr Varoufakis outlined the "terrible" similarities between Europe now and the continent 80 years ago as it hurtled towards war
.
"We don't have Nazis doing Kristallnacht in Berlin. [But] We have Nazis in Greece doing something similar in a suburb of Greece, where they are attacking in the middle of the night the shops and houses of migrants."
"There are big differences, but from the perspective of an economist we have terrible similarities."