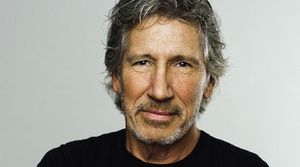 On Music, the Political Role of Artists and His Activism for Justice Around the World, Including in Palestine.
Frank Barat:
When did you make the decision to make the Wall tour (that ended in Paris in September 2013) so political? And why did you dedicate the final concert to Jean-Charles De Menezes?
Roger Waters:
The first show was October 14
th
2010. We started working on content of show with Sean Evans in 2009. I had already decided to make it much broader politically than it had been in 1979/80. It could not be just about this whinny little guy who didn't like his teachers.
It had to be more universal.
That's why 'fallen loved ones' came into it (the shows are showing pictures of people that died during wars) trying to universalise the sense of grief and loss that we all feel towards family members killed in conflict. Whatever the wars or the circumstances, they (in the non western world), feel as much lost as we do. Wars become an important symbol because of that separation between 'us and them,' which is fundamental to all conflicts. Regarding Jean-Charles, we used to do Brick II with three solos at the end and I decided that three solos was too much, it was boring me. So sitting in a hotel room, one night, I was thinking about what I could do instead of that. Somebody had recently sent me a photograph of Jean-Charles De Menezes to go on the wall. So he was in my mind and I thought that I should sing his story. I wrote that song, taught it to the band, and that's what we did.
Comment:
Jean-Charles De Menezes was a young Brazilian contract electrician working in London, England at the time of the London Bombings in 2005. He was pursued and murdered by covert British military-intelligence operatives in the aftermath of the attacks and shot numerous times in the head in front of shocked onlookers. It's very likely the reason they were so desperate to terminate him was because he was working on the trains that were rigged for the false-flag terror attacks, knew the official story was bogus, and was threatening to go public with what he knew.
For more on this and the other evidence that 7/7 was carried out by the British government with assistance from the Mossad, check these out:
7/7 Ripple Effect: London Bombings documentary the British and Israeli governments want no one to see
London Bombings - The Facts Speak For Themselves