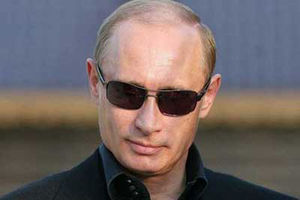 Friends and colleagues,
As the Ukraine situation has worsened, unconscionable misinformation and hype is being poured on Russia and Vladimir Putin.
Journalists and pundits must scour the Internet and thesauruses to come up with fiendish new epithets to describe both.
Wherever I make presentations across America, the first question ominously asked during Q&A is always, "What about Putin?"
It's time to share my thoughts which follow:
Putin obviously has his faults and makes mistakes. Based on my earlier experience with him, and the experiences of trusted people, including U.S. officials who have worked closely with him over a period of years,
Putin most likely is a straight, reliable and exceptionally inventive man. He is obviously a long-term thinker and planner and has proven to be an excellent analyst and strategist. He is a leader who can quietly work toward his goals under mounds of accusations and myths that have been steadily leveled at him
since he became Russia's second president.
I've stood by silently watching the demonization of Putin grow since it began in the early 2000s - - I pondered on computer my thoughts and concerns, hoping eventually to include them in a book (which was published in 2011). The book explains my observations more thoroughly than this article. Like others who have had direct experience with this little known man, I've tried to no avail to avoid being labeled a "Putin apologist". If one is even neutral about him, they are considered "soft on Putin" by pundits, news hounds and average citizens who get their news from CNN, Fox and MSNBC.