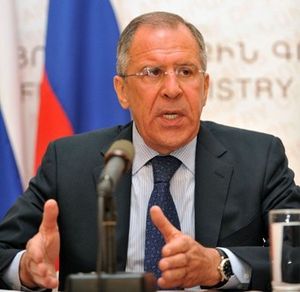 Listening to Lavrov today I came to the conclusion that the regime in Kiev was indeed about to try to attack the eastern Ukraine. It's not only Lavrov, the Russian Internet is on "red alert" and chock-full of rumors and speculation about an imminent attack. This begs a number of questions:
1) Why would the junta in Kiev so overtly renege on the Geneva agreement?
2) Why would it attack when the chances of success are very small?
3) Why would they attack know that Russia would almost certainly intervene?
4) Why is the US clearly behind that strategy?
I have a hypothesis which I would like to submit to your attention.
First, the junta in Kiev is reneging on the Geneva agreement
simply because it cannot abide by its terms
. Remember, the junta is composed of a few politicians handpicked by the US and a few Ukrainian oligarchs.
They do have money, but no power
. How could they possibly impose anything in the well-armed and determined freaks of the Right Sector?
Second, the eastern Ukraine is lost no matter what. So the junta in Kiev have to pick on of the following options:
a) Let the eastern Ukraine leave by means of referendum and do nothing about it.
b) Let the eastern Ukraine leave but only after some violence.
c) Let the eastern Ukraine leave following a Russian military intervention.