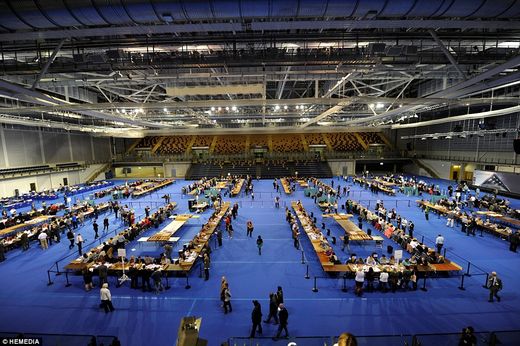 I'm not one that easily gives in to conspiracy theories, but there are too many questions regarding the validity of the 'no' vote for it to be accepted at face value.
While
this article
goes into the allegations with more forensic accuracy than I will, the integrity of the vote and the process is paramount to Scots accepting their status within the UK, especially in light of the implosion of the promises made before the vote, going back to war in Iraq, and announcing fracking in Scotland's central belt immediately after the vote.
There have been the YouTube videos which have been making the rounds, which may or may not show some form of vote tampering. There is also the issue of the thousands of ballots which did not have bar codes on the back as they were required to, therefore may have been automatically rejected,
plastic bags
found with 'yes' votes in them, and testimony of suspicious activity by volunteers.
While these allegations are disturbing in themselves,
what could not be seen leaves plenty of scope for electoral tampering
.
I was a monitor at the Glasgow count at the Emirates Arena, and can only speak for what I observed.
The area over which the counting tables were spread was needlessly large
. The same operation could have been conducted in 1/3 of the space and it would have been easier to see what was happening.