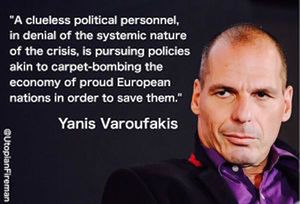 This conversation took place before the deal
Harry Lambert: So how are you feeling?
Yanis Varoufakis:
I'm feeling on top of the world - I no longer have to live through this hectic timetable, which was absolutely inhuman, just unbelievable.
I was on 2 hours sleep every day for five months.
... I'm also relieved I don't have to sustain any longer this incredible pressure to negotiate for a position I find difficult to defend, even if I managed to force the other side to acquiesce, if you know what I mean.
HL:What was it like? Did you like any aspect of it?
YV:
Oh well a lot of it. But the inside information one gets...
to have your worst fears confirmed ... To have "the powers that be" speak to you directly, and it be as you feared
-
the situation was worse than you imagined!
So that was fun, to have the front row seat.
HL:What are you referring to?
YV:
The
complete lack of any democratic scruples
, on behalf of the supposed defenders of Europe's democracy. The quite clear understanding on the other side that we are on the same page analytically - of course it will never come out at present. [And yet]
To have very powerful figures look at you in the eye and say "You're right in what you're saying, but we're going to crunch you anyway."