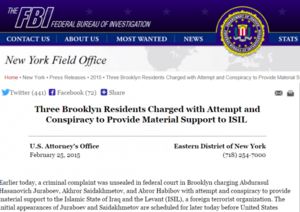 The
FBI
and
major media outlets
yesterday
trumpeted
the agency's latest counterterrorism triumph: the arrest of three Brooklyn men, ages 19 to 30, on charges of conspiring to travel to Syria to fight for ISIS (photo of joint FBI/NYPD press conference, above). As my colleague Murtaza Hussain
ably documents
,
"it appears that none of the three men was in any condition to travel or support the Islamic State, without help from the FBI informant.
" One of the frightening terrorist villains told the FBI informant that, beyond having no money, he had encountered a significant problem in following through on the FBI's plot: his mom had taken away his passport. Noting the bizarre and unhinged ranting of one of the suspects, Hussain
noted
on Twitter that this case "sounds like another victory for the FBI over the mentally ill."
In this regard, this latest arrest appears to be quite similar to the overwhelming majority of terrorism arrests the FBI has proudly touted over the last decade.
As my colleague Andrew Fishman and I
wrote last month
— after the FBI manipulated a 20-year-old loner who lived with his parents into allegedly agreeing to join an FBI-created plot to attack the Capitol — these cases follow a very clear pattern: