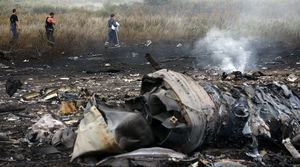 The Dutch agency heading the international probe into Malaysia Airlines MH17 crash in eastern Ukraine has contacted RT over the footage used in our recent documentary on the tragedy. RT's documentary discovered fragments of the plane still in Donetsk.
The RT Documentary film, titled
MH17: A year without truth,
showed fragments of the crashed Boeing and pieces of luggage still scattered in the area at the time of filming. The RTD crew collected the parts of the plane's exterior they spotted, bringing them to the administration of the nearby town of Petropavlovsk.
"With great interest we watched your documentary,
'MH17: A year without truth,'"
Dutch Safety Board spokesperson Sara Vernooij wrote to RT. "In this film, RT shows parts of the cockpit roof which were found near Petropavlivka. We would like to gather those pieces and bring them over to the Netherlands so the Dutch Safety Board can use them for the investigation and the reconstruction."
In the documentary, the RTD crew talked to witnesses, experts and family members of flight MH17 passengers in a bid to understand whether the truth of what caused the tragedy will ever be established.
The documentary also features relatives of those who perished in the MH17 crash who say they have no possibility to get information about the course of the investigation, and believe it is not objective.