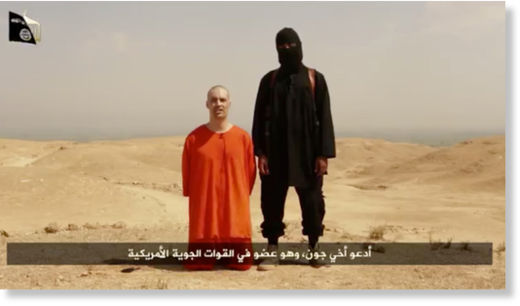 The Islamic State militant group claimed Tuesday to have beheaded an American photojournalist in retaliation for U.S. airstrikes in Iraq.
A video posted on YouTube, later removed, purported to show the execution of James Foley after he recited a statement in which he called the U.S. government "my real killers." A second prisoner, said to be Steven Joel Sotloff, like Foley an American journalist who disappeared while covering Syria's civil war, then appears in the video.
The masked executioner, speaking in English with what sounds like a British accent, identifies Sotloff and says that "the life of this American citizen, Obama, depends on your next decision."
American intelligence officials believe the video is authentic but are continuing to evaluate it, senior U.S. officials said Wednesday morning.
In a statement Tuesday, National Security Council spokeswoman Caitlin Hayden said of the video: "If genuine, we are appalled by the brutal murder of an innocent American journalist and we express our deepest condolences to his family and friends. We will provide more information when it is available."