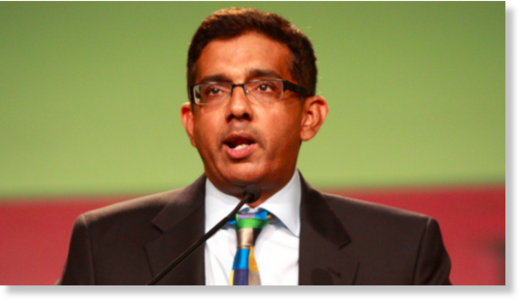 Conservative author and filmmaker Dinesh D'Souza's follow-up to his 2012 anti-Obama film "
2016: Obama's America
" will be an attack on the men who he sees as the intellectual pillars of the American left.
According to the Hollywood Reporter
, D'Souza - who is currently awaiting trial on felony campaign finance violations - plans to release the documentary, titled "
America
," on the nation's birthday, July 4.
D'Souza told the
Reporter
that the footage he has of liberals Alan Dershowitz, Noam Chomsky, Bill Ayers, Michael Eric Dyson and Charles Truxillo will speak for itself.
"In '
2016
,' we let President Obama's voice be heard - literally," he said. "With '
America
,' we also wanted to hear directly the voices of America's biggest critics. The conservative answer to offensive speech has always been not to silence it, but to listen carefully, consider what's been said and offer more speech. I was delighted that some of the smartest progressives in America agreed to sit down with me."