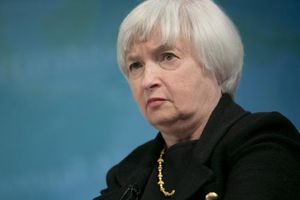 Janet Yellen, chair of the U.S. Federal Reserve, opened the door to keeping a multi-trillion-dollar portfolio for years, saying a decision on when to stop reinvesting maturing bonds depends on financial conditions and the economic outlook.
Quantitative easing may turn out to be a gift that keeps on giving for the U.S. economy.
As the Federal Reserve prepares to end its third round of bond buying next week, the central bank plans to hang on to the record $4.48 trillion balance sheet it has accumulated since announcing the first round of purchases in November 2008.
That will continue to keep a lid on borrowing costs, helping the Fed lift inflation closer to its target and providing support to a five-year expansion facing headwinds abroad, from war in the Mideast to slowing growth in Europe and China.
Holding bonds on the Fed's balance sheet limits the supply of securities trading on the public markets, which helps keep prices up and yields lower than they otherwise would be. That provides stimulus to the economy just as a cut in the Fed's benchmark interest rate would, according to Michael Gapen, a senior U.S. economist for Barclays Plc in New York and former Fed Board section chief in charge of monetary and financial markets analysis.