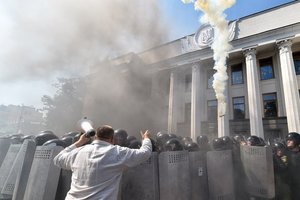 Events in Ukraine (and Eastern Europe) target Russia - part of Washington's longstanding regime change agenda, wanting US-controlled puppet governance replacing Russian sovereignty, eliminating a key rival power, giving America access to a huge new source of vital resources.
Perhaps Victoria Nuland's dirty hands were involved in Monday's Kiev riots, previous unrest this year and likely more to come. Washington is displeased with Poroshenko. Former Ukrainian MP Vadim Kolesnichenko said US officials are considering two replacements:
Valentin Nalivaichenko, former Ukrainian security service head, or Sergei Levochkin, former Yanukovych chief of staff. A previous article explained Ukrainians overwhelmingly despise Poroshenko. Calls persist for him to step down. Replacing him won't surprise anyone.
Meanwhile, war on Donbass rages. Western media largely ignore daily shelling by junta forces - including attacks on residential areas, hospitals, schools and other nonmilitary targets.