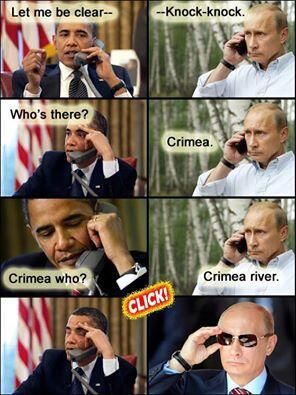 The White House Fool has repeatedly declared erroneously and foolishly that it is "against international law" for Crimea to exercise self-determination.
Self-determination, as used by Washington, is a propaganda term that serves Washington's empire but is not permissible for real people to exercise.
On March 6 Obama telephoned Putin to tell the Russian President again that only Washington has the right to interfere in Ukraine and
to insist against all logic that only the
"government" in Kiev installed by the Washington-organized coup is "legitimate" and "democratic."
In other words, the elected government in Crimea pushed by the people in Crimea to give them a vote on their future is "undemocratic" and "illegitimate," but a non-elected government in Kiev imposed by Washington is the voice of self-determination and legitimacy.
Washington is so arrogant that it never occurs to the hubris-infected fools what the world thinks of Washington's blatant hypocrisy.
Since the Clinton regime, Washington has done nothing but violate international law - Serbia, Kosovo, Afghanistan, Iraq, Libya, Syria, Iran, Pakistan, Yemen, Somalia, Honduras, Venezuela, Ecuador, Bolivia.
Does Russia have an Africa Command? No, but Washington does.