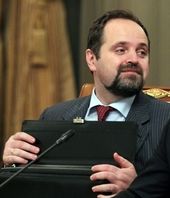 Russia warned foreign companies working in the oil and gas sector that if they quit the country over Ukraine-related sanctions, they would not be able to return any time soon.
Natural Resources Minister Sergei Donskoy said on Thursday that foreign firms had not so far signaled they would withdraw from projects in Russia, the world's top crude oil producer, but that there would be a price to pay if they did.
"It is obvious that they won't return in the near future if they sever investment agreements with us, I mean there are consequences as well," Sergei Donskoy told reporters in the city of Birobidzhan in Russia's Far East.
"Russia is one of the most promising countries in terms of hydrocarbons production. If some contracts are severed here, then, colleagues, you lose a serious lump of your future pie."