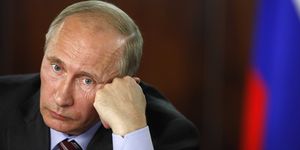 Okay, I decided to squeeze in one more post before taking time off for Holy Paskha, this is well worth it.
Some of you have asked about China's role in all this, in what the real interests of the USA are, how the EU is positioning itself and what Russia does or does not want. And, somehow, bogged down by the minutiae of the unfolding events I managed to never mention something which Putin, Lavrov and many other top Russian politicians have repeatedly said:
What is happening today before our eyes is the end of one international system and the birth of a qualitatively different one.
Interestingly, Putin has declared that for him the point of no return was reached when the USA and its allies at the UNSC and NATO clearly and grossly twisted the intention of the UNSC on Libya and "upgraded" what should have been a "no fly" zone to a
free-fire
zone to attack and bomb Libya [of course, it was pretty darn clear to Putin that the "all necessary means to protect civilians" of the resolution was
an open ended invitation for the AngloZionists to "interpret" it in any way they wanted
; now his says that Russia was "lied to" in order to not blame Medvedev for walking into a 10 foot wide hole. But that is irrelevant here]. Putin says that from then on he had acquired the conviction that
the West could not be negotiated with and had to be simply stopped
. Then Syria happened: for the first time since the end of WWII the USA had decided to do something
and was stopped by an outside power in the most humiliating way possible
.