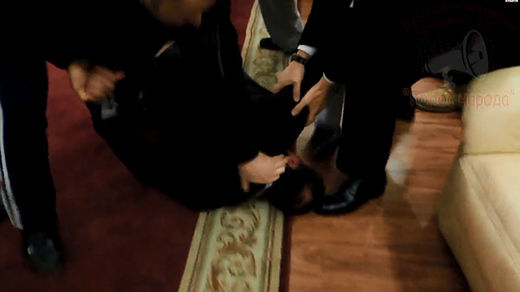 A Ukrainian presidential hopeful and his supporters have abducted a regional MP over his opposition to the coup-imposed government in Kiev. A video of the action shows the MP being roughed up by a group of men and threatened.
Oleg Lyashko reported secretly going to the Lugansk region on Sunday night and detaining Arsen Klinchev, a member of the local parliament from the Party of Regions.
"The scum Klinchev will answer for his crimes. We detained him and handed him over to law enforcement. I am sincerely grateful to everyone, who helped with this deed. The video is coming shortly. The fight goes on,"
Lyashko wrote on his Facebook page.
The promised footage followed soon. In it Lyashko is seen entering the office, as Klinchev later clarified, of local General Vladimir Guslavsky with a group of half a dozen men, whose faces are covered with a black circle. They floor the MP and handcuff his arms behind his back.
Then Lyashko is seen calling Klinchev
"scum"
several times, while forcing him to make a statement on camera, ordering his supporters to vacate the regional administration building.