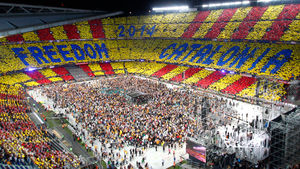 The Catalan regional parliament has set November next year for a referendum on the Spanish province's independence. The government in Madrid blandly said the vote won't happen, but activists wonder how it might be stopped.
Catalonia's four pro-independence parties, which hold a majority in the regional parliament, announced Thursday that the rich industrial Spanish province will hold a referendum on whether to gain greater autonomy or even total independence from the country's central government.
The vote's preliminary date is November 9, Catalan regional government head Artur Mas said. The people will be asked two questions: "Do you want Catalonia to be a state?" and "Do you want that state to be independent?"
The former question was added for those Catalans who seek to change Spain into a federation, with Catalonia forming part of it. According to a Metroscopia poll in newspaper El Pais last month, 46 percent of Catalans favor separatism versus 42 percent who wish to remain within Spain. The support for greater autonomy, however, is very strong.