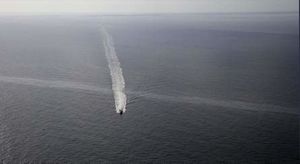 U.S. lets Taylor Energy shield information as trade secrets
Over the Gulf of Mexico | Down to just one full-time employee, Taylor Energy Company exists for only one reason: to fight an oil leak in the Gulf of Mexico that has gone largely unnoticed, despite creating miles-long slicks for more than a decade.
The New Orleans-based company has downplayed the leak's environmental impact, likening it to scores of minor spills and natural seeps that the Gulf routinely absorbs.
But an Associated Press investigation has revealed
evidence that the spill is far worse than what Taylor — or the government — has publicly reported.
Presented with AP's findings, the Coast Guard provided a new leak estimate that is about 20 times greater than one recently touted by the company.
Outside experts said the spill could be even worse — possibly one of the largest ever in the Gulf, albeit still dwarfed by BP's massive 2010 gusher.
The roots of the leak lie in an underwater mudslide triggered by Hurricane Ivan's waves in September 2004.
That toppled Taylor's platform and buried 28 wells under sediment about 10 miles off Louisiana's coast at a depth of roughly 475 feet.
Without access to the buried wells, traditional "plug and abandon" efforts wouldn't work.The Coast Guard said in 2008 the leak posed a "significant threat" to the environment, though there is no evidence oil from the site has reached shore.
Ian MacDonald, a Florida State University biological oceanography professor and expert witness in a lawsuit against Taylor, said the sheen
"presents a substantial threat to the environment" and is capable of harming birds, fish and other marine life. Even after spending tens of millions of dollars to contain and stop the leak, Taylor said nothing can be done to completely halt the chronic oil sheens.