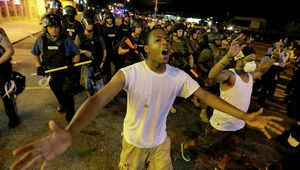 The events in Ferguson, Missouri, should sober the US government or race-related conflicts may become more frequent, Russian Foreign Ministry Human Rights Commissioner Konstantin Dolgov said in an interview with Rossiya 24 news channel.
"We think US authorities should pay closer attention to burning internal problems, including those related to ethnicity and race that still exist in the United States. Try to solve them via legal constitutional practices rather than unjustified and inadequate violence," Dolgov said.
"What is happening in Missouri right now should have a sobering effect on US society and authorities.
They are systematic problems.
They are by no means limited to one particular city or state," the commissioner added.
Dolgov pointed out the regularity of such confrontations and warned of a possible increase in the frequency of the conflicts. At the same time, US authorities are failing to create a dialogue with US citizens, as they rely too heavily on the use of brutal force, according to Dolgov.