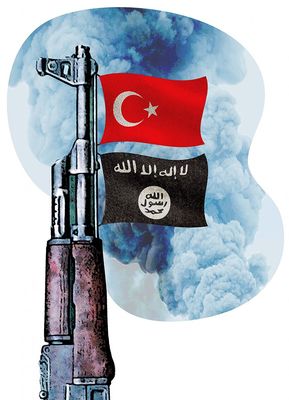 The real frontline confronting ISIS is not US or French bombers (the latter currently targeting Raqqa, a city with 140,000 civilians, who are virtual prisoners of ISIS) but the Kurds of Iraq and northern Syria. Just over a week ago the combined Kurd forces, under the command of the Yezidis, liberated
Sinjar
from ISIS. For the Kurds, their war is not just about defeating ISIS, but about creating their own autonomous region - a region that would link all the Kurd cantons. This will not be easy, especially as the Iraq-based Kurds (Peshmerga) are allied with Iran and benefit from US support (nor are the Iraqi Kurds in any hurry to secede from Iraq). But the largest hurdle to an autonomous Kurdistan is Turkey, which not only has rekindled its war with the PKK (Kurdish Workers Party), but has done everything it can over the last 12 months or so to ensure Kurd victories against ISIS were minimised. So where is the evidence for this? It comes from a a range of sources, including the Institute for the Study of Human Rights
(C
olumbia University) and leading commentators/analysts Nafeez Ahmed and David Graeber.
A. Introduction
The Kurds of northern Syria, together with the Kurds of Turkey and Iraq, have been at war with ISIS since the latter rose up and declared their so-called caliphate. It was the Syrian Kurds and their Kurdish comrades in Turkey who helped rescue the Yezidis, after they had fled the ISIS onslaught to take refuge in the Sinjar mountains. It was the Syrian Kurds and their comrades in Turkey who
liberated the city of Kobani
from ISIS.
But the Kurds of northern Syria have not just been waging war. They have also been waging peace:
creating new, democratic structures
, declaring
autonmous cantons
; setting up schools, universities, hospitals. They have taken their
inspiration from the Zapatistas
of Mexico, who in their thousands retreated into the jungles of Chiapas and together with the Mayans created
a new society
, free from the oppression of the Mexican authorities.
In short, the northern Syrian Kurds have created and are
living a social revolution
. It is no wonder, therefore, that the authoritarian and neo-Islamist Erdogan Government of Turkey is doing everything it can to
break the Kurds
, including providing covert support to the Kurds' main enemy, to ISIS.
In a
recent article
in the
Guardian
, Professor David Graeber of the London School of Economics stated how "Back in August, the YPG, fresh from their victories in
Kobani
and
Gire Spi
, were poised to seize Jarablus, the last Isis-held town
on the Turkish border
that the terror organisation had been using to resupply its capital in Raqqa with weapons, materials, and recruits -
Isis supply lines pass directly through Turkey
." Graeber added: "Commentators predicted that with Jarablus gone, Raqqa would soon follow.
Erdoğan reacted by declaring Jarablus a "red line"
: if the Kurds attacked, his forces would intervene militarily - against the YPG. So
Jarablus remains in terrorist hands to this day, under
de facto
Turkish military protection
."