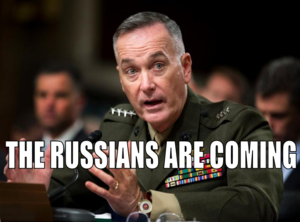 The United States Senate confirmed General Joseph Dunford as the next Chairman of the Joint Chiefs of Staff this week. Dunford is just the latest in a long line of paranoid, delusional 'reality makers' to occupy the top military office in the USA.
In his confirmation hearing, Dunford told the Senate committee, "Russia presents the greatest threat to our national security". When pressed to expand on this, the general cited Russia's "alarming" behavior and said it poses "
an existential threat to the United States
". Someone should tell this guy that saying the same thing with different words does not constitute an explanation.
Dunford's statement was echoed by another top U.S. military official, Secretary of the Air Force, Deborah James, who told Reuters one day earlier, "I do consider Russia to be the biggest threat."
The truth has never played much of a part in shaping U.S. public perception, and those who further this unhinged, psychopathic worldview are granted distinction and rewarded with high office.But let's not dismiss what Dunford et al are saying just yet. While they are clearly not being honest, there is a truth to what they're saying if we scratch the surface of the rhetoric.
Russian Foreign Minister Sergey Lavrov gave a hint of the hidden truth when he said that such statements are creating "an artificial atmosphere of hostility". "As far as the statements from Washington are concerned, we have already got used to the fact that the Department of Defense, Joint Chiefs of Staff Committee and the Air Force secretary
regularly make statements that usually come from politicians
," Lavrov said.
President Putin has also repeatedly exposed the Pentagon's manipulations. In June he stated,
"
I think that only an insane person, and only in a dream, can imagine that Russia would suddenly attack NATO.
I think some countries are simply taking advantage of people's fears with regard to Russia.
"