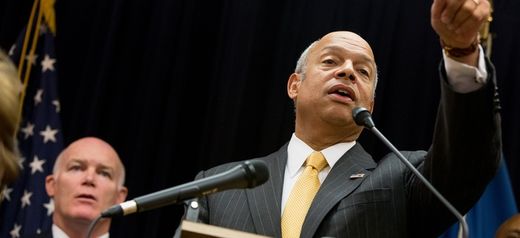 With terrorist-inspired attacks on the rise, the federal government may revise the unused successor to the Bush-era color alerts.
President Barack Obama's top homeland security official has ordered a review of the nation's terrorism alert system to reflect what he called the growing threat of attacks originating within the United States.
The U.S. has never used the
National Terrorism Alert System
, a two-level system that replaced the
oft-derided color-coded terrorism alerts
installed after 9/11 to spread the word about potential attacks from abroad. But after a "homegrown violent extremist"
killed five service members
in Chattanooga, Tenn. — and amid the expectation of more terrorist-inspired attacks — the Department of Homeland Security wants to revise and jumpstart the system.
"I've asked our folks to consider whether we should revise that system to accommodate how the terrorism threat has evolved," DHS Secretary Jeh Johnson said Tuesday at the annual meeting of the Association of the U.S. Army in Washington, D.C."That review is underway now."