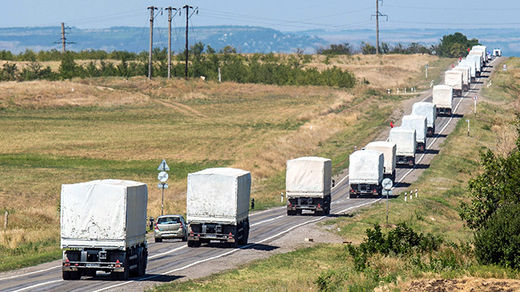 Ukraine is ready to ensure the safety of the Russian humanitarian aid convoy, but only in areas controlled by the country's security forces, the Ukrainian Foreign Ministry said.
"For its part, Ukraine has repeatedly reaffirmed its readiness to provide security guarantees in the area controlled by the troops involved in the anti-terrorist operation," Foreign Ministry spokesman Evgeny Perebiynis said at a briefing in Kiev.
As for the areas held by the self-defense forces, it's the responsibility of their leaders to provide safe passage for the convoy, he added.
The delivery of the Russian humanitarian aid to eastern Ukraine could start in the next couple of hours, Vitaly Churkin, Russia's permanent representative to the UN, said during a Security Council meeting.
"We hope that no one will resume attempts to hamper the delivery of humanitarian aid from Russia, and in the next couple of hours these activities will begin," Churkin said.
The humanitarian convoy with Russian aid for Ukraine's war-affected Donetsk and Lugansk regions has been stuck at the border between the two states since August 14.
A total of 280 trucks with almost 1,800 tons of medical supplies, food and other essential goods were unable to move on without safety guarantees from the Ukrainian authorities.