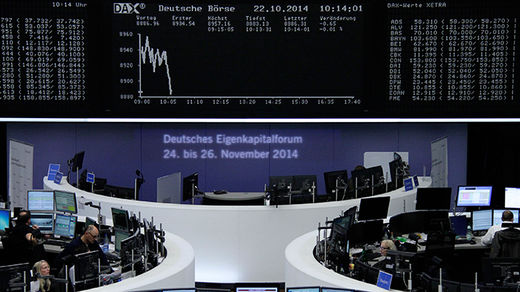 European economic denial has reached the point where we are straddling the abyss, facing a code red moment of meltdown.
Whether by bloody-minded obstinacy or a clear incapacity to understand the mess it has overseen, the EU now reaches another of those critical junctures where simply papering over the cracks and maintaining a demented agitprop that growth is around the corner won't do
. Besides, the green shoots of recovery have once again evaporated for the umpteenth time. As the world grows, Europe stagnates.
The EU
isn't working
- as 12 percent of the continent's population know only too well (including that lost generation under 30 born near the Mediterranean). Meanwhile, former Communist-turned-totalitarian-Europhile Jose Manuel Barroso has been enjoying a typically bombastic pre-retirement tour demonstrating a majestic lack of understanding for the stagnancy which has resulted from his decade-long failure as EU president.
Having spent much of the past year blithely mouthing a mantra of recovery, the outgoing commission departs the Berlaymont as even greater political failures than they were in national office before being elevated to Brussels. The demented hubris which preached recovery without coherent reworking of broken economies has been rendered mute by economic reality. Even in Brussels there may be a realization that political fudges won't do - the European empire must be restructured if it is not to face oblivion. As it is, the pathetic political posturing of national interests led by France (bankrupt) and
Germany
(deeply disingenuously protectionist) at all times have inexorably weakened Europe in a decade of prolonged growth in the emerging markets of the east.
Thus we reach an abyss for Europe. Germany (as
predicted
) is a post-peak economic powerhouse. Ukraine has led the EU to self-defeating sanctions which have further trimmed the economy just as growth has proven a mirage.