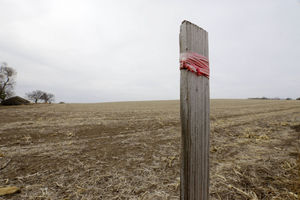 Lincoln - As the Republican leader in the U.S. Senate pledged quick approval of the Keystone XL pipeline early next year, final offers were landing Tuesday in dozens of Nebraska mailboxes.
TransCanada Corp. said it mailed new offers of right-of-way payments this week to more than 100 Nebraska landowners who have refused to sign an easement contract.
The letters also say the company will pursue eminent domain against landowners who don't agree to terms by Jan. 16. The company says Nebraska law requires condemnation proceedings to start within two years of the state's approval of the pipeline route, which occurred Jan. 22, 2013.
"This really is an effort to reach voluntary agreements rather than going through the eminent domain process,"
said Andrew Craig of Omaha, Keystone's land manager. "We always prefer to go through negotiations."
The director of a leading pipeline opposition group said there are 115 landowner holdouts, and she expects them to refuse the latest offer. Jane Kleeb of Bold Nebraska also argued that the company lacks a legal basis to use eminent domain since the state's pipeline routing law has been declared unconstitutional and is under review by the Nebraska Supreme Court.
"This is not about money," Kleeb said. "This is about their family legacies, their land and protecting their water."
The state's highest court could rule on the pipeline case as early as Friday.
While landowners were opening envelopes Tuesday, Sen. Mitch McConnell was promising to put a Keystone XL bill at the top of the agenda when the Senate convenes in January. Passage of legislation
approving the pipeline is likely
in a Republican-controlled Senate, which could set up an early veto confrontation with President Barack Obama.
Congressional Republicans have been pushing for approval of the pipeline for years. Obama has resisted because of environmental concerns.
"We're optimistic we can pass it and put it on the president's desk," McConnell said