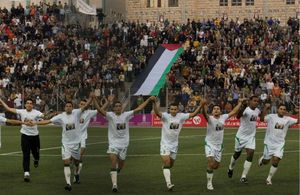 Their names are Jawhar Nasser Jawhar, 19, and Adam Abd al-Raouf Halabiya, 17. They were once soccer players in the West Bank. Now they are never going to play sports again. Jawhar and Adam were
on their way home from a training session
in the Faisal al-Husseini Stadium on January 31 when Israeli forces fired upon them as they approached a checkpoint. After being shot repeatedly, they
were mauled by checkpoint dogs
and then beaten.
Ten bullets were put into Jawhar's feet. Adam took one bullet in each foot. After being transferred from a hospital in Ramallah to King Hussein Medical Center in Amman, they received the news that soccer would no longer be a part of their futures.
(Israel's border patrol
maintains
that the two young men were about to throw a bomb.)
This is only the latest instance of the targeting of Palestinian soccer players by the Israeli army and security forces. Death, injury or imprisonment has been a reality for several members of the Palestinian national team
over the last five years
. Just imagine if members of Spain's top-flight World Cup team had been jailed, shot or killed by another country and imagine the international media outrage that would ensue. Imagine if prospective youth players for Brazil were shot in the feet by the military of another nation. But, tragically, these events along the checkpoints have received little attention on the sports page or beyond.
Much has been written about the psychological effect this kind of targeting has on the occupied territories. Sports represent escape, joy and community, and the Palestinian national soccer team, for a people without a recognized nation, is a source of tremendous pride.
To attack the players is to attack the hope that the national team will ever truly have a home.
The Palestinian national football team, which formed in 1998, is
currently ranked 144th
in the world by the Fédération Internationale de Football Association (FIFA). They have never been higher than 115th. As Chairman of the Palestinian Football Association Jibril al-Rajoub commented bluntly, the problems are rooted in "
the occupation's insistence on destroying Palestinian sport
."