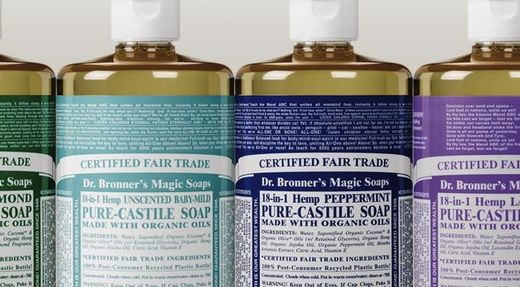 David Bronner, CEO of Dr. Bronner's Magic Soaps, presides over a company with famously wacky product labels. Sample sentence, from the
18-in-1 Hemp PEPPERMINT
soap bottle: "Each swallow works hard to be perfect pilot-provider-teacher-lover-mate, no half-true hate!" But Bronner himself, grandson of the founder (the one with the elaborate prose style), has emerged as a serious, though fun-loving, activist, particularly around pesticides and genetically modified crops, as Josh Harkinson's recent
Mother Jones
profile
shows.
But apparently, Bronner's writing on GMOs is too hot for the advertising pages of the English-speaking world's two most renowned science journals,
Science
and
Nature -
even though a slew of magazines, including
Scientific American, The New Yorker, Harper's, The Nation, Harvard,
and, yes,
Mother Jones
, accepted the Bronner ad. It consists of a short essay, known in publishing as an advertorial, that's nothing like the wild-eyed rants on his company's soap bottles. Bronner's ad (
PDF
) focuses on how GMO crops have led to a net increase in pesticide use in the United States, citing an analysis by Ramon Seidler, a retired senior staff scientist at the Environmental Protection Agency.
Bronner wrote his essay in response to Michael Specter's recent
New Yorker
takedown
of anti-GMO crusader Vandana Shiva. He first published his critique on
Huffington Post
, and then decided to publish it as an ad in a variety of high-profile magazines, because he felt that
The New Yorker
is highly influential among liberal elites, and he wanted to get his dissenting view out, he told me.