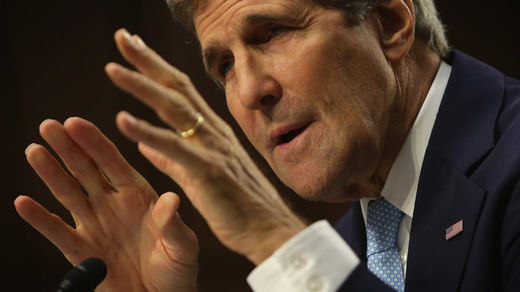 The US claims Syrian President Bashar Assad has broken the chemical weapons treaty he agreed to earlier this year, by launching chlorine gas attacks in Syrian villages.
It comes as the Senate officially approved a plan to arm and train Syrian rebels.
US Secretary of State John Kerry on Thursday accused Assad of breaching the terms of the global pact on chemical weapons,
by unleashing chlorine gas via barrel bomb attacks earlier this year.

Comment: If it happened "earlier this year" why are we hearing about it only know? Isn't it strange that they are coming up with these accusations now, when they want to bomb Syria? The same way that ISIS somehow miraculously beheads people at the most expedient time for the US.


"We
believe
there is evidence of [President Bashar] Assad's use of chlorine, which when you use it - despite it not being on the list - it is prohibited under the Chemical Weapons Convention," Kerry told the US House of Representatives. "He's in violation of the convention."
Kerry went on to add that Washington is studying ways to hold Assad to account.

Comment: More like studying how best to sell the propaganda to the people and the world to justify a military intervention.


The US official was not alone in
what appeared to be a new wave of Western pressure on Assad's government
, which was previously accused of perpetrating deadly chemical attacks in March 2013 near Aleppo and in August 2013 in Ghouta.