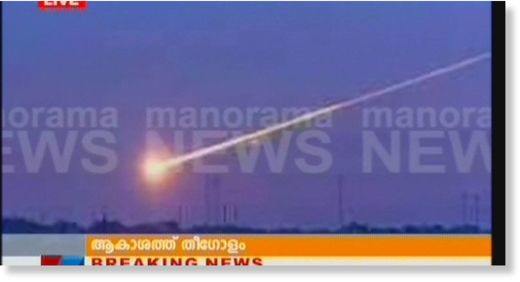 People all over the state were in the grip of panic as balls of fire streaked across the skies on Friday night. The fireballs were seen after 10 pm and in many places, mild tremors and thunder sounds accompanying the fire balls escalated apprehensions among the people.
While the phenomenon was first noticed in Ernakulam district, people from various parts of the state also reported seeing the phenomenon. Minister Adoor Prakash said that there was nothing to be concerned. Earthquake monitoring devices in six districts have not recorded anything unusual, said Ernakulam Collector M G Rajamanikyam. Other agencies such as ISRO and monitoring units of the Navy have also reported nothing unusual.
Most of the unofficial pictures that are doing the rounds are copies from websites and social media saw imaginations running riot with users even commenting that the sky was falling down in pieces. Many of these pictures were padded with background shots of Kochi to make them look authentic.