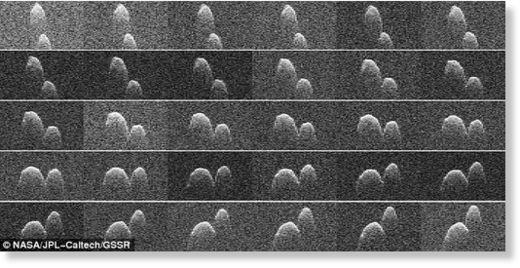 Nasa has captured images of a peanut-shaped asteroid as it made its closest approach to Earth last weekend.
The bizarrely-shaped asteroid appears to be what is known as a contact binary, which is an asteroid with two lobes that are stuck together.
The images show the rotation of the space rock, named 1999 JD6, which made its closest approach on July 24 at 9:55 p.m. PDT (12:55 a.m. EDT on July 25).
The asteroid remained at a distance of about 4.5 million miles (7.2 million km), or about 19 times the distance from Earth to the moon.
'Radar imaging has shown that about 15 per cent of near-Earth asteroids larger than 600 feet (180 metres), including 1999 JD6, have this sort of lobed, peanut shape,' said Lance Benner, who leads Nasa's asteroid radar research program.