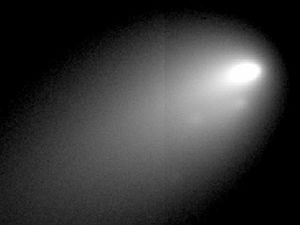 A comet has exploded over the province of Cuenca and fragments of it have been seen from one of Spain's largest observatories in Toledo.
Scientists at the La Hita complex say comet number 169P/NEAT, which flew over the central region of Castilla-La Mancha on Wednesday night and the early hours of Thursday morning burnt out in the sky 79 kilometres above ground over the town of Cañamares.
Shards of rock plummeted downwards at a speed of 80,000 kilometres per hour and broke up when they hit the earth's atmosphere
in a violent impact that turned them into bright balls of fire.
This was
first seen at 23.50hrs mainland Spain time above Portugal and, at 00.07hrs, the largest and fastest fragment impacted with the atmosphere above the province of Málaga on the south coast, creating a fireball as bright as the moon.