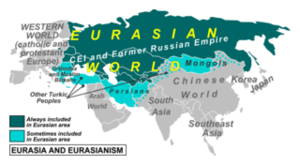 When it comes to the rise of Eurasia as the ascendent axis set to oppose US global hegemony, conventional wisdom focuses on the roles of China and Russia. However, the changing geopolitical landscape is certainly far more nuanced than merely the "west" versus the BRICS, and as the following
infographic from SCMP shows
,
China has been quietly working to recreate one of the most legendary trade routes, "
the Silk Road
", linking Africa to the Middle East (Iraq and Iran) to India, to Indonesia and all culminating in Beijing, while at the same time the reverse leg of the route goes to Kazakhstan, Moscow and ultimately, Germany. The purpose: "to enhance political and economic ties with southeast Asia and beyond."
As SCMP reports, China has set up a 10 billion yuan fund to support infrastructure projects under the umbrella of the silk road plan. Initially floated in relation to Asean countries, the idea has grown to include ports such as Colombo and Gwadar. China is already working with Malaysia to upgrade the Malaysian port of Kuantan and Cambodian officials have made clear their enthusiasm in developing port infrastructure.