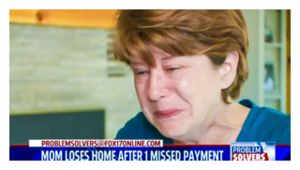 Richland - A disabled mother and her children were tossed from their home by the government after missing one property tax bill,
despite owning the home free-and-clear.
Deborah Calley, a mother of two daughters, paid $164,000 cash for her dream home in 2010. The home was chosen because of convenient location and accessibility; a perfect location for her as she slowly recovers from debilitating injuries following a car accident a few years ago.
The family's dream home became a nightmare when the Kalamazoo County government declared it to be foreclosed earlier in 2014, leaving the Calleys homeless.
Local bureaucrats alleged that three years ago, Ms. Calley did not pay for the privilege to live in the county, a so-called "property tax." Thus, the government stripped Calley of her home and property.
Ms. Calley is devastated, and claims that she had no idea about the missed property tax bill from 2011, and that she received no warning of the impending property seizure.
"When I paid the taxes in 2012 right there in Richland, no one said, 'Oh, well you still owe money for 2011,'"
said Ms. Calley to WITI
. "So, I didn't really have a clue. I thought I was right on time."