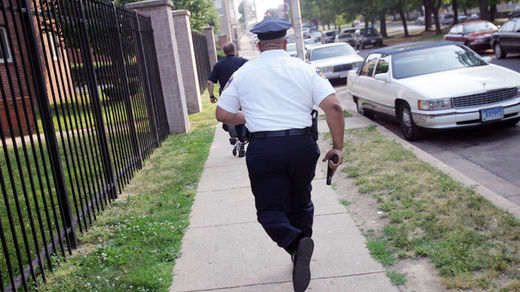 A Baltimore Police officer is facing $5 million dollar brutality lawsuit after a video surfaced showing him repeatedly punching a man.
The video, which was released on Monday from the man's lawyers, shows Police Officer Vincent Cosom repeatedly beating Kollin Truss, while another officer holds Truss's arm as the blows are delivered to his head and torso. Officer Cosom punched Truss six times.
"Much like the public, I'm shocked, I'm outraged, I'm disgusted by what I saw by an employee of the Baltimore City Police Department," Commissioner Anthony Batts said during a press conference addressing the video.
The attack happened three months ago on June 15 when Officer Cosom had a verbal exchange with Truss outside a liquor store. The officer's report said Truss was intoxicated at the time and that he told the man to move when he was loitering in front of the shop.
Truss visited the store to make a purchase and came out sometime later, when he encountered Cosom again. The video showed Truss' female friend pushing him away from her as more words were exchanged. Eventually Truss was backed into a nearby bus stop, where the alleged act of police brutality happened, according to the attorneys.
"The thing that bothers us is that the officer writes in his statement of facts that our client assaulted his girlfriend, but in fact that never happened," Truss' attorney Ivan Bates told Fox.