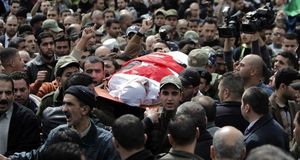 Israel expressed "regret" Tuesday over the shooting of a Jordanian judge at a border crossing, but its army insisted he had attacked soldiers and tried to grab a gun.
The shooting on Monday set off a diplomatic row between Israel and Amman - which signed a peace treaty 20 years ago - with Jordan's prime minister saying Israel is "completely responsible" and demanding an apology for the "hideous" shooting.
The Israeli army said 38-year-old Raed Zeiter, a Palestinian with Jordanian citizenship who worked as a judge in Amman, had charged at the soldiers with a metal pole while shouting "Allahu Akbar" (God is greatest), prompting them to fire at his legs.
"The suspect then began to strangle a soldier and the force resorted to using live fire once again," killing the man, the army said.
It said its preliminary findings were based on extensive questioning of witnesses to the event - which took place at the Allenby Bridge crossing between the occupied West Bank and Jordan - and that a military police investigation was ongoing.
The Palestinian Centre for Human Rights disputed the army's account, saying one of the soldiers pushed Zeiter after he had disembarked from a bus with other passengers so that Israeli soldiers could search it.
Zeiter responded in kind and other soldiers joined the scuffle, with one of them firing three rounds at his chest, the PCHR said, citing "a witness."
He was left bleeding for 30 minutes without any medical help before an Israeli ambulance came to retrieve the body, the group said.
"PCHR condemns the killing of Zeiter in cold blood... and urges the international community to act immediately to stop the crimes of the (Israeli) occupation forces," it said.
Hundreds of Palestinians turned out Tuesday for the funeral of Zeiter, accompanying the body - which was wrapped in a Palestinian flag - to its burial place in his family's northern West Bank hometown of Nablus.
"They killed my only son in cold blood," said Zeiter's father Alaa, who had travelled from Amman.
"My son was unarmed; he wouldn't even know how to use a weapon."