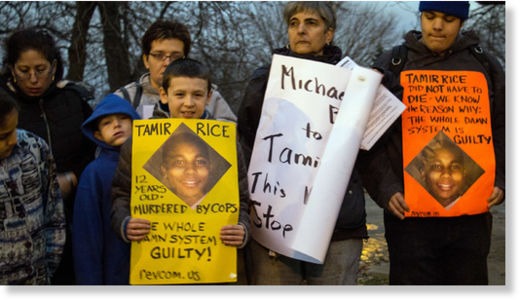 The 12-year-old boy fatally shot Saturday by Cleveland police did not point a pellet gun at officers who approached him at a playground, police said.
The shooting officer, police added, was only ten feet away from Tamir Rice when he fired at the boy.
Police officers were
responding
to a 911 call about a "
man
" with a gun that was "probably fake." The caller added, "I don't know if it's real or not." Cleveland Deputy Chief Edward Tomba said Monday he did not know if the dispatcher passed this information to the officers. The president of the Cleveland Police Patrolmen's Association said the officers were not informed that the gun was likely fake, AP reported.
The pair of officers approached Rice, who was told to raise his hands. He was shot twice by one of the officers when he reached for the pellet gun in his waistband. He did not, according to official accounts, point the "airsoft" gun at police or verbally threaten the officers.
"Airsoft" pellet guns are designed to resemble actual firearms, but they shoot round plastic pellets. The fake guns are usually distinguished from real weapons by a strip or spot of orange paint, but police said Rice's toy did not have a safety indicator. An Ohio state lawmaker has already proposed legislation that would require all such airsoft guns to come with bright or obvious fluorescent stripes.
"Our officers at times are required to make critical decisions in a split second," Chief Calvin Williams said. "Unfortunately this is one of those times."