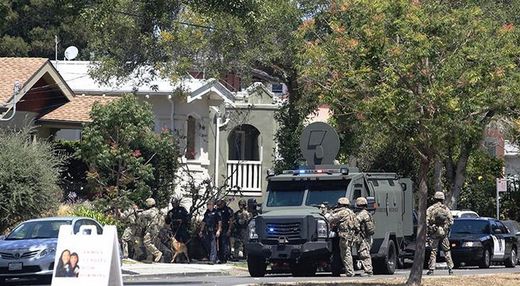 Military like response to one suspect shuts down American neighborhood
In a scene more reminiscent of a war-zone than an American city, Berkeley, California police conducted what looked like a full-scale military operation in a residential neighborhood in response to a one person robbery of a local laundromat.
Despite the fact that no one was injured in the robbery, police decided to effectively close down an entire neighborhood in an attempt to catch the "silver tooth" robber
who they admitted may or may not have been armed
. Police advised residents to stay in their homes as they went house to house to search for the suspect.
"Berkeley Police spokeswoman Officer Jennifer Coats said cash was taken during the robbery but
there were no injuries reported to the victim
,"
reported Berkeleyside.com
.
In the mainstream media report quoted above, the local reporter
calmly reports
the full-scale takeover of an American city to catch one criminal as if it was completely normal.