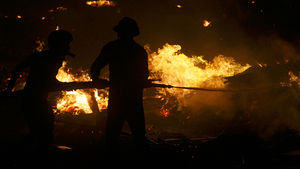 A heist to siphon off spilled gasoline from a crashed tanker in Mexico ended in tragedy with four dead and 34 people injured as the truck exploded.
The victims, including two children, ignored warnings and refused to back away.
An overturned tank filled with 60,000 liters (15,850 gallons) of fuel crashed on a road in southern Mexico between Villahermosa and Coatzacoalcos,
Mexican officials said Saturday.
Residents flocked to the crash site, attempting to collect the spilled gasoline. Local authorities issued an explosion warning, urging people to stay away from the crash site - but to no avail.