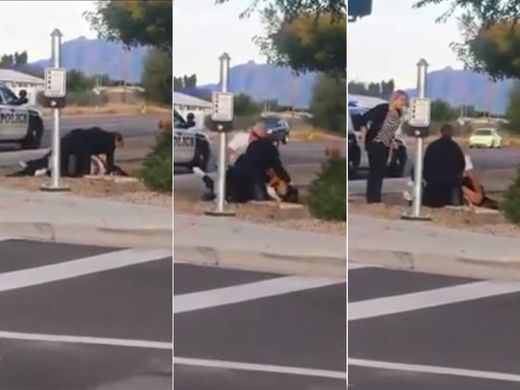 A video of an altercation between a female police officer and a 15-year-old girl has gone viral, along with seemingly contradictory accounts of what happened. The video has prompted witnesses to accuse the officer of punching the girl to subdue her.
The incident occurred in Mesa, Arizona on Friday, and was uploaded that evening
to Facebook
by Luis Paul Puleo Santiago. From there it made its way to
Youtube
, and as of Saturday evening the video
reportedly
had over half a million views online. The attention comes amidst protests that erupted in cities across the country over the failure to indict officers in the deaths of either Eric Garner or Michael Brown, both of whom were unarmed when police shot them.
Santiago and another woman caught the incident on camera from a car across from the street corner where it occurred. The figures are in the distance, but the video clearly captures a struggle between the female officer and the girl, ending with the officer pinning the girl to the ground. At that point, the girl
repeatedly screams "stop" and "I can't breathe."
On the soundtrack, Santiago and the woman can be heard gasping and saying
"she just punched her in the face."
Police told ABC News 15 in Arizona
that the girl had run away
in the past, and that her mother had called the police asking for help after the girl got out of the mother's car and walked away. Esteban Flores with the Mesa Police Department told the news outlet that "authorities tried three times to convince the girl to stop before a female officer reached for the girl's arm." According to the police, the girl then kicked the officer and "punched her in the face." After that, the female officer - a 12-year veteran on the force, according to Esteban - made the arrest, "which involved physical force by the officer."
On the video, another male witness and the girl's mother approach the struggle after the officer gets the girl to ground, and the mother proceeds to have an angry but indistinct exchange with the officer. When Santiago and the woman pull over and exit the car, the screen goes dark, but Santiago can be heard saying, "She punched her in the face, I have it on video." Another female voice, presumably the girl's mother, says "Please be a witness."