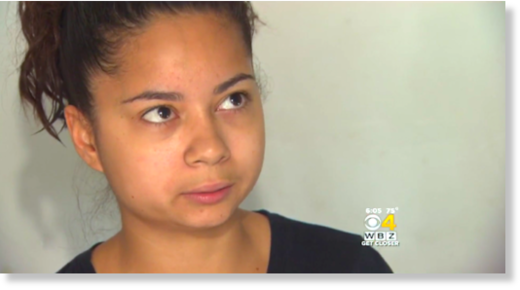 Police terrorized a naked woman and her children at gunpoint last week during a no-knock raid on the wrong apartment.
Marianne Diaz said she was awakened about 5:30 a.m. Wednesday by SWAT officers knocking down the door to her Worcester, Massachusetts, apartment as officers wearing helmets and shields burst inside and pointed "big guns" at her head,
reported the Telegram & Gazette
.
"Stop f*cking crying and take care of your f*cking kids," one officer commanded, Diaz said.
Diaz said her 7-year-old daughter was shaking in terror as she held her 18-month-old daughter in her lap, and she said officers would not allow her to cover up for about 10 minutes — after a woman officer frisked her nude body.
"It was terrorizing, and the worst thing I've ever been through in my life,"
Diaz told WBZ-TV
. "They were loud, vulgar and disgusting in behavior."