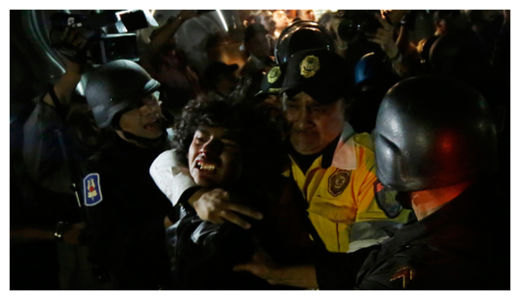 Mexican police have violently arrested protesters rallying in the country's capital. The demonstrators are demanding a thorough investigation into the disappearance of 43 students in September.
Clashes between police and protesters broke out during the organized demonstration on the five-month anniversary of the disappearance of the students, who were attending a teacher training college in Ayotzinapa, located in southwestern Guerrero state.
Thousands have been rallying in the streets of Mexico City, carrying banners with the portraits of the missing students. Their parents were leading the demonstration.
Violentas detenciones en #AcciónGlobalAyotzinapa pic.twitter.com/v3yybtsqqi

— Proyecto Ambulante (@proamboax) February 27, 2015
The rally went peacefully through the streets of the capital, but the clashes started when part of the crowd moved to one of the subway station, according to RT Spanish reports.
Reportan detenciones cerca del Metro Sevilla Fotos: @bpm_arian4 http://t.co/S29uDBCO51 pic.twitter.com/bNaLZF8Vey

— Sin Embargo (@SinEmbargoMX) February 27, 2015
The incident has caused a number of mass protests in the country, with people demanding justice and demonstrating against corrupt police. Mexican's president's visit to the United States last month has been also marred with rallies.