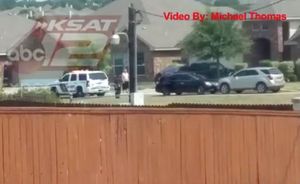 A Texas news station published unedited video showing the moment that a man who had put his hands up was fatally shot outside a home in an officer-involved shooting.
KSAT-TV in San Antonio reported
that 41-year-old Gilbert Flores was confronted by Bexar County deputies Greg Vasquez and Robert Sanchez. Video shows a patrol vehicle with its lights on outside the home as the two officers approach Flores from the right of the screen, separated from the suspect by two other vehicles parked along the street.
Flores then comes out from behind the vehicle, appears to start to walk away, then comes back.
He appears to have both arms in the air just before crouching his upper body inward, then falling backward and hitting the ground.
Each of the two deputies react by taking a few steps back toward the street. Moments later, another patrol vehicle arrives on the scene and an ambulance arrives on the scene about three minutes later.