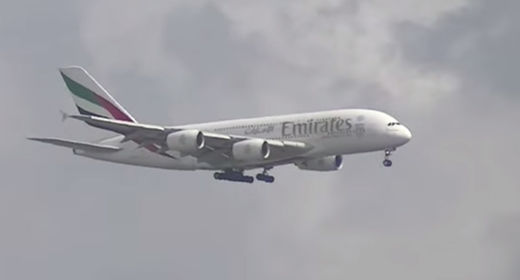 Colombo: An Emirates Airbus A380 plane carrying over 500 people from Sydney to Dubai made an emergency landing in the Sri Lankan capital on Friday after
pilots detected smoke in the cockpit
.
The plane, which landed safely in Colombo, was 320 nautical miles east of Colombo's Bandaranaike International airport when pilots made a distress call, airport's chief air navigation services officer Crishanthi Tissera said.
"The pilots said May Day, May Day and we activated all our emergency services and brought the aircraft to a safe landing," Tissera told reporters.
She said the pilots reported smoke in the cockpit but later the "full emergency" was downgraded to an "urgency".
There was no fire seen as the plane landed 39 minutes after the first distress call. All 471 passengers, including six children and the 30-member crew disembarked safely.
"Emirates flight EK413 from Sydney to Dubai...was diverted to Colombo
due to a technical fault
," the airline said in a statement
without giving details about the nature of the problem.