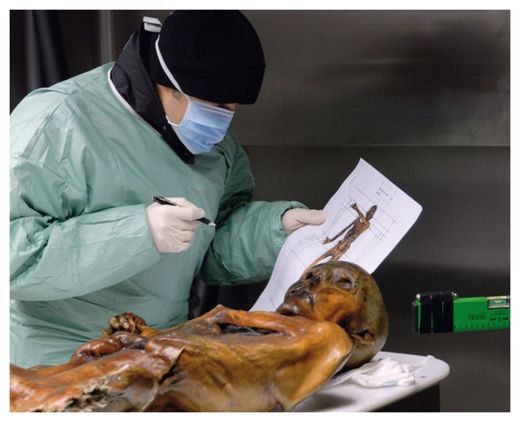 A new study has used advanced imaging techniques to identify previously unknown tattoos on the ribcage of the 5300-year old man known as Ötzi, bringing his total number of tattoos to 61.
But first, some context
In September of 1991 hikers in the Ötzal Alps along the border of Austria and Italy happened upon the mummified corpse who became an archaeological celebrity. After Ötzi died at the hands of unknown attackers one late spring or early summer around 3500 BC, his body and belongings were left in a small gully where they were entombed beneath an alpine glacier. A combination of glacial meltwater and extreme cold resulted in natural mummification of his body.
Thanks to more than two decades of analysis, scientists arguably know more about Ötzi's health and final days than those of any other ancient human. He died at around 45 years of age after being
shot in the back
with a stone-tipped arrow and bludgeoned. In the 12 hours preceding his death he climbed into the mountains from an Italian valley, and ate
a last meal
consisting of grains and ibex meat.
Ötzi suffered a
variety of ailments
, including
advanced gum disease
, gallbladder stones,
lyme disease
, whipworms in his colon, and atherosclerosis. Researchers have sequenced Ötzi's
entire genome
, identified a genetic
predisposition to heart disease
, and determined that he has
19 surviving male relatives
in his genetic lineage. However, a new studyshows the Iceman still has secrets left to reveal.