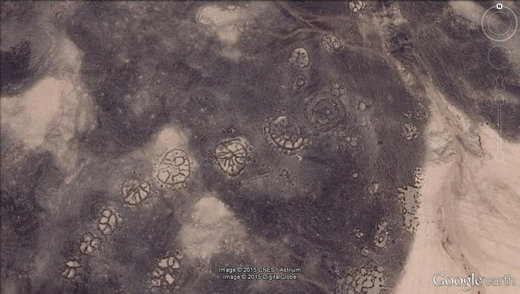 Thousands of stone structures that form geometric patterns in the Middle East are coming into clearer view, with archaeologists finding two wheel-shaped patterns date back some 8,500 years. That makes these "wheels" older than the famous geoglyphs in Peru called Nazca Lines.
And some of these giant designs located in Jordan's Azraq Oasis seem to have an astronomical significance, built to align with the sunrise on the winter solstice.
Those are just some of the findings of new research on these Middle East lines, which were first encountered by pilots during World War I. RAF Flight Lt. Percy Maitland published an account of them in 1927 in the journal
Antiquity
, reporting that the Bedouin called the structures "works of the old men," a name still sometimes used by modern-day researchers. [
See Photos of the 'Nazca Lines' in the Middle East
]
The "works of the old men" include
wheels
,which often have spokes radiating out from the center, kites (stone structures used for funnelling and killing animals), pendants (lines of stone cairns) and meandering walls, which are mysterious structures that meander across the landscape for up to several hundred feet.
The works "demonstrate specific geometric patterns and extend from a few tens of meters up to several kilometers, evoking parallels to the well-known system of geometric lines of Nazca, Peru," wrote an archaeological team in a paper published recently in the
Journal of Archaeological Science
. (
Peru's Nazca Lines
date to between 200 B.C. and A.D. 500.)
They "occur throughout the entire Arabia region, from Syria across Jordan and Saudi Arabia to Yemen," wrote the researchers. "The most startling thing about the 'Works' is that they are difficult to identify from the ground. This stands in contrast to
their apparent visibility from the air
."
New research on the Middle East lines was published recently in the
Journal of Archaeological Science
and the journal
Arabian Archaeology and Epigraphy.
Live Science also got an advance copy of an article set to be published in the journal
Antiquity
.