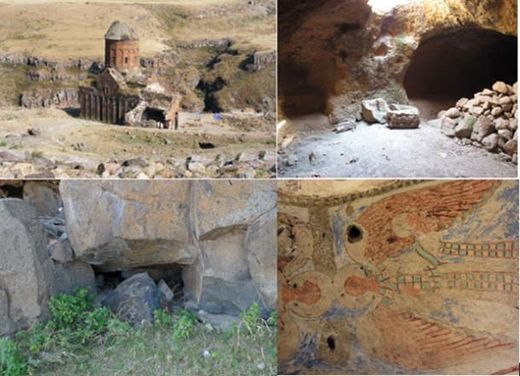 For the first time in history, the academic world is paying attention to the spectacular underground world of Ani, a 5,000-year-old Armenian city located on the Turkish-Armenian border.
Hurriyet Daily News
reports that scientists, academics, and researchers have just met at a symposium in Kars titled 'Underground Secrets of Ani' to discuss the city's underground world mentioned in ancient parchments as the location of an ancient Mesopotamian esoteric school.
Located on a hilltop near the bank of the Akhuryan River, Ani is the most famous among the Armenian capitals. Renowned for its splendour and magnificence, Ani was known as 'The City of 1001 Churches' and 'The City of 40 Gates'. At its zenith, Ani rivalled the likes of Constantinople, Baghdad and Cairo in size and influence. By the 11th Century Ani had grown to over one-hundred-thousand people. It would later become the battleground for various contending Empires, leading to its destruction and abandonment. Today, hundreds of ancient churches, Zoroastrian temples, and other buildings, most of them in ruins, remain scattered across the rugged and desolate landscape.
Excavations have revealed that the area has been inhabited since ancient times, from at least as early as the Bronze Age, but the first historical records that mention 'the Fortress of Ani' trace back to the 5
th
century AD. By the end of the 8th century Ani, with its nearby estates, got under the control of Bagratid dynasty. Ani began growing since 961 AD, when the Bagratid king Ashot III transferred his capital from Kars to Ani. During the period of only 40-50 years Ani transferred from a little fortress town to a big medieval city.