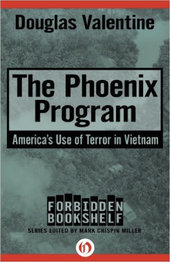 The Phoenix Program in Vietnam in many ways provides a blue print for our own times. Assassinations and torture are the essence of the war on terror. As are death squads and false flag terror attacks. As are mass surveillance of the populace.
Thanks to the work of
Douglas Valentine
in his classic book
"The Phoenix Program"
we have an extremely detailed account of the Phoenix Program exposing a classic example of the brutality of the CIA's counter insurgency wars. By studying the Phoenix program one can gain a great deal of insight into the wars in Afghanistan, Syria and Iraq.
How the book came to be written is an interesting story in it's own right. Doug Valentine had written a novel about his fathers experiences in a prisoner of war camp during World War 2 called "Hotel Tacloban."
He decided his next book would be on Vietnam and he decided to focus on the CIA role since little had been written on the topic. He approached former CIA Director William Colby for help. He sent him a copy of his book and the former CIA director decided that Valentine was a man who understood the harsh realities of war and agreed to meet with him. Valentine cut his hair, bought a suit and tie met with Colby and managed to gain his confidence. Colby believed Valentine would write a sympathetic account. After all the CIA is used to working with journalists who censor the truth in exchange for inside information. Colby arranged for him to meet hundreds of former agents.