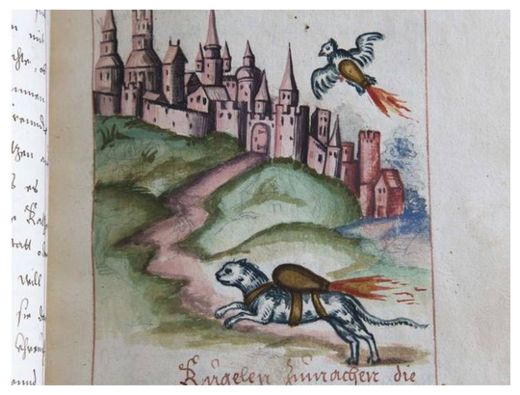 From
Nyan cat
to
leaping feline fails
the airborne moggie is quite rightly a harmless obsession for those who create internet memes.
Experts studying fanciful illustrations from a circa-1530 manual on artillery and siege warfare, however, appear to have uncovered a less innocent use for cats in flight.
Images from the manual, which was digitised by the University of Pennsylvania, appear to show jet packs strapped to the backs of cats and doves.
The German text accompanying the pictures helpfully advises military commanders to use them to
"set fire to a castle or city which you can't get at otherwise."
The pictures showing cats and doves being propelled towards a castle by what appear to be jet-packs appear in a
Feuer Buech
manuscript that has now got experts puzzled.
The treatise in question was written by artillery master Franz Helm of Cologne, who was believed to have fought in several skirmishes against the Turks in south-central Europe at a time when gunpowder was changing warfare.