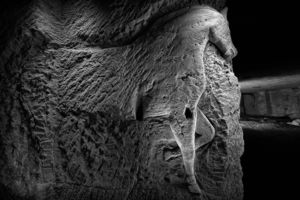 Many people think of World War I as the trench war, but few realize it went hundreds of feet deeper.
As both sides dug in, they found ancient quarries and caves below the bombed-out forests of northeastern France, and they took temporary refuge from the war's horrors there. The offices, kitchens, worship spaces, and artworks they made have rested unchanged for a century in underground cities visited by just a few historians and enthusiasts.
The locations of these quarries and caves remain relatively secret for now, but the entrances are unprotected.
Dr. Jeffrey Gusky, an emergency room physician and professional photographer, has shot these underground cities in eerie detail and published the images extensively in
National Geographic
, the
New York Times
, and other periodicals. The BBC, NPR, CBC and other news outlets have interviewed him about it. This exposure brings the caves' culture and beauty to a large audience, but with that fame comes danger for the sites themselves.