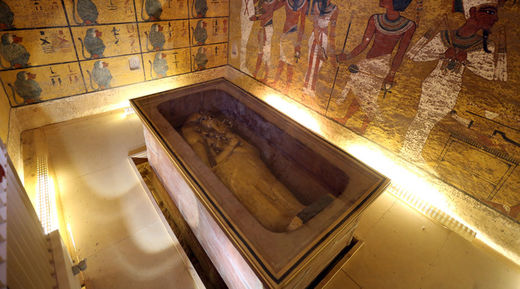 The name Nefertiti means, "the beautiful one has come" in Egyptian. This may actually prove prophetic.
Scans of King Tutankhamun's tomb in the Valley of the Kings point to a secret chamber, possibly containing the remains of Queen Nefertiti
.
Experts are "approximately 90 percent" sure there's a hidden chamber in Tutankhamun's tomb
, Antiquities Minister Mamduh al-Damati told a news conference. They are currently trying to gather more information, using hi-tech infrared and radar technology.
The scans were prompted by a study by a prominent British archaeologist, Nicholas Reeves, which claimed Nefertiti's lost tomb may be hidden in an adjoining chamber.
Tutankhamun (who died 3,000 years ago at the age of 19) may have been placed in an outer chamber of what was originally Nefertiti's tomb, according to Reeves
. Along with her husband, Nefertiti, an Egyptian queen and one of the wives of Tutankhamun's father Akhenaten, played a key political and religious role in the 14th century BC.