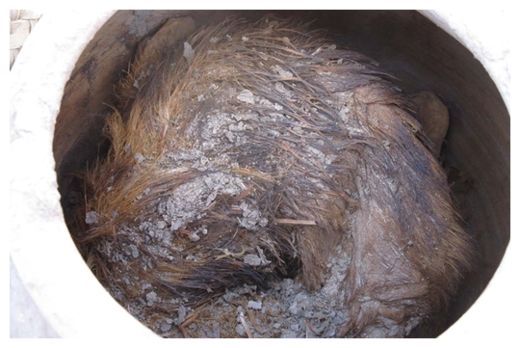 Archaeologists have found some of the most curious canine burials ever unearthed in Egypt - two well preserved dogs buried in pots some 3,000 years ago.
Nicknamed Houdini and Chewie, the dog pots were discovered at Shunet ez Zebib, a large mud-brick structure located at Abydos - one of Egypt's oldest standing royal monuments. The site was built around 2750 B.C and was dedicated to Khasekhemwy, a second dynasty king.
It is also known for the the thousands of ibis burials in jars that had been recovered in the dunes nearby, and for the interments of other animals, mostly raptors and canines.
"The site provided a very secure structure, with conveniently soft, sandy fill that was easy for quick burials within a sacred space," Salima Ikram, professor of Egyptology at The American University in Cairo, wrote in a recently published Festschrift in honor of Dieter Kessler, a renowned scholar in the field of animal cults and Egyptian religion.