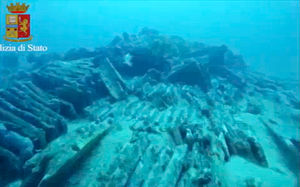 The wreck of a 2,000-year-old Roman ship has been discovered on the seabed off the coast of Sardinia with its cargo packed just as it was at the moment of departure.
Resting at a depth of 150 feet in the waters off Santa Teresa Gallura, the vessel is 60 feet long and 23 feet wide and
dates to the first or second century A.D.
It was found by Italian police divers, working in collaboration with the Superintendent for Archaeological Heritage.
"The ship was loaded with terracotta roofing tiles, possibly produced in or around Rome," the Italian police said in a statement.
The police statement added
the find is of "great scientific value," as the intact and well preserved cargo provides clues on how such vessels were loaded before they left ports.