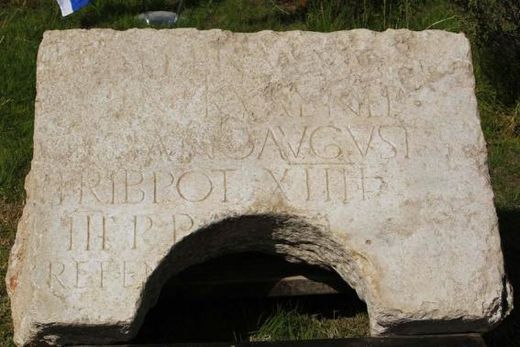 Israeli archaeologists displayed on Tuesday a 2,000-year-old stone block unearthed in Jerusalem that they hope will help shed new light on a Jewish revolt against the Romans.
It is part of a lintel from an arch built to welcome Emperor Hadrian when he visited Jerusalem in 130 AD, around the time the region's Jews, led by Bar Kochba, rose up against Roman rule.
The Latin inscription on the remnant, which hails Hadrian in the name of the 10th Roman legion, fills out understanding of the extent to which the empire controlled Judea at the time, said Israel Antiquities Authority archaeologist Rina Avner.
"This is another (part in the) puzzle in the historical mystery of what preceded what: the revolt of Bar Kochba or the foundation and the establishment of a city on top of the ruins of Jerusalem named 'Aelia Capitolina' and the change of status of Jerusalem to a Roman colony," she said. "We don't know yet which preceded which."