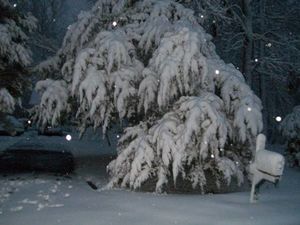 Nature teaches us a lot about what it takes to survive in the world. If only we'd listen.
As I watch the snow fall outside my window, I can't help but be impressed. This perfect snow clumps on the tree branches, building a forest of white.
But branches can only take so much weight. What happens when the snow becomes too much?
This is where nature's amazing architecture comes into play. Nature has a simple solution to the weight of the world - and it's one we can all learn from.
The branches fill up with snow. When it becomes too much, the branch gently bends, relieving itself of the snow and its weight. The branch, we could say, is practicing
resilience.
Nature has considered all the possibilities of life, and built in mechanisms to ensure that things survive. It brings snow to the trees, and the trees bend to the weight of snow, allowing no real harm to come to them.
Nature has built these same mechanisms into us, too. We just don't always recognize or use them.