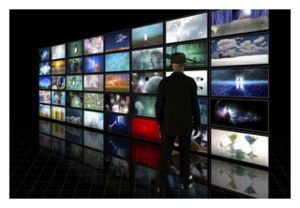 A study conducted at the City College of New York (CCNY) in partnership with Georgia Tech looks to have found a highly reliable way to predict audience reaction to TV shows and commercials. The method involves studying the brainwaves of only a few individuals as they watch the content. According to the researchers, these observations of brain activity reflect with considerable accuracy how larger audiences will respond to the same content.
In the
Nature Communications
study, researchers explain how they analyzed the brainwaves of sixteen people who were connected to EEG electrodes as they watched mainstream television productions - namely scenes from
The Walking Dead
series and several commercials from the 2012 and 2013 Super Bowls.
The main indicator of engaging and appealing content was that different people's brains responded in the same way upon viewing. When similar brain activity was noted, it was when watching something that had a record of being popular with audiences based on social media data provided by the Harmony Institute and ratings from USA Today's Super Bowl Ad Meter. For example, very similar brainwaves were observed in participants as they watched a 2012 Budweiser commercial that featured a dog that fetched beer.
The public had previously voted the ad as their second favorite that year. On the flip side, there was much less "brain agreement" when those taking part saw a GoDaddy commercial featuring a kissing couple, which rated among the worst ads in 2012. The accuracy with which the method could predict reaction to Super Bowl commercials was put at an impressive ninety percent.