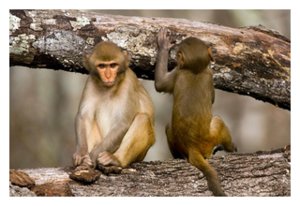 Scientists have discovered a group of neurones that enable one monkey to predict what another monkey is about to do - the first-known instance of neurones calculating another animal's behaviour.
The discovery may be fundamental for understanding social behaviour and could lead to better treatments for conditions like autism spectrum disorder.
US neuroscientists got pairs of monkeys to play a game based on classic game theory known as 'the prisoner's dilemma.'
Their findings are published today in the journal
Cell
.
Decisions... decisions
In the game, the monkeys sit side by side facing a computer screens. They can choose either to cooperate (signified by pressing a hexagon on their screen) or to be selfish (by pressing a triangle).
Although they are well aware of each other's presence, neither monkey can see the other's facial expressions, nor can they see the choice the other monkey makes as they make it, explains study co-author neuroscientist Dr Keren Haroush of
Harvard Medical School
and
Massachusetts General Hospital
, Boston, USA.
Their reward depends on their combined choices. If one monkey chooses to be selfish and the other to cooperate, the selfish monkey wins hands down, getting six drops of juice as a reward while the other (cooperative) monkey gets only one drop.
But if they both choose the selfish option they get just two drops each. Both deciding to cooperate, however, wins them each four drops of juice.
"The only follow-up was at the end of the trial: once they had both made their selections, they got to see what the other one chose." says Haroush.
Not only could they see the choice the other monkey made, they could also hear the drops of juice that it got as a reward.