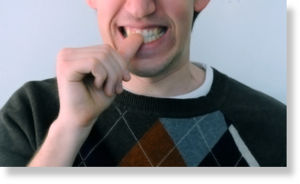 That person we all seem to know who we say is neurotic and unable to take action? Turns out he or she isn't unable to act but simply doesn't want to.
A study of nearly 4,000 college students in 19 countries has uncovered new details about why neurotic people may avoid making decisions and moving forward with life. Turns out that when they are asked if action is positive, favorable, good, they just don't like it as much as non-neurotics. Therefore persuasive communications and other interventions may be useful if they simply alter neurotics' attitudes toward inaction.
These findings come the study "Neuroticism and Attitudes Toward Action in 19 Countries." It is published in the
Journal of Personality
and was written by Molly E. Ireland, Texas Tech University; Justin Hepler, University of Illinois at Urbana-Champaign; Hong Li, Battelle Center for Analytics and Public Health; and
Dolores Albarracín
- the principal investigator of the study-- from the Annenberg School for Communication, University of Pennsylvania.
"You're so neurotic!" It's a phrase that's tossed about casually, but what exactly is neuroticism? It is a personality trait defined by the experience of chronic negative affect - including sadness, anxiety, irritability, and self-consciousness - that is easily triggered and difficult to control. Neurotic people tend to avoid acting when confronted with major and minor life stressors, leading to negative life consequences.