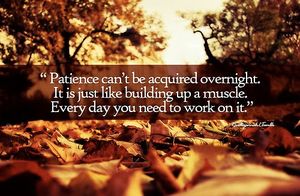 Many of us have a problem with patience. That is, we lack it. We might be impatient in all areas of our lives. Or we might get impatient in certain situations.
We might get impatient while waiting in line at the store, or sitting in bumper-to-bumper traffic. Or waiting for an email to arrive in our inbox. Or hearing back from a potential employer.
Of course, the pace of our world doesn't help with cultivating patience. Our society's tempo is rapid-fire. We press "send" on an email, and it works in seconds (and how annoyed do you get if it takes a few seconds longer to actually send?). Our food comes with a time guarantee, or it's free.
We're able to walk into a grocery store, walk through any aisle and grab exactly what we need (without waiting hours in line only to find that the item sold out hours ago).
You probably know that being impatient isn't helpful or healthy.
When we try to speed things up, we only get worked up and stress ourselves out.
Which affects everything from ruining a good meal to pushing people away, said Casey Radle, LPC, a therapist who specializes in anxiety, depression and self-esteem at
Eddins Counseling Group
in Houston, Texas.