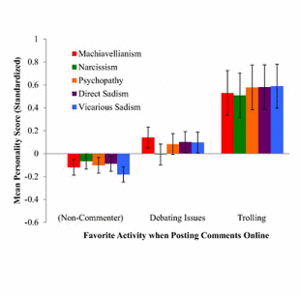 According to a new study, researchers have found that people who
troll
online often have nasty personalities. And, well, they like doing it. Trolls
enjoy
trolling.
Surprised? Not sure anyone would be.
Nonetheless, the researchers found that trolls scored highly on a number of personality traits examined: Machiavellianism, psychopathy,
narcissism
, extraversion, disagreeableness and sadism.
Trolling is, according to the researchers (
Buckels et al.
, 2014), the "practice of behaving in a deceptive, destructive, or disruptive manner in a social setting on the Internet with no apparent instrumental purpose."
People who
troll
like to post comments to websites or communities online that cause trouble, insult others, and cause general mayhem, just for the sheer pleasure of seeing what happens when they do so.
The researchers coined their own term for four of the personality variables they studied, which they call the Dark Tetrad of personality: Machiavellianism, psychopathy, narcissism, and sadism. Machiavellianism is a willingness to manipulate and deceive others, while psychopathy is not having any remorse or empathy for others. The researchers thought everyday sadism would be most conducive to trolling behavior online.
In two studies of over 1,215 participants, the researchers found that a number of personality traits were associated with a greater likelihood for trolling.