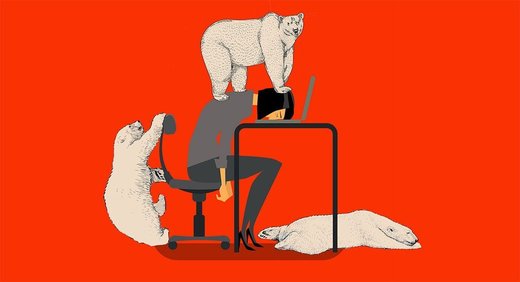 Our minds are not entirely under our control. Fyodor Dostoevsky noted as much in 1863, when
he penned
his famous white bear observation. "Try to pose for yourself this task: not to think of a polar bear, and you will see that the cursed thing will come to mind every minute."
Over a century later, social psychologist Daniel Wegner
scientifically verified
Dostoevsky's claim. Volunteers asked to suppress thoughts of a white bear utterly failed at that task. In a second step, Wegner asked the volunteers to actively think of the bear. He found that original thought suppression group was now able to spend significantly more time picturing the animal than subjects who were asked to think about it from the beginning. Thought suppression, Wegner hypothesized, seems to produce "the very obsession or preoccupation that it is directed against."
While bears on the brain may be a somewhat innocuous preoccupation, Wegner noted that the same backfiring effect often plays out when trying not to ruminate on painful or distressing topics. He explained this phenomenon through the lens of "ironic processes": when trying to suppress a thought, our mind repeatedly checks back in on the thought to make sure we are indeed suppressing it, thus making us think of it more.