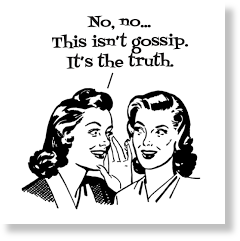 Gossip is pervasive in our society, and our penchant for gossip can be found in most of our everyday conversations. Why are individuals interested in hearing gossip about others' achievements and failures? Researchers at the University of Groningen in the Netherlands studied the effect positive and negative gossip has on how the recipient evaluates him or herself. The study is published in
Personality and Social Psychology Bulletin
.
In spite of some positive consequences, gossip is typically seen as destructive and negative.
However, hearing gossip may help individuals adapt to a social environment, illustrate how an individual can improve, or reveal potential threats.
Design of the study
The first study asked participants to recall an incident where they received either positive or negative gossip about another individual. Participants were then asked questions to measure the self-improvement, self-promotion, and self-protection value of the received gossip information. Individuals that received positive gossip had increased self-improvement value, whereas negative gossip had increased self-promotion value. Negative gossip also increased self-protection concerns.