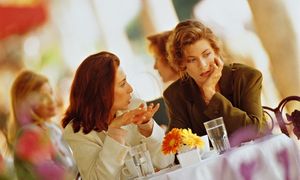 The dilemma
The group of girls I consider my best friends are all having a difficult time and, instead of turning towards each other, we seem to be turning away. I care deeply about my friends, but I resent them at times. I understand that when I express my sadness it can sometimes come across as "crying wolf" because I tend to dramatise my emotions. We are a group of girls, one dumped, one sacked, one lost, one who loves unrequitedly, but we have no one to turn to in our sadness. I want to fix this, but I don't know how. I feel like I need to change my behaviour, so they will be able to confide in me.
Mariella replies
I'll let you into a little secret. In my time in this agony chair I've come to realise that other people's problems are the path to personal happiness. Little did I know when I first sat down at the briefcase-sized piece of technology that was then known as a portable PC and started penning responses to
Observer
readers' letters what a healthy impact it was to have on my own state of mind. My dependence on my regular inbox sometimes makes me feel like a vampire, reliant for my survival on a diet of my fellow humans' misery. I'll come clean - the past few months haven't been great for me and there have been moments when sitting down to dish out advice to others from the quagmire of my own existence has felt fraudulent.