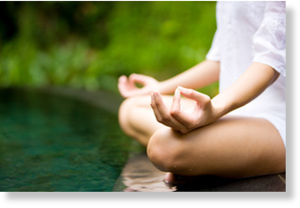 Focusing on the present rather than letting the mind drift may help to lower levels of the stress hormone cortisol, suggests new research from the Shamatha Project at the University of California, Davis.
The ability to focus mental resources on immediate experience is an aspect of mindfulness, which can be improved by meditation training.
"This is the first study to show a direct relation between resting cortisol and scores on any type of mindfulness scale," said Tonya Jacobs, a postdoctoral researcher at the UC Davis Center for Mind and Brain and first author of a paper describing the work, published this week in the journal
Health Psychology
.
High levels of cortisol, a hormone produced by the adrenal gland, are associated with physical or emotional stress. Prolonged release of the hormone contributes to wide-ranging, adverse effects on a number of physiological systems.
The new findings are the latest to come from the Shamatha Project, a comprehensive long-term, control-group study of the effects of meditation training on mind and body.