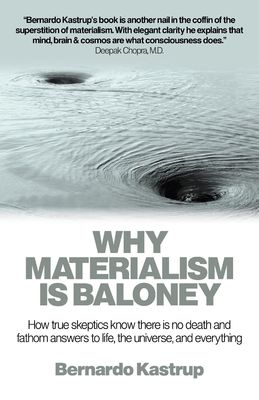 Interview with philosopher and author, Bernardo Kastrup examines the limits of scientific materialism.
Join Skeptiko host Alex Tsakiris for an interview with Bernardo Kastrup, PhD., author of,
Why Materialism Is Baloney
. During the interview Kastrup discusses human consciousness as an emergent property of the brain:
Download MP3 (47 min.)
click here for Bernardo's Website
Alex Tsakiris:
Today we welcome Bernardo Kastrup back to Skeptiko. Bernardo has a PhD in computer engineering and has worked as a scientist in some of the world's leading research laboratories, including those particle smashing folks at CERN. He's here to talk about his new book,
Why Materialism is Baloney
. He's been a very popular guest on Skeptiko and it's great to have you back Bernardo. Thanks for joining me.
Bernardo Kastrup:
Thanks for having me back. It was fun last time.
Alex Tsakiris:
It's fun to have you here. Tell us about this book with this very provocative title that won't be surprising to a lot of our listeners but certainly will be provocative to a lot of people,
Why Materialism is Baloney
.
Bernardo Kastrup:
The first time I disclosed this title, people were sure my publisher wouldn't accept it and I thought probably they won't, but they did and I'm very glad. It reflects the essence of the book. It's an effort I made over the past few years to organize my own thoughts about why materialism simply doesn't make sense. Why - it sounds so plausible because it's so embedded in the culture for so long for 300 - 400 years, since the beginning of the enlightenment. But if you really look into it you see that it doesn't add up.
Not only does it not add up it's also not necessary to explain reality.