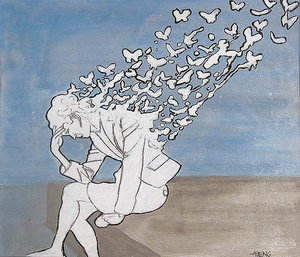 Psychologists studying post-traumatic growth find that many people come to thrive in the aftermath of adversity.
This excerpt is from the new book Wired to Create: Unravelling the Mysteries of the Creative Mind, by psychologist Scott Barry Kaufman and HuffPost Senior Writer Carolyn Gregoire.
One of Frida Kahlo's most famous self-portraits depicts her in a hospital bed naked and bleeding, connected by a web of red veins to floating objects that include a snail, a flower, bones, and a fetus.
Henry Ford Hospital
, the 1932 surrealist painting, is a powerful artistic rendering of Kahlo's second miscarriage.
Kahlo wrote in her diaries that the painting "carries with it the message of pain." The painter was known for channeling the experience of multiple miscarriages, childhood polio, and a number of other misfortunes into her iconic self-portraits, and a real understanding of her work requires some knowledge of the suffering that motivated it.