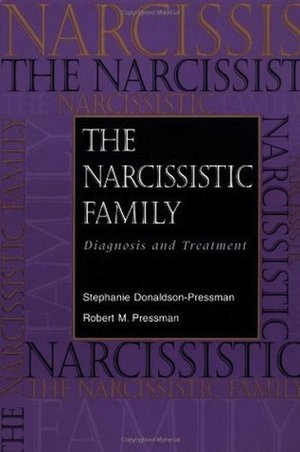 If you are confused about your own people pleasing tendencies, need for external approval, and even your own feelings, I suggest you read
The Narcissistic Family: Diagnosis and Treatment
by Stephanie Donaldson-Pressman and Robert M. Pressman.
In their work as therapists, the authors discovered an unusual trend - patients with traits similar to adult children of alcoholics, but no evidence that their parents were substance abusers. Moreover, many of the patients did not recall any overt abuse as children. So why then were these patients exhibiting the dysfunctional psychological, interpersonal, and work traits of abuse survivors?
The answer was a different type of dysfunctional family. Coined by the authors as the narcissistic family, what these patients all had in common was that as children, the needs of their parents took precedence over their needs. This is in contrast to healthy families, who put the needs of their children first. Without further explanation, this discovery might not seem wholly worthy of the label 'dysfunction'.
So to explain, a basic goal for most families is to raise healthy children who will one day become independent adults. In a healthy family, parents work to accomplish this task by assuming responsibility for their children's emotional and physical needs. Over time, parents gradually teach their children to be independent by allowing them to assume responsibility for meeting their own needs in a developmentally appropriate manner. Thus, the primary work of children is to learn to become independent adults. Along the way,
they learn to identify and act on their feelings, wants and needs. Parents take care of their own needs or seek help from adults.
As a bonus, the children have also learned how to be good parents through the process of observational learning.
In narcissistic families, this basic goal becomes skewed and the meeting of parental needs becomes of primary importance for the family. This twist generally takes place some time after infancy, as the authors point out that most children of narcissistic families were well cared for as babies. In fact, it is mostly likely to occur some time after the child begins to differentiate him or her self from the parents and begins to assert their own needs. This normal developmental process is difficult for parents who are most concerned with fulfilling their own needs as a result of job stress, physical or mental disability, or lack of parenting skills, to name a few reasons. To compensate, the parents fight back, ignoring the child's needs and at the same time forcing the child to respond to their own by withholding attention and affection until they do so. In this way,
the children's emotional needs go unattended and they are deprived of the opportunity to experience gradual independence and learn about themselves. Instead, they learn to wait to see what their parents expect and then react, negatively or positively, to those expectations
.