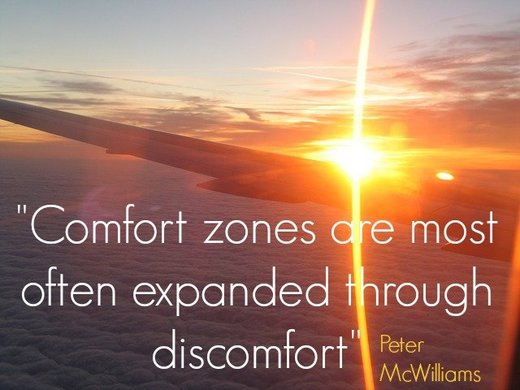 In preparation for writing this piece, I read one that I wrote five years ago called "
Why I Don't Make New Year's Resolutions
." I wanted to remember what I wrote to see what I might want to add. I discovered that it was all there... I still don't make resolutions, for the same reasons. First, because I still cannot and don't want to make predictions about the future, as I see the very attempt to control the future as one of the core failures of western civilization. Also, because I still worry about resolutions turning into weapons of self-destruction.
What do I do instead? For me, it's about coming back, again and more deeply, to my choice to embrace discomfort as a path to freedom and integrity. That is what I write about below in greater detail.
Reflecting about myself, I am still the person who knows that my
freedom depends on my willingness to step outside my comfort zone - the habits and beliefs that have been ingrained in me through socialization and trauma.
Any time I can do that, I have more trust that I am actually
choosing
rather than being run by my past and my fears. Put differently, I would say that the most
reliable forms of freedom are internal: It is my choices in how I respond to life, much more than what life brings to me, that I experience as freedom.