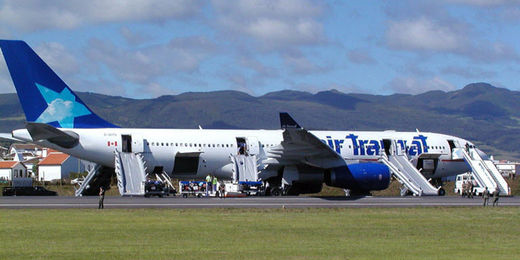 An extraordinary opportunity to study memory and post-traumatic stress disorder (PTSD) in a group of Air Transat passengers who experienced 30 minutes of unimaginable terror over the Atlantic Ocean in 2001 has resulted in the discovery of a potential risk factor that may help predict who is most vulnerable to PTSD.
The study, led by researchers at Baycrest Health Sciences, is published online this week in the journal
Clinical Psychological Science
-- ahead of print publication. It is the first to involve detailed interviews and psychological testing in individuals exposed to the same life-threatening traumatic event. By necessity, other trauma studies involve heterogeneous events as experienced in different situations.
This opportunity was enhanced by the fact that one of the researchers, Dr. Margaret McKinnon, was a passenger on the plane. Heading off on her honeymoon in late August 2001, Dr. McKinnon's flight departed Toronto for Lisbon, Portugal with 306 passengers and crew on board. Mid way over the Atlantic Ocean, the plane suddenly ran out of fuel. Everyone onboard was instructed to prepare for an ocean ditching, which included a countdown to impact, loss of on-board lighting and cabin de-pressurization. About 25 minutes into the emergency, the pilot located a small island military base in the Azores and glided the aircraft to a rough landing with no loss of life and few injuries.
"Imagine your worst nightmare -- that's what it was like," said Dr. McKinnon, who initiated the study as a postdoctoral fellow at Baycrest's Rotman Research Institute. She is now a clinician-scientist at St. Joseph's Healthcare Hamilton and Associate Co-Chair of Research in the Department of Psychiatry and Behavioural Neurosciences at McMaster University in Hamilton.