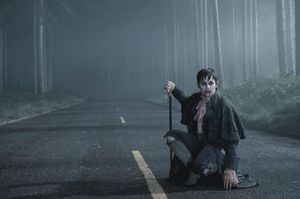 All men are created equal. All chattel are insured . . .
I saw the movie
Belle
the other day and a piece of it got stuck in my head. The costume drama, set in England in the 1780s, hinged on a real historical event: the monstrous voyage of the slave ship
Zong
in 1781, from West Africa to the Caribbean. Its cargo when it set out on its transatlantic voyage included some 470 tightly packed human beings - too tightly packed, it turns out. Disease ran through the cargo hold. Slaves and crewmen began to die. The ship got lost. They began running low on water. Eventually the surviving crew jettisoned . . . 132 live humans, still in chains. This was business as usual.
Marcus Rediker, author of
The Slave Ship: A Human History
, wrote in the
Los Angeles Times
in 2008, commemorating the bicentennial of the official end of the slave trade in the British Empire: "
Over almost four centuries, from roughly 1500 to 1870, 12 million to 13 million Africans were forced onto slave ships and sailed to New World plantations. . . . We know that during the middle passage, about 1.8 million of these enslaved men, women and children died, their bodies thrown overboard to the sharks that usually trailed the vessels.
"
Uh, we don't talk about this too much, do we? The era in question is the glorious Age of Exploration, when Europe went out and discovered the rest of the world. In the classrooms of my childhood, they taught us about the silk trade and the noble quest for new sea routes and that sort of thing. Go, civilization! I remember no unpleasant disclosures about the rape of Africa or the profit made by Europe's upper classes in human trafficking.
Belle
's plot, though it involves fictionalized characters, addresses the real court case that followed the Zong's arrival in Jamaica.
This case was not about the murder of 132 people but whether or not the ship's owners could collect insurance on the loss of 132 slaves.