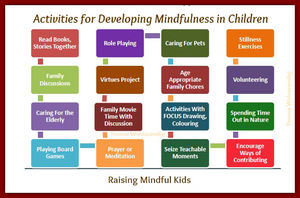 A new social and emotional program with mindfulness techniques, called MindUp, has been shown to successfully help children
become more caring and optimistic, improve their math scores and lower their stress levels.
The program, founded by Oscar-winning actress Goldie Hawn, was recently analyzed by researchers at the University of British Columbia.
During the program, children were given lessons on mindfulness techniques, in which they were instructed to intentionally focus on the present - while avoiding making judgments - through a series of breathing, tasting, and movement exercises.
Experts from across multiple disciplines - a neuroscientist, developmental pediatrician, developmental psychologists, and education experts - came together to examine the program's effectiveness.
They discovered that the fourth and fifth graders who participated in MindUp became better at regulating stress, were more optimistic and helpful, and improved their math scores. They were even better liked by their peers than children in another program that taught caring for others but without a mindfulness component.