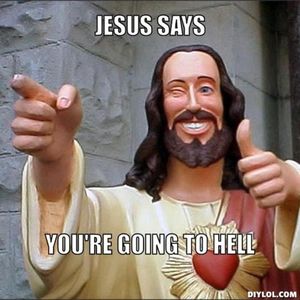 Those who believe some people face eternal torment in the afterlife tend to be less satisfied with their current life and less happy, according to a new study published in
PLoS One
.
"Although religiosity is consistently tied to greater well-being, little research has examined which elements of religious belief offer mood benefits, which do not, and which may in fact be detrimental," Azim F. Shariff of the University of Oregon and Lara B. Aknin of the Simon Fraser University in Canada wrote in their study.
The researchers first analyzed data from the Gallup World Poll, World Values Survey, and European Values Survey to compare the "differences in subjective well-being between 63 countries against national rates of Heaven and Hell beliefs."
These international surveys were conducted on hundreds of thousands of individuals, and allowed the researchers to account for potentially confounding variables like religious attendance, GDP per capita, and unemployment.
Shariff and Aknin found that both the belief in Heaven and the belief in Hell were significant, but divergent, predictors of happiness at the national level. Countries that had higher rates of happiness had lower rates of belief in Hell and higher rates of belief in Heaven.