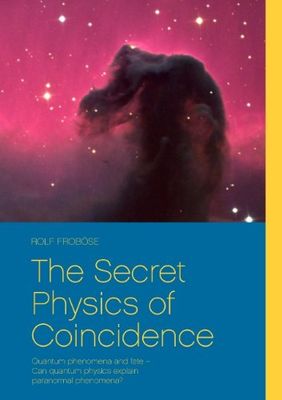 Some international physicists are convinced,
that our spirit has a quantum state
and that the dualism between the body and the soul is just as real to as the "wave-particle dualism" of the smallest particles.
Dr. James G. of San Francisco, a former coworker of the German Max-Planck Society in Frankfurt, reported the following incredible story. "I studied not only in the USA, but I also studied chemistry in London for a few semesters. When I came to England, the student housing was full, so I added my name to a waiting list. A short time later, I received the joyous news that a room had become available. Shortly after I had moved in, I awoke one night and in the twilight was able to see a young man with curly, black hair. I was terrified and told the alleged neighbor that he had the wrong room. He simply cried and looked at me with great sadness in his eyes.
"When I turned on the light, the apparition had disappeared. Since I was one hundred percent sure it had not been a dream, I told the housemaster about the strange encounter the next morning. I gave her a detailed description of the young man. She suddenly paled. She looked through the archives and showed me a photo.
I immediately recognized the young man who had visited me in my room the evening before.
When I asked her who he was, she replied with a quivering voice that it was the previous renter. She then added that my room had become available because he had taken his life shortly before." The author would never have recorded the story had "James" not been an absolutely trustworthy person.
Prof. Dr. Hans-Peter Dürr, former head of the Max Planck Institute for Physics in Munich, represents the opinion that the dualism of the smallest particles is not limited to the subatomic world, but instead is omnipresent.
In other words: the dualism between the body and the soul is just as real to him as "wave-particle dualism" of the smallest particles.
According to his view,
a universal quantum code
exists that applies for all living and dead matter. This quantum code supposedly spans the entire cosmos. Consequently, Dürr believes - again based on purely physical considerations - in an existence after death. He explains this as follows in an interview he gave:

Comment: The problem with this analogy is that a wave is not analogous to a mind (at least according to how we normally think of waves or minds). For the analogy to work, we should posit that waves have some degree of sentience, which implies panpsychism, i.e., everything has some degree of awareness, not just organisms with brains.