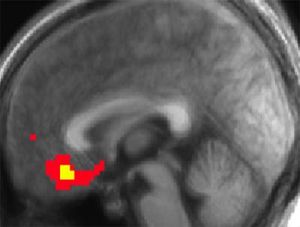 People who appreciate the beauty of mathematics activate the same part of their brain when they look at aesthetically pleasing formula as others do when appreciating art or music, suggesting that there is a neurobiological basis to beauty.
There are many different sources of beauty - a beautiful face, a picturesque landscape, a great symphony are all examples of beauty derived from sensory experiences. But there are other, highly intellectual sources of beauty. Mathematicians often describe mathematical formulae in emotive terms and the experience of mathematical beauty has often been compared by them to the experience of beauty derived from the greatest art.
In a new paper published in the open-access journal Frontiers in Human Neuroscience, researchers used functional magnetic resonance imaging (fMRI) to image the brain activity of 15 mathematicians when they viewed mathematical formulae that they had previously rated as beautiful, neutral or ugly.
The results showed that the experience of mathematical beauty correlates with activity in the same part of the emotional brain - namely the medial orbito-frontal cortex - as the experience of beauty derived from art or music.