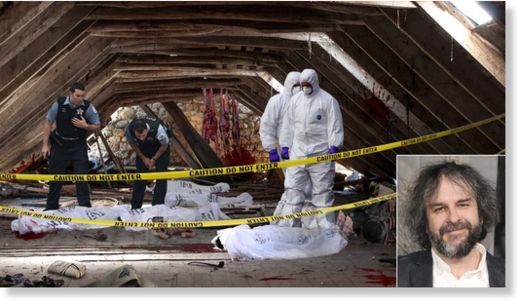 In an appalling incident that has sent shockwaves through the surrounding community, authorities confirmed Thursday that the decayed, dismembered remains of 15 missing hobbits were found in the attic of highly acclaimed film director Peter Jackson.
Jackson, 52, was reportedly taken into police custody immediately and is now awaiting charges.
"At this time, we can confirm that 15 halflings between the ages of 25 and eleventy-one were discovered inside the home of Peter Jackson at approximately 4 p.m. this afternoon," said Wellington Police District Commander Stephen Jones, adding that authorities were initially called when Jackson's neighbors complained of "a rotting odor" emanating from his home, after which officers conducted a comprehensive search of the property. "We eventually found a hidden hatch on the perpetrator's ceiling, which was held shut by three heavy-duty locks. Once we opened the door, we came across the victims, already deceased, all of whom had the hair ripped out from the tops of their feet."
While stressing that autopsies are still pending, Jones told reporters the hobbits appeared to have been gagged, beaten, and routinely starved, often receiving only one breakfast per day. The bodies were reportedly completely emaciated, while several were missing entire rows of teeth and covered in abrasions consistent with Hithlain rope burns.