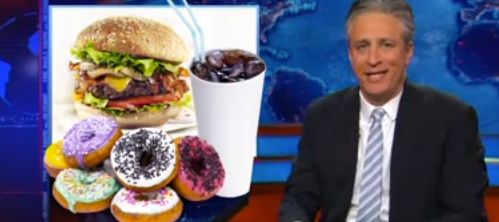 "Making food slightly less bad for you craze is spreading," according to Jon Stewart in his "the Snacks of Life" segment on
The Daily Show
.
From sharing the announcement by McDonalds that it will only
buy chicken raised without antibiotics
within the next two years to Dunkin' Donuts eliminating the chemical that gives its powered donuts that bright, white look, Stewart hammers
Big Food
for turning our "food supply into an addictive, fattening, death menu of
artificial chemicals
,
antibiotics
and cool ranch carcinogens." He also exposes the new "KIDS eat right" label that Kraft is helping to financially support via the not so academy of Academy of Nutrition and Dietetics.