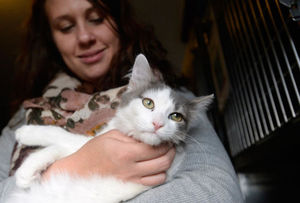 The movement inside the gym bag startled Robert Watterson.
He was even more surprised when he unzipped it and a furry little head popped out - a kitten.
But the mystery was just beginning.
The kitty is from Albuquerque. Watterson found her outside a thrift shop in Portland, Maine, over 2,300 miles away.
How she got there, nobody seems to know.
But Spice the cat is getting a plane ride back to her owner in Albuquerque. The owner wants to remain anonymous, according to the Animal Refuge League of Greater Portland, but she was tracked down because Spice had a microchip with her identification.