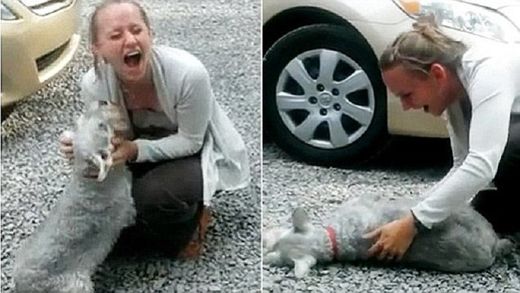 You have never heard a scream like this, Casey the Schnauzer let out a true scream of joy when her long-lost sibling came home. Rebecca Svetina and her family dog Casey have been pals for about 9 years, although their relationship has often been long distance. When Rebecca was studying to be a communication major at Kent State University, Casey was only a puppy. In between college breaks, Rebecca would return to her parent's house is Murrysville, where her dog was always there to greet her.
As any college student knows, there were a lot of hellos and goodbyes as Rebecca went back and forth to college and then home. But never had Rebecca been gone for so long until she decided to embark on a trip to Slovenia in 2008. On July 23, two years later, Rebecca finally returned home. At which point Casey could not have been happier to see her.
Her family was excited to see her, no doubt, but it's her little doggy that stole the show. Just want until you see the video for yourself!