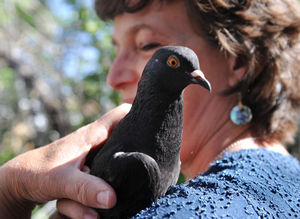 Central-Linc Elementary School Principal Vanessa Nasset and teacher Rob Freistadt were walking outside their school Wednesday when the two were attacked by a pigeon.
"I hear this bird flapping its wings behind us. I start screaming and it lands on Rob's head," the principal said.
When the pigeon wouldn't budge, Nasset knew something strange was happening. But they had no idea
the bird was the missing pet of one of the elementary school's students, or that it had apparently flown 15 miles to get there, despite having never visited Helena before
.