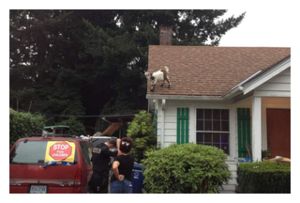 Oregon - A police officer who spotted something unusual in Gresham Thursday night was given a warning not to get any closer.
"The goat will charge you," he was told.
That goat was on the roof of a house. Officers out on patrol spotted the goat on the 300 block of Southeast 172nd Avenue at 7:30 p.m. Thursday.
When they inquired if everything was OK, seeing as how goats aren't found on rooftops every day, they were told this farm animal was not the friendly type.
In fact, they were told "that goat only respects one man," according to Gresham police.
That man is the owner of the goat, who arrived at the house and got the 2-year-old animal weighing in at 35 pounds off the roof without further incident.
Officers suspect the goat used a ramp near the home to climb his way up to the top of the house.