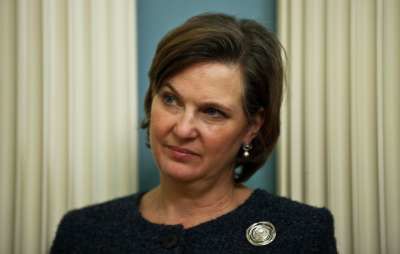 10
. Both use made up names. Stalin's family name was Jugashvilli, Nuland's ancestor's name was Nudelman. The ancestors of both Nuland and Stalin came from the Russian empire, which probably gave them both the idea that they have a special knowledge of how to handle Russia.
9.
Nuland's right hand man happens to be her husband, Robert Kagan. Stalin's right hand man was a fellow communist, named Lazar Kagan(ovich). Kagan co-authored "Project for a New American Century" and he obviously wants to realized his vision for Ukraine by implementing what might be called, "
amerikanizatsiia
," that is, the process of bringing in the officials from US and other countries to run Ukraine along the American lines. In his turn, Kaganovich was the
First Secretary of the Communist Party of the Ukrainian SSR
from 1925-1928 and was expected to usher in "New Soviet Century" through the politics of
"ukrainizatsiya"
: creating a new ruling Soviet elite for Ukraine, the elite brought in primarily from other places.