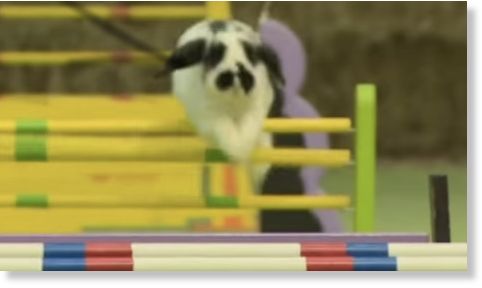 Four Swedish jumping rabbits capable of clearing up to three metres in a single hop are gearing up to compete in the Rabbit Grand National in England at the end of this month.
It is is the first time Sweden's floppy-eared athletes will compete at Yorkshire's Small Animal Show dubbed the 'Crufts of the small animal world' - since Cherie, a two-year-old bunny from Gävle, bounded to victory in the 2012 hurdle race.
The sport of bunny athletics originated in Sweden in the 1970s, speading to England in 2011, when Swedish bunnies first competed at the Great Yorkshire Showground in Harrogate.
Scandinavia still leads the world, with the Danish hopper Tosen holding the record for the highest jump (close to a metre), and another Dane, Yabo, holding the three metre long-jump record.
Karin Molin from Sweden, who is bringing the Scandinavian competitors to the show, hopes her prize rabbit can beat his personal record.