Matsue - Filmed at Matsue Vogel Park in Shimane Prefecture, Japan, the video shows a penguin named Sakura, who has fallen completely and utterly in love with one of the zookeepers and won't leave him alone.
As the
zookeeper runs around in the zoo (as seen in the video above), little Sakura manages to "dog" (or is that "penguin"?) his every move or step. Even though her little penguin legs are so short and she does stumble occasionally, she has no problem keeping up with him all the way.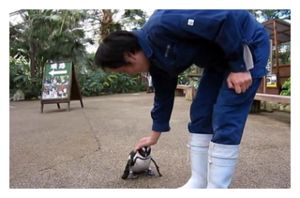 Penguins apparently mate for life, but her partner passed away last year and it seems Sakura has put herself back on the market and possibly considers her zookeeper a suitable mate?
What a wonderful Valentine's Day gift for him indeed!
Apparently
one version of this video clip has been watched over 150,000 times, so Sakura is becoming quite the viral little penguin indeed.
Reactions and comments to the video have been pretty much a unanimous "cute," with a whole load of "awwwww."
It is not certain, however, if said zookeeper is able to leave the zoo and go home without a cute black and white "tail" in the form of Sakura the penguin.