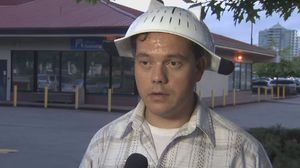 An unusual religious headwear battle has hit a boiling point in Surrey, B.C., where a "Pastafarian" is fighting for his right to wear a colander in his driver's licence photo.
Obi Canuel, who is an ordained minister in the
Church of the Flying Spaghetti Monster
, says the Insurance Corporation of B.C. is denying him the right to be able to wear the spaghetti strainer on his head.
The 36-year-old says he believed he would be able to wear the kitchen accessory when he renewed his licence last fall because ICBC affirms the right to religious expression.
But, the insurer disagreed. In a letter, they told him "there is no religious requirement that prohibits you from removing the colander for the purpose of taking the photo to appear on your driver's license."
ICBC said its religious head covering policy strive to strike a balance between respect for the driver's religious beliefs and a need to preserve the integrity of the licensing system.