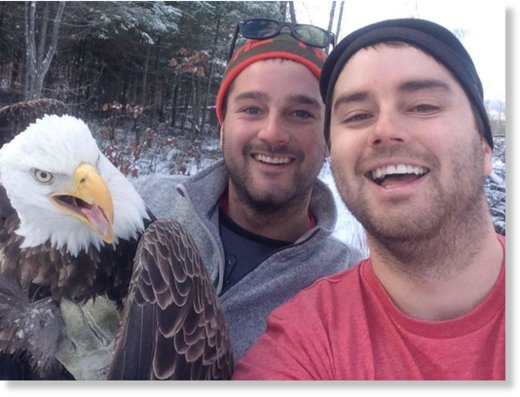 The siblings were hunting for grouse when they came across the bird caught in a claw trap
A pair of Canadian brothers took a 'selfie' with a bald eagle after rescuing the bird from a trap.
Brothers Michael and Neil Fletcher, from Ontario, were hunting for grouse in Windy Lake, Onaping when they found the bird of prey caught in a claw trap.
Michael told local newspaper
The Sudbury Star
they were driving through an open area when Neil thought he saw an eagle. After exploring the area on foot, they saw movement and walked toward it, where they found the huge bird on the ground. The eagle had one of its talons stuck in a claw trap, a type of trap used by fur harvesters.