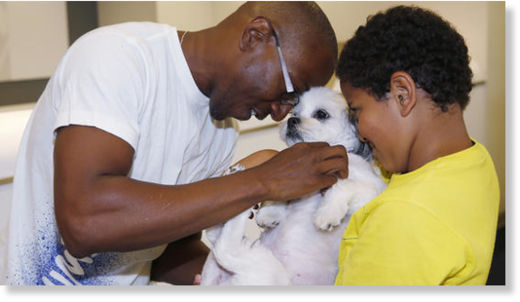 Kelly Booker cradled his long-lost dog Lilly and kept asking, "Where have you been, Lilly? Where have you been?"
Booker was reunited with the 9-year-old Shih Tzu mix at a cargo facility at Denver's airport on Thursday, weeks after she was found wandering the streets of Elgin. Booker last saw her four years ago when she either got spooked by fireworks and ran off or was stolen.
Lilly was treated for a severe ear infection at a shelter, which discovered a microchip that led to Booker.
It's still not known how Lilly made the 900-mile journey.
Lilly -- or "Lilly G-F," for girlfriend -- had "plenty of love and treats waiting for her" when her flight arrived in Denver, Booker said. "I never thought anything like this would happen. I thought she was gone forever."
She disappeared from Booker's backyard on July 4, 2011. "She must have jumped the fence," Booker said. "We put fliers up and searched, but she was just gone."