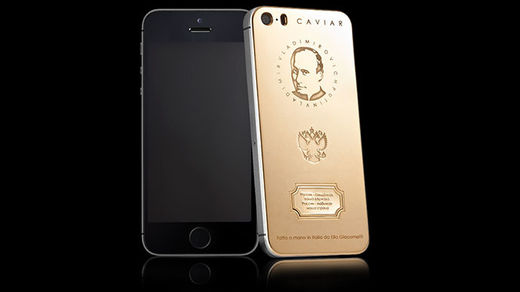 A limited series of 44 golden iPhones featuring the portrait of Russian leader Vladimir Putin has been sold in just one day. The success of the sale proves that the patriotism in Russia is on the rise, says Italian luxury brand manufacturer Caviar Phone.
"A limited series of 44 golden IPhones with the portrait of the President of the Russian Federation Vladimir Putin, which became an object of attention from Russian and foreign media (from BBC to NewsRu.com), was sold in the first day of the sales starting," Caviar Phone said in a statement about the mobile phones, which are being marketed under the brand "Supremo Putin." The internet boutique produces exclusive items from Italian designer Elia Giacometti.
Taking into consideration the success of the first series and a growing demand for IPhones with the portrait of the Russian president on them,
the company decided to launch another series with Putin's portrait on them
.
Among those who bought a luxurious phone with the famous leader's image on them are representatives from business, politics and culture. A famous film director, a TV host, two top managers of an oil company and a gold medal winner of the Sochi 2014 Olympic Games have bought the iPhones, Caviar Phone said in its statement.
The company didn't reveal which countries the buyers came from.
The Italian company says the popularity of the "Supremo Putin" brand phones can be explained by the Russian president being an "extraordinary personality" who can find "ingenious political solutions."