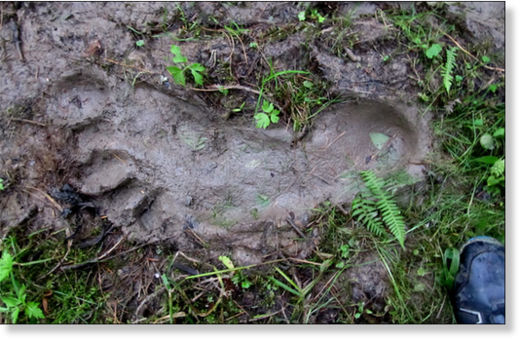 Schoolboy 'finds giant footprint in clay near campsite'.
The alleged footprint - twice the size of a man's - was spotted close to the Mras-Su River in Kemerovo region, Russia's main area for alleged Yeti sightings. Denis Alexandrov, 12, saw the giant's mark as he wandered around his campsite with other children early in the morning.
The boy asked his father Andrei, 49, for a camera, saying he had found an 'unusual footprint'. Andrei said that until now he did not believe in Yeti, but he has changed his mind after inspecting what his son had found.
He described the print as being 'from the ring finger to the elbow of an adult', or twice the size of his own, but resembling a human foot.
'I'm into hunting so I understand a bit about footprints. We went to the place were the kids saw the footprint, and the only thing I can say was 'I now know it exists'. 'The creature must have been very tall,' he said. 'The edges of the footprint were sharp, which means the creature left the footprint not too long ago. There also was a freshly dug pit nearby.'