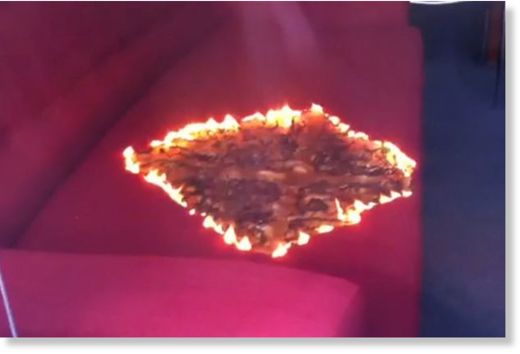 The baffling blaze took hold on the settee inside a letting shop in Fulham, south west London
These pictures show the bizarre square-shaped fire which ripped through a sofa inside a shop.
Passer-by Ragini Patel was on her way to Sainsbury's just before 9am on Sunday when the young son of a neighbour told her he could see a settee on fire inside the Lettings Company shop in Fulham Road, London which has two floors of flats above.
The long-time Fulham resident quickly called the fire brigade who had to smash down the estate agent's door to put the fire out which started in a square shape and slowly spread out to burn the entire sofa.
She told Get West London
: "I was just going to Sainsbury's in the morning when my neighbour's son told me there was a fire in the shop.
"I looked in and a square-shaped fire was burning into the sofa.
"It was very odd.
"I called the fire brigade straight away then started filming because it was very bizarre, I couldn't figure out how it had started."