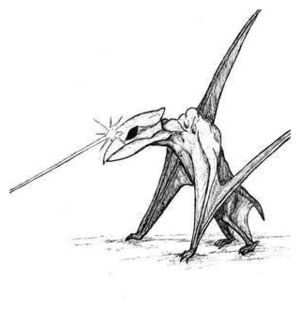 Imagine what a smartphone in 1903 Van Meter could have accomplished.
Instead of shouldering shotguns and blasting away at an eight-foot winged creature with a forehead horn that cast a beam of light, panicked citizens could have quickly posted a YouTube video. Case closed. Monster confirmed.
Camping out all night 110 years later, at an old coal mine outside of town where the alleged creature is believed to have lived, a researcher of odd legends is still trying to get sight of it.
Chad Lewis survived the assignment. He was not abduct­ed nor scooped up by a flying creature, but he has a good story to tell. In his wanderings of Van Meter, he unearthed a legend that was dying out with the old-timers, and tonight he will tell it at the old high school gym.
The story offers a glimpse of rural Iowa history and lore. The superstitious mindset at the turn of the last century, oddly, mirrors a resurgent 21st century trend of Bigfoot hunting and paranormal investigating that populate cable television today.
Lewis also has appeared on network and cable shows to discuss his monster/alien chasing across the globe, but the Minneapolis 38-year-old said he was particularly captivated by a creature he dubbed the "Van Meter Visitor." He purposely chose a non-threatening name. One shouldn't assume the winged creature did not come in peace.