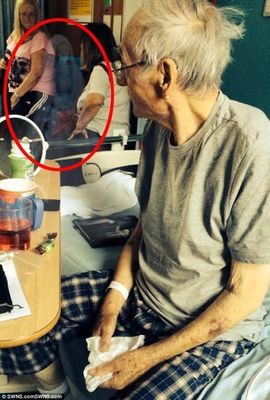 When Chris Leadbetter took a photo of his grandfather in hospital, he hoped it would be an image he could treasure after the pensioner was told his bladder cancer was terminal.
However when Mr Leadbetter examined the picture he noticed there was a chilling figure of a woman behind his grandfather, Bob Large.
Stunned,
he showed staff at the Countess of Chester Hospital the photograph who went on to describe the 'long haired blonde girl', who they claim, a lot of patients see lurking at the end of their beds.
And the ghostly figure may have had an impact of Mr Large as he has since been released from hospital and sleeping better than before, despite the previous diagnosis.
Mr Leadbetter had gone to visit his grandfather at the hospital in Chester, which is on the site of the former County Lunatic Asylum, built in 1829.
The pensioner had been told his bladder cancer and kidney failure was terminal.
Mr Leadbetter arrived to find the local vicar at his grandfather's bedside, praying for his recovery, and decided to take the 'last' picture on his mobile phone.
But it was not until he got home a week later and examined it that he saw a spectre-like figure of a woman, dressed in a veil, lurking in the back of the picture.