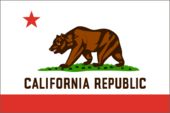 A witness in San Lorenzo, CA, US, reported sighting strange orange lights in the sky, after hearing a loud boom, on 2 May, 2013, after sunset. This report has been obtained from a testimony included in the database of Mutual UFO Network (MUFON).
The witness describes how he came to see the strange lights. He also describes the location, shape and colour of the lights.
"Went out to the back yard with the dog to enjoy the 78 degree weather. It was just after sunset and the air was still. Sitting down relaxing heard a distant pop boom sound that got my attention and all the dogs on the block began to all bark. Looking almost straight up and about 10 degrees to the west so at 80 degrees I saw a very bright object that was flashing or pulsing orange red yellow blue white lights randomly across its shape that appeared to be rectangle."