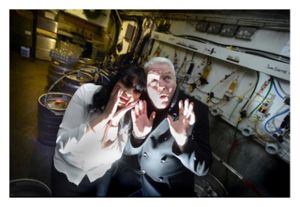 Staff and customers at a Bradford pub have been left
mystified by a series of bright lights captured on CCTV.
Security cameras at the Dog & Gun, St Enoch's Road, Wibsey, have recorded bizarre white lights, dubbed 'bright disks'.
The mysterious lights have been seen almost nightly over the last three weeks, mainly in the pub's cellar and bar area.
Staff are at a loss to work out what is causing the strange after-hours light shows, which have also been spotted on cameras in the snug and near the gentleman's toilets.
Speculation in the pub is rife with everything from orbs, aliens and ghosts discussed as possible reasons.
Orbs are unexpected, typically circular phenomena which occur in flash photography - sometimes with trails indicating motion, which are especially common with modern compact and ultra-compact digital cameras.
The lights have also been spotted on footage taken during the day but staff say they mostly occur at night.
Landlord Barry Gallagher, who played for Bradford City between 1977 and 1983, says he has no idea what is causing the problems but says it has proved to be a talking point in the bar.