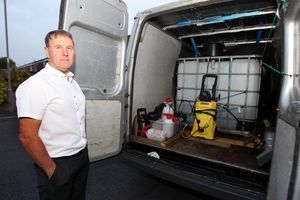 Desperate owner Paul Friday even tried selling the Ford Transit on eBay to get rid of the spirits
A
'haunted'
van allegedly vandalised by poltergeists has been scrapped by its owner, after 12 months of being 'plagued by demonic spirits.'
Paul Friday, who runs a wheelie bin cleaning company, claims the ghouls moved from his home into his van after a medium from a local church exorcised them - and now he believes they're trying to kill him after switching to haunting him personally.
The 54-year-old also claims he was left with no choice but to scrap the Ford Transit and all of his work equipment after a string of 'terrifying' incidents including having his brakes tampered with and his van being doused with a gallon of petrol by 'demonic entities.'
Paul Friday of Netherley believes his Ford Transit is haunted by a poltergeist. He says he has images taken on his mobile phone that show ghostly faces of a male spirit that are unexplainable. Photo by Ian Cooper
He said: "It all started about 12 months ago when I bought a new generator.
"It kept breaking and when I took it to be repaired the wires were all ruined. After getting it fixed it happened again and the repairman said 'it must be a ghost.'
"Strange things started happening in the house and in the van so I called someone out from the spiritualist church - they said they had 'sent the spirits to the light' and that they were gone.
"But things kept happening in my van - the spiritualist, Wendy, spent half an hour in the back of there and came out physically drained.
"She said that the spirit was very powerful and that the best advice was probably to get rid of it. It was damaging my business as I couldn't work."