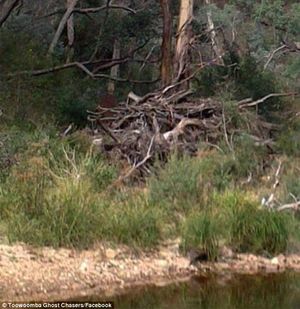 A man hiking near a local suicide spot in rural Queensland has snapped a picture of a shadowy figure that some claim is a ghost.
The image, posted to Toowoomba Ghost Chasers' Facebook page on Thursday evening,
appears to show a bald man, with a short beard, wearing a red jumper standing among a stack of fallen branches.
The group claim that a member, who goes by Brokc David, was hiking in a national park near Goomburra, Toowoomba, in rural Queensland, when he started to feel as if someone was watching him.
'This was shared by a member who went out hiking at a local Toowoomba water hole known for suicides.'
'
He all of a sudden felt as though he was being watched and followed and he felt an awful feeling of dread wash over him.. Then when going back through his photos he finds this,
' the post read.
The ghost hunting group said that while hikers frequent the area, it is rare to see someone dressed in red in the middle of remote bush land.