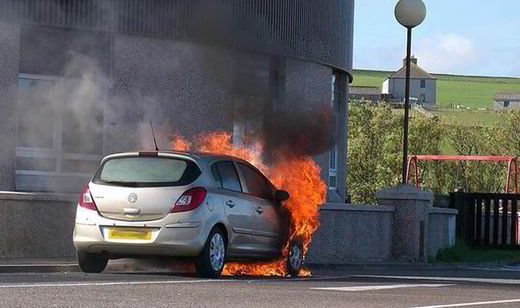 Car owners in Orkney have been warned to check their engines after a spate of fires caused by birds nesting under the bonnet.
Fire crews have been called out to at least three major car blazes since birds started breeding earlier this month.
In the latest incident, a vehicle in St Margaret's Hope was completely destroyed by a fire caused by a nest built by a starling overnight.
Kim Patching, the owner, said that it would not start and then smoke and flames emerged from under the bonnet.
In another incident, a Vauxhall Corsa was written off after a fire in the engine compartment spread, engulfing it in flames.
Electric car dealer Johnathan Porterfield found a nest - complete with a clutch of four starling eggs - next to his car's engine.
He said: "I've decided to leave the car until the birds hatch out and leave."