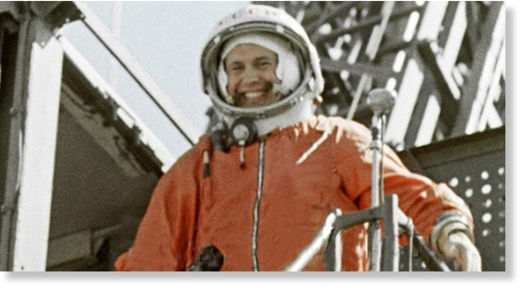 On September 30th 2009, General-Major of Aviation, Pilot-Cosmonaut Pavel Romanovich Popovich, the first Ukrainian cosmonaut in history, passed away. Always proud of his ethnicity, twice Hero of the Soviet Union award, he had many other awards and medals.
Pavel Popovich was greatly respected; a kind, nice and decent person, always ready to help others. His life was intertwined with the turbulent history of UFO research in the Soviet Union after 1978.
Popovich was born in Soviet Ukraine on October 5, 1929. A young engineer and amateur pilot, Popovich joined the Soviet Air Force; in 1960 he was enrolled in the first team of cosmonauts. Popovich was the Number "Four" Cosmonaut in the history of manned spaceflights. He underwent a full course of training for space flights on board "Vostok" spacecraft.
Pavel Popovich (as a boy) lived under the Nazi occupation for several years, and this fact could sink his chances to become a Soviet cosmonaut. The KGB took several months to study biographies of each of the future cosmonauts; someone must have had the courage to overlook that fact, and let him continue his training.