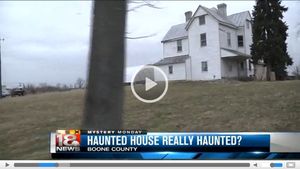 A home has been a part of their family since 1944 but it wasn't until recently that something strange started happening at the Benton family farm house in Walton.
Now paranormal investigators are flocking to the home trying to explain the unexplained.
The family that owns the home has been using the house as a haunted house attraction every October.
"Dad really thought that we should tear it down or it needed to make money somehow and that's when we thought of a haunted house," Mary Marcum said.
But this house could really be haunted and not by spookily dressed characters.
The family believes gutting the walls may have sparked these unexplained happenings.