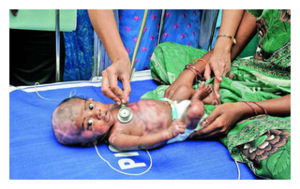 Three-month-old Rahul, who is admitted in the Kilpauk Medical College Hospital (KMCH) in Chennia with 10 degree burn injuries because of a condition called spontaneous human combustion (SHC), is stable, doctors said Saturday.
"The baby is stable and treatment is on for burn injuries and scars. Life-saving support systems are there for Rahul in the intensive care unit," R. Narayana Babu, head of pediatrics at the hospital told on Saturday.
He said the baby will be under observation and may be discharged after two weeks depending on his condition.
Doctors say that in SHC, burns are caused as the body catches fire because of the excretion of gases.
"The mother told us that the baby has suffered four episodes of such spontaneous fire and suffered burn injuries. The last episode was a month back. The baby was admitted to the Jawaharlal Institute of Post Graduate Medical Education and Research (JIPMER) (in Puducherry)," R. Jayachandran a professor in the department of pediatrics at KMC said.