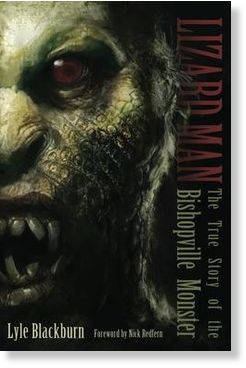 Interview with Lyle Blackburn
Brought to you by Anomalist books.
1. What made you decide to pursue the Bishopville, South Carolina Lizardman for your 2nd book entitled Lizard Man: The True Story of the Bishopville Monster?
I was doing research on monster sightings that have occurred in various swamps locations around the southeast U.S. In the process I actually visited swamps in several different states, including Scape Ore Swamp near Bishopville, South Carolina. As I interviewed people in the area, including law officials and witnesses, I realized there was much more to the story of the Bishopville Lizard Man than had ever been made public. It seemed like a great story, so I ended up developing it into a book.
2. Could you share some of the odd going ons regarding Lizardman festivities in Bishopville?
At this point the Lizard Man is sort of a cultural icon that many people in the area recognize. There's a few restaurants that incorporate the Lizard Man into their identity and there's a display at the Cotton Museum in Bishopville. Bishopville also has a Cotton Festival each year and their mascot is the "Lizard Man." It's kind of a fun thing now, but when it started, there were some incredible and downright spooky sightings of the creature.