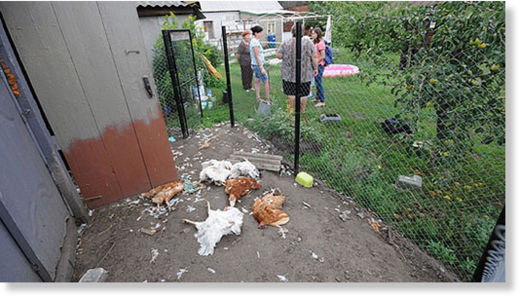 An unknown animal is killing chicken by the hundreds in villages of Russia's Voronezh Region. Frustrated poultry farmers claim that the beast is
killing everything it can get, yet the ripped-apart chicken carcasses have suspiciously little blood on them.
The week of carnage in the village of Davydovka began July 23,
when an unknown animal killed 95 chickens of the Golubev family household. The next day the killer visited henhouses at two other households, killing 45 and 55 hens, respectively.
"The beast tore through a wire cloth and killed them all but one,
" Sergey Golubev lold Mine! media outlet. "I felt pity for the wounded hen and put it in a separate place, left some food and water for it, fixed the [intruder's] entry point but the animal returned and took the hen anyway," he said.
On July 29 the intruder returned, killing all chickens at one household and some 60 geese in another.
"My daughter has just turned six months old and I am a very light sleeper. I heard my chickens being attacked.
It began at 1:24 a.m. as something was battering on the doors of my barn for about three minutes,"
recalled Elena Konchagina, explaining that her husband was away that day and she was too afraid to go out. Next day she found all but one of her chickens dead. The surviving bird has bite marks on its body.