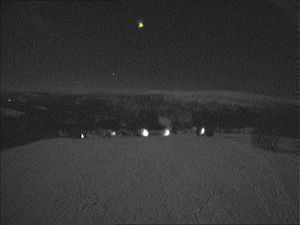 As a name, Hessdalen may be more familiar to UFO watchers than scientists. The valley in Norway is prone to "strange, hovering, flashing balls of lights" best attributed, as some believe, to alien origins. Now scientists say they're on the verge of an explanation: The valley is a giant natural battery.
But first, let's set the scene, as Caroline Williams does wonderfully in her piece about the Hessdalen phenomenon
for
New Scientist.
On a cold, dark Norwegian night about a dozen times a year, you might see this:

Sometimes the lights are as big as cars and can float around for up to 2 hours. Other times they zip down the valley before suddenly fading away. Then there are the blue and white flashes that come and go in the blink of an eye, and daytime sightings that look like metallic objects in the sky.