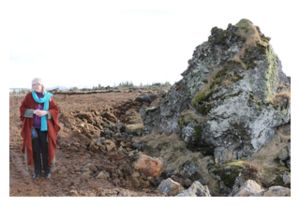 From the wild weather to the harsh landscape, Iceland has its fair share of mystifying phenomena. But none is more fascinating than the elves. They're real. And this woman will save them.
Ragnhildur Jónsdóttir wants you to know that she's not crazy. She's gone to a doctor - two, actually - to make sure. She just wants to save the elves. After all, they're her friends.
"Of course lots of people look at you a certain way, like they're wondering, '
Are you crazy
?'" Since she was a little girl, Jónsdóttir has had the ability to see and speak with elves. That means that, since she was a little girl, Jónsdóttir has been dealing with our side-eyed judgment.
Draped and wrapped in a series of scarves and sweaters with a loose braid of graying hair cascading down her shoulder, Jónsdóttir looks every bit the part of "The Elf Lady." She's sipping coffee while glancing out the window at the
Elf Garden
just outside of Reykjavik,
Iceland
, where she and her best friend Pulta, an elf woman, give tours of the hidden people's community of houses, which are rocks. "You know what they say, if everyone else thinks you're crazy, then maybe you should look inside yourself and see what's happening," she says. "So twice I went to see a doctor. I had to be sure myself, to make sure I wasn't crazy."
After a lifetime of speaking with the
huldufólk
(hidden people), it's been years since Jónsdóttir has questioned the sanity of her eyebrow-raising gift. But after recent headlines spotlighting the lengths to which she'll go to save the elves, strangers from all over the world once again are questioning it for her.
Last December, Jónsdóttir was among roughly 25 people arrested for
protesting the building of a road
through the ancient Gálgahraun lava field, about 10 minutes outside Reykjavik. The road would provide a more direct route from the country's capital to a semi-remote suburb on a nearby peninsula that houses, among other things, the president's residence. The road would also mean bulldozing Ófeigskirkja, a large lava rock that is one of Iceland's holiest elf churches.