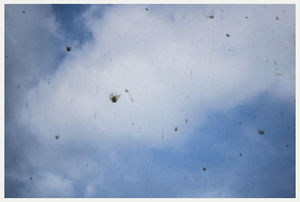 The hay-vens opened up over Gloucestershire last weekend as clumps of grass fell from the sky all over the county.
Bewildered people were left clutching at straws after the strange phenomenon over Cheltenham on Saturday when they saw it raining hay.
The weather forecast had predicted dry weather with clear blue skies on the day.
And yesterday the
Met Office confirmed they had received reports from all over the country
, including Devon, Wiltshire, Mid Wales and Lancashire.
Weather experts at the organisation told the Echo it was not "something you see everyday" but not unusual.
She added: "We had a couple of weeks of dry weather across much of the country and that has allowed the ground to dry and warm up, and this weather has been ideal for farmers to cut grass for hay.
"This grass has been lifted into the air by some means, possibly by convection, where the ground heats the air above it causing the air to rise and carrying the grass aloft, and it is then carried along by warm thermals.
"A thermal is a warm bubble or plume of cloud-free air that rises from the ground as the ground is heated and cools the higher it gets.
"Thermals are used by birds to climb with little effort and by glider pilots to gain extra lift during a flight.
"Because the air eventually cools the thermal will break down and the grass will fall from the sky."