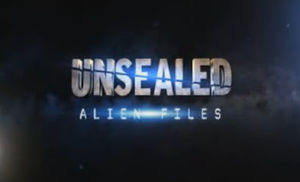 While searching for something interesting to watch, I stumbled across a program called
Unsealed: Alien Files
and my only comment is, "Seriously?"
This is one of the reasons that we have trouble getting science and journalism to take UFO reports seriously. It is one of the reasons that so many people have so little time for UFOs or who believe those seeing UFOs are deluded. This program, in the guise of a documentary, was
filled with every half-baked idea, every conspiracy theory associated with UFOs, and every lousy piece of evidence available
. It was horrendous.
What surprised me was that some very respectable people... Nick Pope and John Greenwald to name but two... were on it. In fact, the program that featured Pope and the UK's investigation of UFOs made some sense and provided some interesting evidence. It was clear from that program that a serious UFO investigation had been conducted by England's Ministry of Defence and that UFO information had been hidden in classified files by the authorities there.
But in another episode (they showed four in a row but luckily I was only exposed to two and a half) explained how Dwight Eisenhower, while president, had met with alien creatures*. It suggested that most of the alien races were up to no good but that one seemed to be aiding the human race. We were told that the Reptoids have a shape-shifting capability which means they can appear to be human, and that the greys have a treaty with the US to allow for animal mutilations and human abduction... Oh, and I don't want to forget the big gunfight in the hidden base at Dulce, New Mexico in which dozens of US service members were killed.