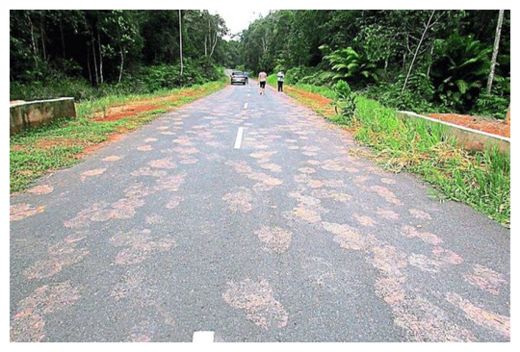 Johor Baru - It's a strange sight indeed - three sets of muddy footprints, one set looking like it belonged to a tiger, another like it was an elephant's and the last resembling a human's but much bigger in size.
The trail of footprints that stretched close to 1km near the Endau Rompin forest reserve have retirees Sia Chwee Khim, 64, and her husband Lim Teong Kheng, 66, puzzled and very excited.
They believe the last set may be that of the mythical "Bigfoot".
The couple, their daughter Joanna, 30, and a group of friends from Singapore decided to follow the tracks for more than 1km on May 10.
"It was just astounding - the creature or creatures had walked in the damp red soil and onto the tar road, leaving clear footprints for us to see," said Sia, adding that the group took countless pictures and even measured the large footprints, which were about 48cm long and 11cm wide.
"We tried to mimic the steps but could not stretch our legs to match the distance of the stride.