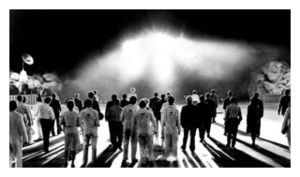 The mystery of what became of pilot Frederick Valentich who disappeared mid-flight off the Victorian coast 36 years ago while telling air traffic control he was being followed by a UFO might never be solved.
But recently unearthed papers do shed some light on the bizarre incident.
Air safety investigation documents reveal an engine cowl flap from the same model Cessna 182 aircraft he was flying in 1978 washed ashore at Flinders Island five years after he vanished.
But opinions were divided on whether the 30cm long component, broken in three pieces and corroded, came from Valentich's doomed plane.
And now it appears the part may have been lost or scrapped.
Frederick's brother Richard has called on aviation authorities to ascertain whether the cowl debris remains in storage somewhere. Modern tests could verify if it was in the salt water of Bass Strait for five years.
"If there is some evidence that can link it then it is worth pursuing," Mr Valentich, 47 said.
In a bizarre coincidence, investigation documents held by the National Archives of Australia also show Frederick Valentich had spoken to his girlfriend about being taken by a UFO just a week before his Cessna disappeared.
Valentich told Melbourne air traffic control he was being followed by a long metallic, unidentified aircraft with four bright lights which at times moved at high speed or orbited above his plane, before reporting his engine was failing.
Nothing further was ever heard from him.