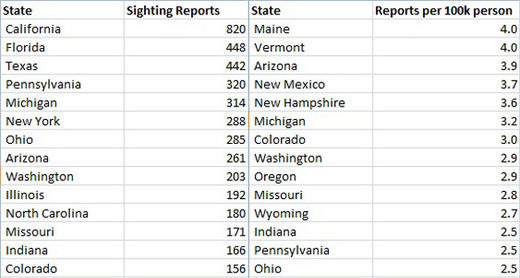 UFO sightings increased in 2013 and the areas where UFOs were seen the most may surprise you. Taking a look at the sighting report numbers from the Mutual UFO Network (MUFON), we are able to compile some interesting insights.
MUFON
is the largest civilian UFO investigation organization in the US, and probably the world. They have investigators in every state, and representatives throughout the world. Clifford Clift, MUFON's director in early 2012, told Lee Speigel of the
Huffington Post
in January of that year that MUFON received over 6000 UFO reports in 2011. He added that they had already received hundreds in the first few days of 2012 and were expecting a big year.
In 2013 MUFON received 7646 reports worldwide. 6457 of those were in the United States. So where are these sightings taking place? They are all around the world. MUFON has received reports from the UK to Romania. Here are the top 20 countries: