Editor's Note: This story contains passages from newspaper reports 127 years ago that today might be offensive to some readers. The intent is to accurately reproduce the accounts from that time period.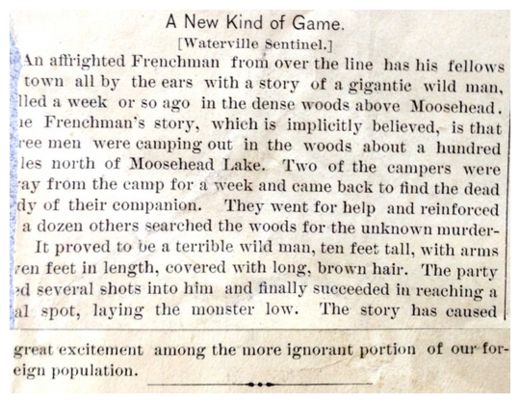 Waterville - In the same month the Statue of Liberty was dedicated in New York in 1886, a handful of newspapers in New England published stories about a deadly encounter in the Maine woods involving what today likely would be termed "Bigfoot" or "Sasquatch."
The story of the 10-foot-tall "wild man" with 7-foot-long arms and hair growing all over his face and body was reported in broadsheets of the time after first gracing the pages of the
Waterville Sentinel
, a weekly paper that no longer exists. The
Waterville Morning Sentinel
was established 18 years later in 1904.
Tales of these seldom-seen, mysterious apelike beasts are found in Maine folklore, according to experts, but they are more prevalent in California, Washington and Oregon tales. Online searches yield hundreds of similar stories from around the globe.
The Maine story starts in early October 1886 when "an affrighted Frenchman from over the line" arrived in the Elm City to weave a frightening tale of woe, according to an excerpt from the
Sentinel
published in at least two other papers of the era, the
Wilton Record
and
The Industrial Journal
of Bangor.