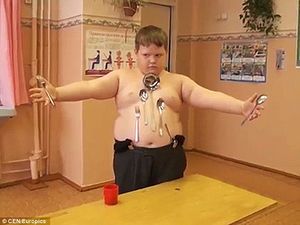 A schoolboy who was almost killed when
knocked out by a massive electric shock now claims the accident gave him superpowers like those of X-Men's Magneto.
Nikolai Kryaglyachenko, 12, had been walking home after school when
he lent briefly against a lamp post that was live from a faulty wire
, and was blasted across the pavement.
He said: 'When I came round I felt groggy but managed to get home and told my mum what had happened.
'When I woke up the next day and got out of bed I found some coins that had been lying on the mattress had stuck to my body. Then when I was having breakfast and dropped my spoon, it stuck to my chest.'