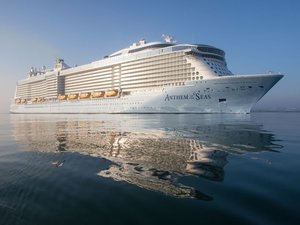 One of the world's newest and biggest cruise ships headed back to its home port Monday after a powerful storm damaged the vessel and left some passengers shaken.
The fierce weather that struck Royal Caribbean's 168,666-ton
Anthem of the Seas
on Sunday forced the captain to confine passengers to their cabins until the storm passed early Monday.
The cruise line, in a statement sent to USA TODAY, suggested the "extreme wind and sea conditions" that hit as the ship sailed south from the New York area to Port Canaveral, Fla., were unexpected, noting that the wind speeds were higher than what was forecast.
"The captain told everyone this morning that the day was among his most challenging — if not his most challenging — at sea," said Robert Huschka, executive editor of the
Detroit Free Press
, part of the USA TODAY Network. Huschka is on board the ship with his family.
Four passengers were injured during the event, though none seriously, according to spokeswoman Cynthia Martinez. There are 4,529 passengers and 1,616 crew members on board, she said.