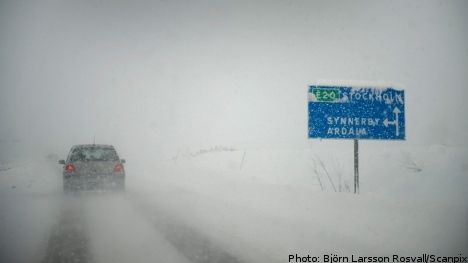 Sven, a winter storm expected to hit Sweden on Thursday night, has prompted warnings for heavy snow and fierce winds as Swedes brace for what's being billed as the seasons' first major snowstorm.
Swedish weather agency SMHI called Wednesday the "calm before the storm" as it issued class 2 warnings for rough seas off Sweden's west coast, as well as for strong winds and snow in Dalarna, Gästrikland, and Uppland across central Sweden.
A class 2 warning entails weather conditions that could put the public in danger, cause material damage, or disrupt vital public services.
On Thursday, the low pressure system is expected to reach southwestern Sweden, with "large amounts" of snow expected to cover the Götaland and Svealand regions in central Sweden overnight into Friday.
Wind gusts as high as 100 kilometres per hour are expected along with the heavy snowfall.
"In some areas, we may be talking about up to 20 or 30 centimetres," SMHI meteorologist Marcus Sjöstedt told the Aftonbladet newspaper.
"There are definitely going to be problems on the roads and for different types of transport. People should expect a number of delays when it comes to trains."