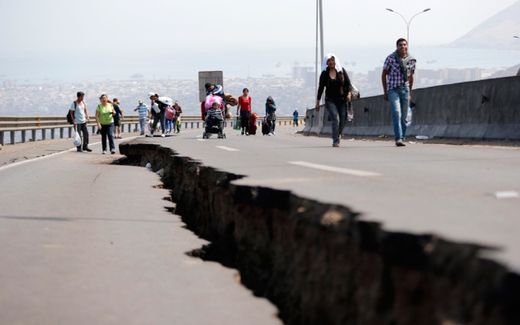 Monika Sobiesiak wasn't expecting the morning of 2 April to start with such an adrenaline jolt. But as she scrolled through a list of earthquakes on her mobile phone, she saw that overnight a series of quakes had rocked the coast of northern Chile - almost exactly where she had installed a seismometer network a few years earlier. "I saw the 8.2," says the geophysicist, who works at the University of Kiel in Germany, "and I rushed to get to my desk."
That 1 April quake, which struck offshore near the village of Pisagua, was the largest in Chile since a magnitude-8.8 quake hit farther south in 2010. Although the Pisagua quake was not as big and not particularly damaging, it will still go down in the annals of seismology - as an intensively studied earthquake that upends some assumptions about how and when big quakes happen.
In one sense, seismologists knew it was coming. Northern Chile, near the border with Peru, was the only stretch of the country's coastline that had not broken in a large earthquake in the past century (see
'Under pressure'
). In 2006, expecting it to go, a German - French - Chilean collaboration blanketed the region with seismometers, tiltmeters and other ground-measuring instruments, creating the Integrated Plate boundary Observatory Chile (IPOC). It captured the Pisagua quake in action, as did Sobiesiak's network.