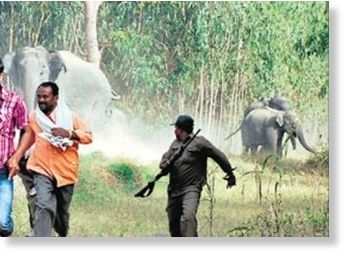 Wild elephants which had come out of forest for crop raiding chased and killed two villagers and injured two other in Bagaha district of Bihar on Tuesday.
A herd of wild elephants had ventured out of the Valmiki Tiger Reserve and killed two villagers of Bagaha district, late on Monday, said an official of the state forest department.
He said that the elephants got enraged when some people pelted stones at the the herd and in the process the violent pachyderms destroyed several thatched huts as well as the standing crop, added the forest official.