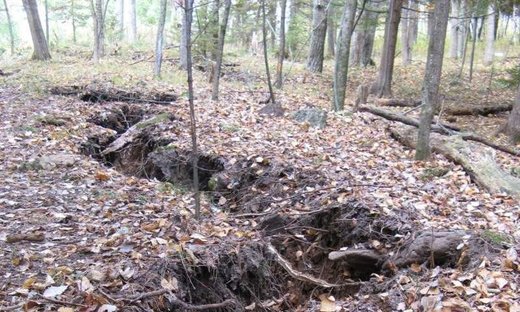 Seismologists studying a massive crack in the ground that appeared north of Menominee, Michigan in 2010 now think they know what the unusual feature might be. But as they explain in their study published this week in the journal
Seismological Research Letters
, there are still some mysteries to clear up about the strange geological occurrence in the rural Michigan woods.
A team of scientists led by Wayne Pennington of Michigan Technological University says that the crack, which lies along the crest of a two-meter-high ridge that appeared at the same time, is probably a "pop-up" feature. Pop-ups occur in places where shallowly-buried rock layers spring upward after having been weighed down by rock or ice. Pop-ups—sometimes called "A-tents" for their shape—may develop in places where the earth rebounds upward after an overlying glacier shrinks away, or when rock overburden is removed in a quarry.
However, the last glaciers retreated from Menominee 11,000 years ago—and there isn't any quarrying in the area.
"One of our reasons for publishing this was that in our search of the literature we could find no other mention of modern pop-ups that didn't occur at something like the base of a quarry, where people had removed massive amounts of rock earlier," Pennington explained.
"As far as we can tell, this is a one-of-a-kind event."
Residents near Menominee heard a loud noise and shaking
in the early morning of October 4, 2010, and soon discovered the crack when they went into the nearby woods to clean up the debris left from removing a big double-trunked white pine tree a few days earlier. The crack split the ground for 110 meters, and was as deep as 1.7 meters in some places. Tree trunks tilted at precarious angles on either side of the fracture.