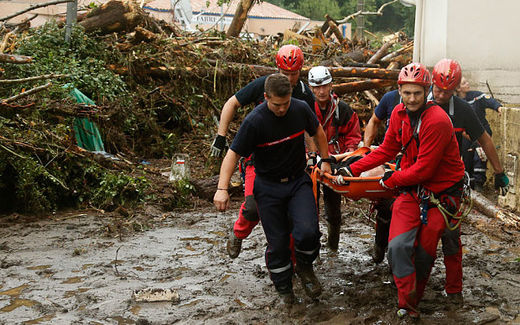 Storms turn peaceful river near camping site in southern France into a raging torrent with people swept away
Four people died
when storms turned a peaceful river that bordered their camping site in southern France into a raging torrent that swept them away, local authorities said Thursday.
The site in Lamalou-les-Bains was
devastated by the overnight flood
as storms that had already killed an elderly lady in the nearby region of Aveyron also left a person missing in another neighbouring district.
Authorities in the Herault district where Lamalou-les-Bains is located had initially said five had perished in the tragedy, but later revised the toll down to four and said two other people were still missing.
In one incident, a man who was trying to save a woman from drowning saw his own wife and daughter swept away in their caravan, the town's mayor told AFP.
"The father, who was around 60, went out and saw a woman who was going to drown," Philippe Tailland said.
"He held her by the hand but unfortunately, he had to let go of this woman.
"When he turned around, he saw his caravan being swept away with his wife and 34-year-old daughter inside," he said.
The caravan was later found stuck under a bridge and the body of his wife discovered inside. His daughter is still missing.
He is "in a catastrophic state," Tailland said.