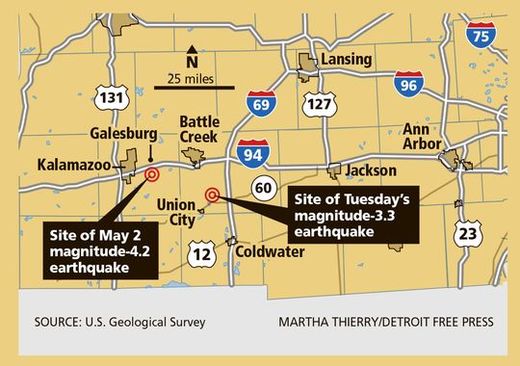 A 3.3-magnitude earthquake that struck 13 miles southeast of Battle Creek today has scientists scratching their heads.
Today's temblor was about 20 miles from the location of a magnitude-4.2 quake that occurred 5 miles south of Galesburg on May 2 — the strongest earthquake recorded in Michigan in more than 67 years
. The two quakes are far enough apart that today's is likely not an aftershock of the previous quake and is apparently not on the same fault line, said Harley Benz, a seismologist with U.S. Geological Survey (USGS) in Colorado.
"
After the May event, I suspected we wouldn't see another event, so I was a bit surprised by this one
," he said. "
What more surprised me is that they weren't in the same locations.
"
That also intrigues Eric Hetland, an assistant professor in the Department of Earth and Environmental Sciences at the University of Michigan.
"Given the close proximity in time to the earlier 4.2 (earthquake), and the low levels of seismicity in Michigan, it may be related to that earlier earthquake in some manner," he said.
Today's quake, which occurred about 11:43 a.m., was noted on the USGS
website
. The survey's Community Internet Intensity Map reported residents feeling the quake as far south as northern Indiana and as far north as Holland. The Calhoun County Sheriff's Office, in a news release, said dispatchers received several calls about the quake, but no damage had been reported.
The epicenter of the quake was the southeast corner of Warner Lake, 3.1 miles underground. The epicenter of the May 4 quake was in Galesburg, 3.4 miles below the surface.