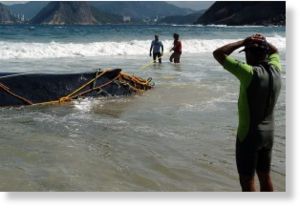 A humpback whale was found dead on the Pacific coast of the southern state of Chiapas, Mexico's Commission for Protected Natural Areas said.
The whale, measuring 11 meters (36 feet) long, was discovered on the beach in the municipality of Mapastepec, the commission said in a statement.
Officials at the La Encrucijada biosphere reserve said the whale died at sea and drifted for three days before washing up on the beach.
The whale's body bore no signs of blows or injuries and experts took samples of blood and tissue to determine the cause of death.