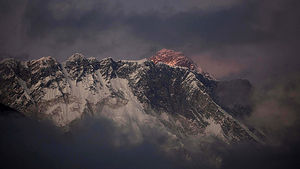 At least 13 are dead and three are still missing after an avalanche cascaded down a climbing route on Mount Everest early on Friday morning.
The death toll from the avalanche rose to 13 on Saturday after search teams recovered another body.
All of the deceased were Nepalese guides prepping ropes for climbers near Camp 2 on the mountain, according to the
Associated Press
.
Camp 2 is positioned at 21,000 feet, but the freezing level at the time of the avalanche was just above the base camp, AccuWeather.com Meteorologist Courtney Spamer said.
"With the freezing level below the avalanche point, it was still freezing where the avalanche occurred, so the surface warmth likely did not cause the avalanche in this case," Spamer said.
With the freezing level rising at this time of year, avalanches are more likely during this time period. However, at the time of the avalanche there was some fog in the area, but winds were calm.
"Usually what contributes to avalanches are unstable layers of snow, usually a bottom layer that has been melted some and then refrozen with a fresh snowpack coming on top of it," AccuWeather.com Western Weather Expert Ken Clark said. "Think of the bottom layer being like a teflon pan and the top layer your eggs."