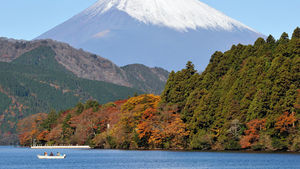 There has been a rise in the number of volcanic earthquakes recorded in Hakone, Japan. The nearby Hakone volcano began belching steaming gas and meteorologists say there is a possible risk of an eruption.
There were two minor quakes registering 2.4 and 2.0 recorded at the Hakone volcano, which is located in the Kanagawa Province and is 80 kilometers southwest of the capital Tokyo.
Meanwhile, there were a total of 98 volcanic earthquakes recorded at the popular hot springs resort of Hakone on Tuesday up until 15:00 local time. During the whole of Monday, 34 were logged.
Japan's meteorological agency has issued a warning to limit access to the resort.
"Activity at Hakone... is in a state of uncertainty," the agency said in an advisory, which was reported by AFP. "There is a possibility that a minor eruption may suddenly occur," it said. "Please do not enter dangerous zones."
Despite the warning, the agency still believes the risk of the Hakone volcano erupting is minimal. It is maintaining an alert level at 1 on a scale of 5. Level 1 means "normal."