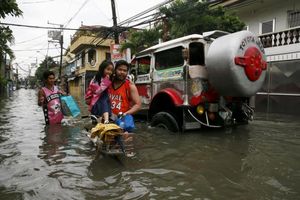 All shipping was ordered to remain in harbor and some flights were canceled in the northern Philippines, while schools were closed in the capital, Manila, on Monday due to flooding and landslides from a tropical storm, disaster officials said.
Storm warnings were issued in at least 14 areas of the main Philippine island of Luzon as tropical storm Linfa moved slowly across the north of the Southeast Asian archipelago. It was carrying maximum wind gusts of 100 km per hour (60 mph).
Alexander Pama, executive director of the National Disaster Risk Reduction and Management Council, said the storm would bring heavy rain within a 400-km (250 miles) radius. The storm was named Egay in the Philippines.