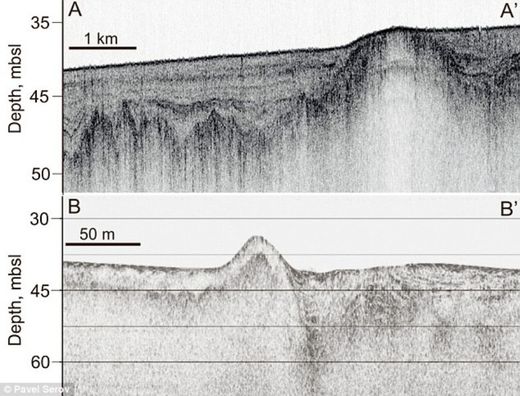 Huge mounds filled with methane have been discovered forming on the frozen sea bed of the Arctic Ocean, raising fears they are being caused by climate change.
Scientists fear thawing permafrost beneath the ocean is causing methane to become free, forming underwater pingos - mounds of earth and ice - off the coast of the Yamal Peninsula in Siberia.
Similar structures are thought to be behind enormous craters that have appeared on the land on the peninsula as methane exploded out of the Earth.
The researchers warn the underwater pingos appear to be forming through the same process and are also
at risk of causing huge blow outs under the ocean.
This could release huge amounts of methane - a potent greenhouse gas - into the atmosphere.