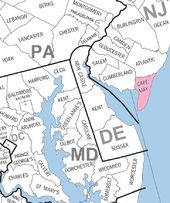 Residents around Lower Township, New Jersey have turned to social media to confirm they were not alone in feeling the ground rumble Wednesday afternoon.
A source tells
CBSPhilly
the township has received reports from residents regarding the mysterious vibration in the area.
Lower Township resident Jo Ann Armstrong says, "The kitchen moved. My husband was outside on the riding mower and I thought he had run into the house."
And she wasn't alone - several others turned to Twitter to share their experience:
Think we may have just had a minor earth quake in cape may county

2:05 PM - 29 Oct 2014

Felt an earthquake in Atlantic/Cape May counties.

4:00 PM - 29 Oct 2014 Pleasantville, NJ, United States

Earthquake felt in Cape May County New Jersey.

2:56 PM - 29 Oct 2014

Felt shaking and heard a rumble earlier this afternoon here in North Cape May. Anyone else? Possible earthquake?

4:24 PM - 29 Oct 2014
It seemed like the room moved. It's didn't shake, it didn't twitch or anything, it just actually seemed like it moved," Jo Ann Armstrong said.
It was a shakeup Jo Ann Armstrong just couldn't figure out.
And she wasn't alone.
In cities up and down the shore, people reported feeling the ground move or hearing a loud boom.