One of the craters is located in Siberia's Yamal Peninsula in the Taz district and has a diameter of 49ft (15 metres)
The other was spotted on the Taymyr Peninsula in Kransoyark region and has a diameter of 13ft (four metres)
They follow the discovery of a larger hole found in Yamal earlier this month at around 230ft (70 metres) in diameter
Andrei Plekhanov from Scientific Research Center of the Arctic says crater was formed due to rising temperatures
One theory is that a chunk of ice that is located underground created a hole in the ground when it melted
Another is that the crater was formed by a mixture of water, salt and gas igniting an underground explosion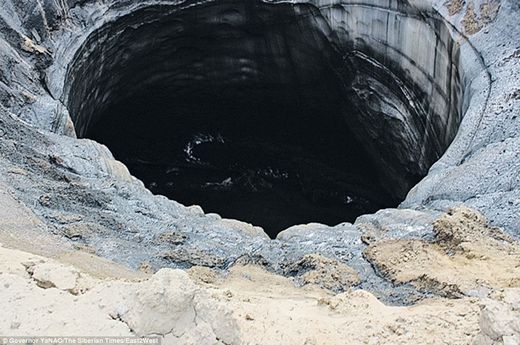 New unexplained holes have appeared in Siberia following the mystery over a giant crater on the Yamal Peninsula.A second is in the same permafrost region of northern Russia, and a third on the Taymyr Peninsula, to the east, in Kransoyark region.
Both were spotted by reindeer herders who almost fell in.The original hole received worldwide attention after being identified by helicopter pilots some 20 miles (32km) from a huge gas extraction plant at Bovanenkov. Now the new holes - smaller in diameter but similar in shape - are posing a fresh challenge for Russian scientists.