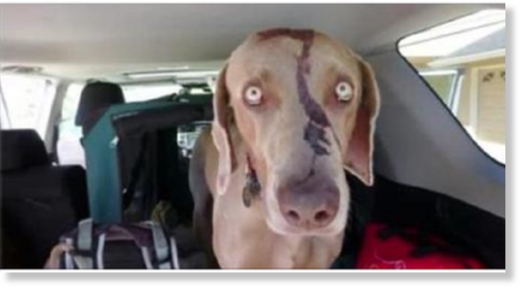 A weekday rendezvous with Mother Nature gave a group of California hikers much more than they expected. What started out as a pleasant mountain jaunt for a four-year-old weimeraner and her owner in Oakhurst, California went south very quickly when they came face-to-face with a mountain lion. On
Feb. 19, Candace Gregory
was hiking with friends in the Sierra National Forest with her dog Sally. As Gregory tells it, she and her friends were about 30 feet behind her dog when she saw "a flash of something tannish".
Before it could even register,
the big cat had Sally's head in it's jaws and it's paws wrapped around the pooch's body. Fellow hiker Rick Lawin said he heard a "blood curdling screaming sound of an animal in its death throes." He ran up and started hitting the mountain lion with his hiking stick, to help out Sally and protect his fellow hikers. That worked, because the hungry animal dropped the dog and jumped into the trees.
They estimate that the big cat must have weighed at least 120 pounds.