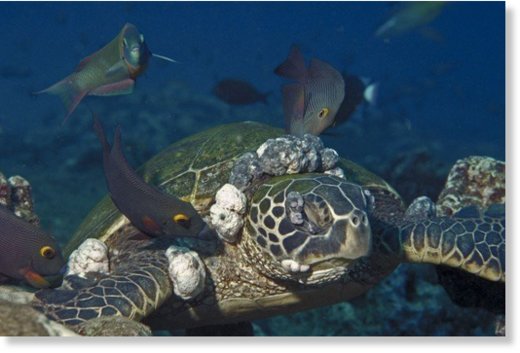 Off the coast of Florida, the population of green sea turtles has
dramatically rebounded
. From fewer than 500 nests recorded on the beaches nearly 30 years ago, last year saw a record 28,000 clutches of eggs laid. But despite this impressive recovery, they now seem to be facing another problem.
More and more of the reptiles are being found infected with a potentially deadly disease, which causes tumors to grow all over their bodies.
The disease, known as fibropapillomatosis, is thought to be caused by a herpes virus and is specific to sea turtles. Despite looking harmful, the tumors that develop on the surface are mainly benign, but problems arise when they grow over the turtles' eyes, which prevents them from seeing and therefore feeding. Around 20 years ago, vets at the Turtle Hospital in the Florida Keys were seeing around eight turtles a month with the tumors,
but recently they have seen a massive increase, now seeing around eight a week.