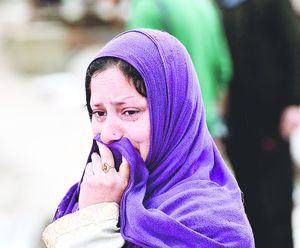 A mudslide triggered by heavy rain bore down on two houses early today, burying a newborn and at least a dozen others under a mountain of debris
, hours before officials formally declared what many Kashmiris had been dreading.
Another deluge - months after last year's September floods that had left hundreds dead and a trail of devastation.
The formal announcement of the flood came around 7am, after the water level in the Jhelum crossed the 18ft danger mark at Srinagar's Ram Munshi Bagh and touched 19.5ft on the gauge.