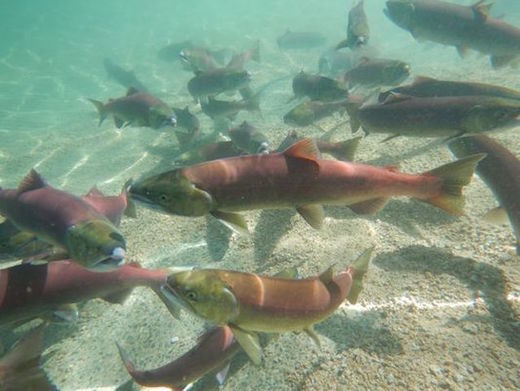 Freakishly hot, dry weather in the Pacific Northwest is killing millions of fish in the overheated waters of the region's rivers and streams.
"
We've lost about 1.5 million juvenile fish
this year due to drought conditions at our hatcheries," Ron Warren of Washington State's Department of Fish and Wildlife said in a statement. "This is unlike anything we've seen for some time."
Sockeye salmon losses in the Columbia River due to the heat are in the hundreds of thousands, said Jeff Fryer, senior fishery scientist with the river's Inter-Tribal Fish Commission.
The fish were returning from the ocean to spawn when the "unprecedented" warm water killed them
, he said.
Water temperatures in the Columbia River — part of which runs along the border of Oregon and Washington — reached the low 70s shortly after July 4, something that doesn't usually happen until August, if at all, Fryer said.
High temperatures — coupled with the low water levels — can be lethal to fish, according to the Oregon Department of Fish and Wildlife. With no end to the drought in sight, there could be additional fish die-offs, said Rod French, a fish biologist with the department.