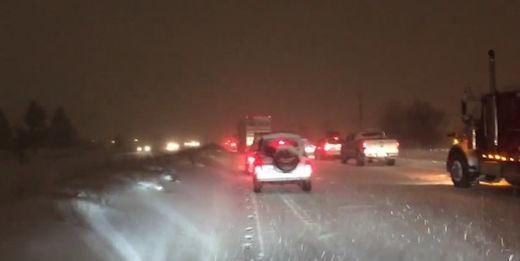 Snow, sleet and freezing rain could snarl Thanksgiving and weekend travel.
Bend, Oregon, reported 13-14 inches of new snow as of Tuesday night, with snowfall rates of 4 inches in 3 hours,
bringing traffic to a standstill on U.S. 97
. This in an area that averages only
24 inches of snow each season
. Up to a foot of snow in the Sierra
snarled traffic on Interstate 80 over Donner Summit
as well. Up to
22 inches
of snow was reported at Kirkwood Mountain Resort south of Lake Tahoe.
Meanwhile, numerous winter storm watches, warnings and advisories have been issued across the West from the northern Rockies to the Great Basin, Sierra and Tehachapis of California, also for a large swath of the central and southern Plains from New Mexico to Iowa.
Snow started to pile up on Tuesday across portions of the interior Northwest, Sierra Nevada and far northern Rockies. Some freezing rain was also reported in the Columbia Basin.
This system will head into the Plains on Thanksgiving Day and continuing into much of the weekend, bringing a mess of snow, sleet and freezing rain.
It is possible that enough freezing rain will fall to bring down trees and power lines and make for dangerous travel in parts of the central and southern Plains.