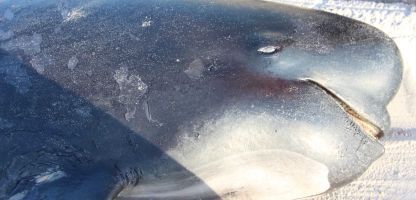 A 15-foot dead pilot whale was discovered Sunday on a beach in Southampton near Cryder Lane, according to the Riverhead Foundation for Marine Research and Preservation.
Robert DiGiovanni, the foundation's executive director and senior biologist, said researchers took a few samples Sunday, and that he was headed back to the beach Monday morning with a crew to conduct a necropsy on the whale.
"We'll do as much of a necropsy as we can, but it's going to have to remain on the beach," he said.
DiGiovanni said the Southampton Highway Department was able to move the animal further up on the beach, so it wouldn't wash away, but the whale is too large for researchers to take to the foundation's necropsy lab in Riverhead.
The team will look first for any external injuries, and then take more samples before disposing of it, DiGiovanni said.
DiGiovanni said the foundation usually sees one to two pilot whales wash ashore each year.