A tornado emergency was issued for the south side of the Oklahoma City metro area, Monday afternoon.This is a rare warning from the weather service,
which says
it issues one "when a severe threat to human life and catastrophic damage from a tornado is imminent or ongoing." The National Weather Service in Norman, Oklahoma
is tweeting updates
. At 4:22 p.m. ET. they tweeted:
"the tornado is so large you may not realize it's a tornado. If you are in Moore, go to shelter NOW!"
This story is breaking. We'll update this post as we get more.
KFOR is streaming its live coverage
.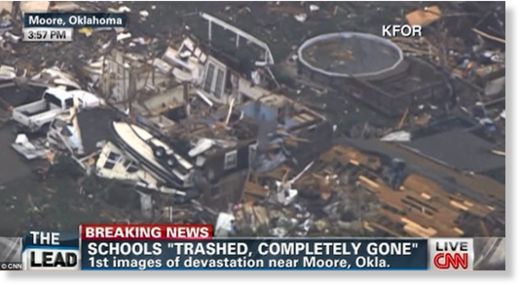 Update at 4:44 p.m. ET. Devastated Neighborhoods:
Helicopter images of Moore, Oklahoma from KFOR show tracts of devastated neighborhoods. The images show homes missing their roofs, some of them completely leveled.
The reporter on the helicopter said one school was razed by a mile-wide tornado. KFOR showed people walking listlessly through the streets, surveying the damage and reuniting with their families.
Update at 4:38 p.m. ET. Reminiscent Of 1999 Tornado:
Kurt Gwartney of NPR member station KGOU in Oklahoma City said one of the issues with today's tornadoes is that people are at work and school.
"What we're seeing from helicopter coverage," Gwartney tells our Newscast unit, "is very reminiscent of the May 1999 tornado that killed lots of people especially in the Moore area of the Oklahoma City metro.
A report from USA Today
at time, put that 1999 tornado's top winds at 318 mph.