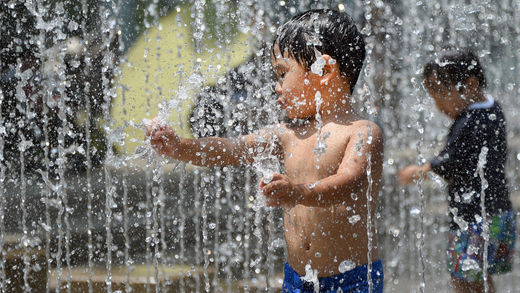 The
Japan Meteorological Agency
warned of extreme heat today in Tokyo and other areas after local media reported 11 people died and almost 1,900 were hospitalized yesterday on the country's hottest day this year.
A quarter of the agency's 927 observation stations recorded 35 degrees Celsius (95 degrees Fahrenheit) or higher yesterday, the most so far this year, the Mainichi newspaper reported. Today's highest temperature reached 38.8 Celsius in Otsuki city, 75 kilometers (46 miles) west of Tokyo, as of 12:31 p.m., the agency's website showed.
Fifteen of those taken to hospitals yesterday suffering from the heat remained seriously ill, the Yomiuri newspaper reported today. Yesterday's high was 38.8 Celsius, in the central Japanese city of Higashiomi, a record for the location, according to agency data stretching back to 1978. Four of 10 of the hottest locations yesterday set record highs.