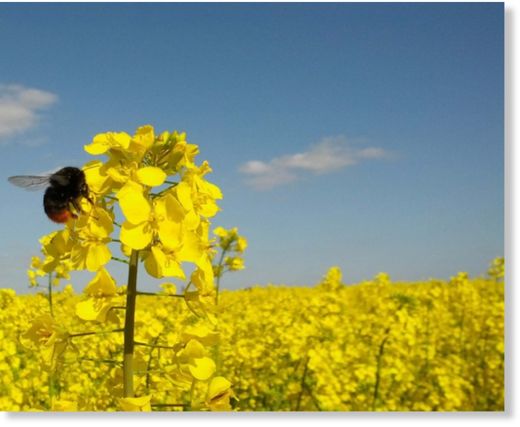 A pair of new studies published Wednesday in
Nature
are disturbing when taken separately, but so much more chilling when laid out next to each other: The first provides new evidence that neonicotinoid insecticides can have a negative effect on bees, adding weight to the theory that these chemicals could contribute to
colony collapse disorder
and endanger our food supply.
In the second study, another group of researchers found that bees don't avoid these harmful pesticides. They may actually seek them out and get addicted to them.
Recent years have seen bee populations on the decline.
That's bad news for us, as Whole Foods recently highlighted by removing every product that relies on healthy pollinators from one of their salad bars.
While the jury is far from out, some researchers point to neonicotinoids, which have been banned in Britain for two years but are still widely used in the United States, as a potential culprit.
These nicotine-related insecticides
are favored for their relative safety to humans, because they target specific nerve receptors in invertebrates. But while they're safe for humans in the short term,
some studies have argued that they're killing off bees on a scale so large that our food security is threatened.