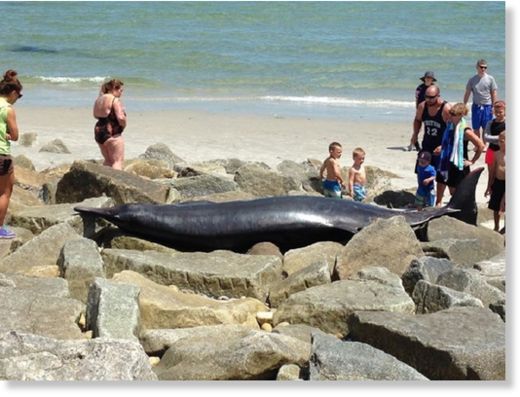 A dead body of a rarely seen deep water whale was washed up on a Massachusetts beach on Friday providing marine biologists with a rare opportunity to study the elusive marine animal.
The carcass was of a 17-foot female Sowerby's beaked whale weighing almost a ton and was found on Jones Beach in Plymouth. The whale, believed to be between 7 and 8 years old, was spotted by Mary Kate McHugh DiLoreto while doing a morning walk on the beach.
"While taking our morning walk on Plymouth Beach this morning, we were amazed to learn that one of the rarest species washed ashore. It is a beaked whale not commonly found in this area," she captioned on the photo she shared on Facebook. "We were told members of the Aquarium were heading down to bring it back to study it. Very cool!"