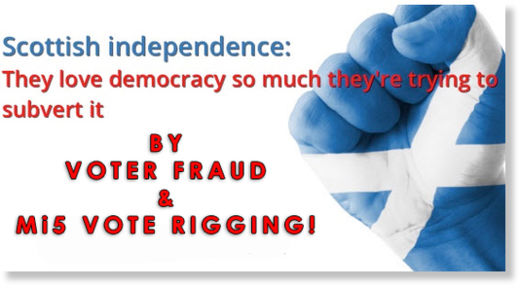 Apparently terrorized by the fear-mongering tactics of the British establishment media, in the form of hysterical warnings about
food price rises
and "
societal disintegration
", the fiercely independent Scottish people voted to remain in the UK. Or so the British establishment media would have us believe.
The official result matched the predictions of polls conducted by huge for-profit City of London market research companies. Prime Minister David Cameron declared that "
this settles the independence debate for a generation
." Case closed? I don't think so. We're being asked to believe that a majority of Scots voted 'Yes' to more austerity, 'Yes' to more wars in their name, 'Yes' to keeping nuclear weapons, 'Yes' to the continued theft of Scottish natural resources and 'Yes' to less democracy.
If all of that sounds unbelievable, it's because it is:
"It's not who votes that counts. It's who counts the votes."

~ Attributed to Stalin