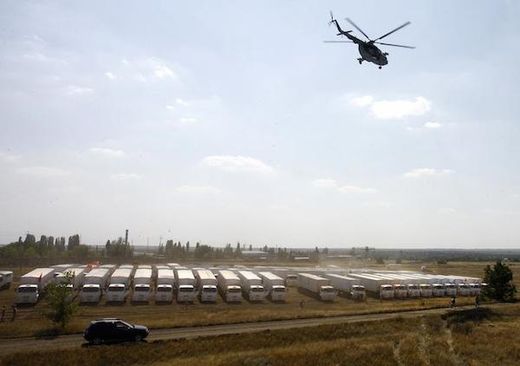 And so the latest propaganda ploy against Russia comes to an abrupt, anti-climatic end. Sick and tired of Kiev's stalling games and Western media war lies, the enormous Russian aid convoy has just
returned to Russia
after successfully delivering their cargo of food and medical supplies to the besieged population of Lugansk, victims of an
ethnic cleansing program
whose real nature has been shamelessly twisted by Ukrainian and Western leaders, and the MSM presstitutes acting as government stenographers, calling the convoy's entry into Ukraine an "invasion". It's unclear whether or not Kiev gave its final approval. I'd like to think the Russians just said, "Hell with this, let's roll!"
I recommend reading the Russian Ministry of Foreign Affairs
press release
on their decision to just deliver the damn aid and be done with it. Predictably, the Western war-whore press has all but ignored this statement, preferring to parrot psychopathic fantasy and imply that it's in any way factual.
First there's
this little gem
from NATO sock puppet war lord-in-chief, Anders Fogh Rasmussen:
... [NATO] had observed an alarming build-up of Russian ground and air forces in the vicinity of Ukraine.

"We have also seen transfers of large quantities of advanced weapons, including tanks, armored personnel carriers and artillery to separatist groups in eastern Ukraine," Rasmussen said in a statement.

Rasmussen said Russia continued to escalate the crisis in eastern Ukraine and that this could lead to further isolation of Moscow.
If this is true, then please, for Fogh's sake, show us some evidence! The West - the U.S. in particular - has been making similar claims for months,
none
of them substantiated by anything remotely resembling proof. If such claims were true, the all seeing eye of U.S. intel would have the evidence and it would be easy to distribute. They could provide numerous high-quality satellite photos of the alleged military build-up, not to mention the "large quantities" of weapons entering Ukraine. But they haven't, ergo, there is no evidence, because it never happened. In contrast, when Russia makes claims,
they provide real evidence
, with satellite data, accurate time stamps, and other verifiable information, as it did in the weeks after the downing of MH17. They even pointed out that the U.S. had one of its satellites positioned to be able to observe what really happened to the flight. Where is
that
data?
Russia's response to Rasmussen's bullshit was glorious:
"We've stopped paying attention to Mr. Rasmussen's empty talk and his press secretary. There is no point commenting on them. There is no proof there except Twitter," official representative of Russia's Defense Ministry Igor Konashenkov stated.
Who needs facts when there's "
social media and common sense
"?!