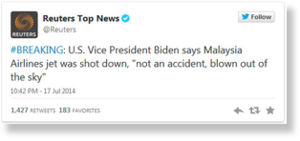 Within hours of the destruction of Malaysia flight MH17 on July 17th, with the wreckage and bodies still smoldering, western politicians already knew what had happened and who was to blame. This fact alone is highly suspicious and reminiscent of the 9/11 attacks when,
within an hour of the first plane hitting the WTC
, western politicians and media pundits had already named Osama bin Laden as the likely culprit. On both occasions, were they reading from a pre-prepared script?
Despite what you may have heard, or think you heard, there is no
official
explanation as to what happened to MH17. If you 'know' that Russia was responsible, then you've fallen victim to the lies and anti-Russian propaganda of the West.