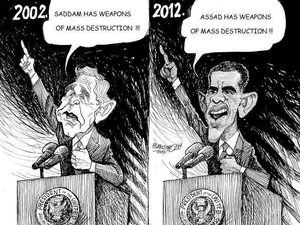 "There's an old saying in Tennessee - I know it's in Texas, probably in Tennessee - that says, 'Fool me once, shame on... shame on you. But fool me... can't get fooled again!'."

~ Dubya interpretation of 'Fool me once, shame on you; fool me twice, shame on me', Nashville, Tenn., Sept. 17, 2002
The anti-Assad propaganda is in full swing with contradictory and
unsubstantiated
claims that the Syrian government has "used chemical weapons against its own people." Against this backdrop of faulty, evocative rhetoric, Israel recently
launched deadly air strikes
on Syrian territory. Like textbook plagiarism or a record on repeat, we're seeing a re-run of the 'Weapons of Mass Destruction' (WMD) lies that led to the illegal invasion of Iraq ten years ago.
UN investigator Carla del Ponte reported that if any sarin gas was used in Syria, it was actually
fired by the US-backed opposition rebel forces
,
not
the state forces of President Bashar al-Assad.
The damning additional fact is that the Syrian 'rebels' the West are
arming
are, in reality, terrorist 'Al-Qaeda' factions, as has been
admitted
in the French daily
Le Monde
and supported by an
admission
in the
New York Times
. Just as many
Azawadi rebels
in northern Mali last year defected from the National Movement for the Liberation of Azawad to Al-Qaeda-in-the-Islamic-Maghreb and other CIA fronts ahead of full-scale military intervention by Western powers in January 2013, Free Syrian Army 'rebels' are consolidating their allegiances to (and pooling their resources with) Jabhat al-Nusra, "an
Al Qaida associate
operating in Syria" that is responsible for cross-border attacks in
Turkey
and
Lebanon
.