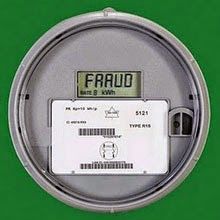 There have been a lot of theories about what could happen when Smart Meters (SMs) are tampered with and customers receive "false-reading, tampered-with" utility bills—
water
,
gas
, or
electric
—when hackers access the porous microwave networks that transmit in-the-house information that electric SMs constantly collect, then radio-transmit via microwaves back to utilities home offices.
That's not some "pie-in-the-sky" theory; it's of great concern to security experts!
According to Sally Ward-Foxton of
Crosstalk
(Oct. 2012)
But this increasing 'digitalisation' also adds a lot more opportunities for tampering with the meters in some way, resulting in security vulnerabilities. These vulnerabilities obviously need to be considered before introduction of the smart meters to make sure everyone is paying their way when it comes to electricity.