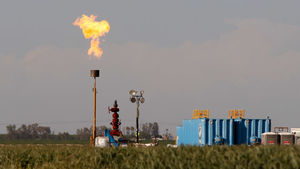 The Environmental Protection Agency is under fire for underestimating the amount of methane gas emitted during natural gas operations, including fracking, thanks to a new study published in the
Proceedings of the National Academy of Sciences (PNAS)
.
The study has 13 co-authors from several academic and research institutions, and used an aircraft to identify large sources of methane and quantify emission rates in southwestern Pennsylvania in June 2012. The authors discovered that emissions rates per second were 1,000 times higher than those estimated by the EPA for the same time period.
"Methane is the second most prevalent greenhouse gas emitted in the United States from human activities,"
the
EPA website states
. Carbon dioxide is the most prevalent, but it is not as damaging of a greenhouse gas as methane.
"Pound for pound, the comparative impact of [methane] on climate change is over 20 times greater than [carbon dioxide] over a 100-year period."