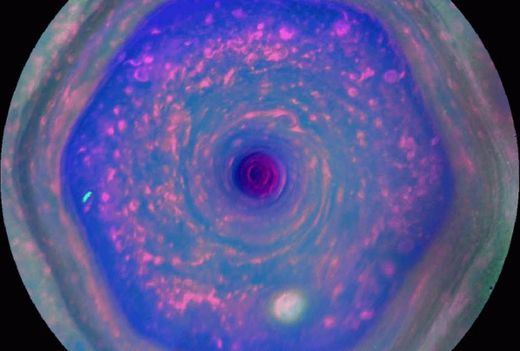 In November,
NASA released some incredible composite photographs of Saturn
taken from the
Cassini spacecraft
. In some of the images, you can see streams of liquid erupting from the planet.
This week,
NASA has topped that with its most detailed movie of the "hexagon jet stream"
erupting from the ringed planet, creating a giant storm that might be hundreds of years old.
The movie shows a complete view of the top of Saturn. And in the middle of it all is the hexagon, a giant 20,000-mile-wide jet stream of winds racing at 200 mph.
It's a storm that NASA says truly stands alone in the entire solar system.
"The hexagon is just a current of air, and weather features out there that share similarities to this are notoriously turbulent and unstable," said Andrew Ingersoll, a member of the Cassini imaging team in Pasadena, Calif. "A hurricane on Earth typically lasts a week, but this has been here for decades - and who knows - maybe centuries."