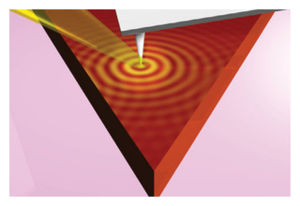 A beam of light can make waves in crystals, and those waves can be "tuned" - a phenomenon that might open up new technological possibilities, researchers say.
At the University of California, San Diego, physicists led by Dimitri Basov and Siyuan Dai fired a beam of infrared light at a tiny crystal of boron nitride. They focused the beam on the tip of an atomic force microscope. An
atomic force microscope
probes surfaces at the scale of atoms and molecules with a needle at the end of an arm, like that on a vinyl record player. The
microscope
transferred the momentum from the light to the crystal.
The light generated ripples - waves - in the boron nitride. The waves, called phonon polaritons, had wavelengths as short as those of ultraviolet light, about 300-400 nanometers, or billionths of a meter.
"A wave on the surface of water is the closest analogy," Basov said in a statement. "You throw a stone and you launch concentric waves that move outward. This is similar. Atoms are moving. The triggering event is illumination with light."
A chemical used in cosmetics,
boron nitride
(BN) is a van der Waals crystal, which means its atoms form layers, stacked on top of one another and held together by forces between molecules. By adjusting the wavelength of the light and the number of layers of boron nitride, the researchers were able to adjust the shape and size of the polaritons.
"The key novelty is that the wave properties can be tuned by altering the number of atomic layers in a [boron nitride] specimen," Basov told Live Science.