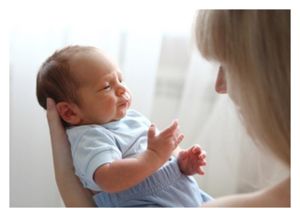 A mother may literally have her children on her mind at all times.
Findings reveal that cells from fetuses migrate into the brains of their mothers, and can last a lifetime.
Few would argue that the mother-baby bond during pregnancy is the strongest human connection possible. During pregnancy, a mother is so connected physically and psychologically to her child, that her baby depends on her for everything from nutrition, to blood flow to warmth and more. But baby also provides mother with some special.
Recent findings showed that during pregnancy, mothers and fetuses often exchange cells that can apparently survive in bodies for years, a phenomenon known as
microchimerism
. Scientists had found that in mice, fetal cells could even
migrate into the brains of mothers
. Now researchers have the first evidence fetal cells do so in humans as well.
Fetomaternal transfer probably occurs in all pregnancies and in humans the fetal cells can persist for decades or lifetime. Microchimeric fetal cells are found in various maternal tissues and organs including blood, bone marrow, skin and liver.
In mice, fetal cells have also been found in the brain. The fetal cells also appear to target sites of injury. Fetomaternal microchimerism may have important implications for the immune status of women, influencing autoimmunity and tolerance to transplants.
A fetal microchimeric cell from a pregnancy is recognized by the mother's immune system partly as belonging to the mother, since the fetus is genetically half identical to the mother, but partly foreign, due to the father's genetic contribution. This may "prime" the immune system to be alert for cells that are similar to the self, but with some genetic differences.
Cancer cells which arise due to genetic mutations are just such cells, and there are studies which suggest that microchimeric cells may stimulate the immune system to stem the growth of tumors. Many more microchimeric cells are found in the blood of healthy women compared to those with
breast cancer
, for example, suggesting that microchimeric cells can somehow prevent tumor formation.