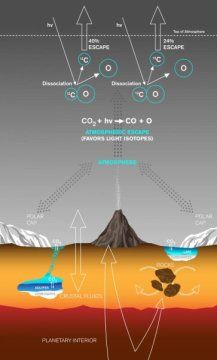 Scientists suggest the fingerprints of early photochemistry provide a solution to the long-standing mystery
Mars is blanketed by a thin, mostly carbon dioxide atmosphere--one that is far too thin to prevent large amounts of water on the surface of the planet from subliming or evaporating. But many researchers have suggested that
the planet was once shrouded in an atmosphere many times thicker than Earth's
. For decades that left the question, "Where did all the carbon go?"
Now a team of scientists from Caltech and JPL thinks they have a possible answer. The researchers suggest that 3.8 billion years ago, Mars might have had only a moderately dense atmosphere. They have identified a photochemical process that could have helped such an early atmosphere evolve into the current thin one without creating the problem of "missing" carbon and in a way that is consistent with existing carbon isotopic measurements.
The scientists describe their findings in a paper that appears in the November 24 issue of the journal
Nature Communications
.