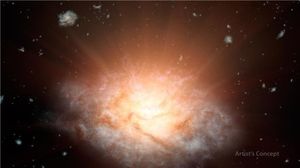 A remote galaxy shining brightly with infrared light equal to more than 300 trillion suns has been discovered using data from NASA's Wide-field Infrared Survey Explorer, or WISE.
The galaxy, which belongs to a new class of objects recently discovered by WISE -- nicknamed extremely luminous infrared galaxies, or ELIRGs -- is the most luminous galaxy found to date.
"We are looking at a very intense phase of galaxy evolution," said Chao-Wei Tsai of NASA's Jet Propulsion Laboratory in Pasadena, California, lead author of a new report appearing in the 22 May issue of
The Astrophysical Journal.
"This dazzling light may be from the main growth spurt in the size of the galaxy's black hole"
Professor Andrew Blain, from the University of Leicester's Department of Physics and Astronomy, has been involved with WISE since its inception in 2001, and has been responsible for examining and validating the data from the WISE telescope. He is a co-author of the new report into this discovery.
The galaxy, known as WISE J224607.57-052635.0, may have a behemoth black hole at its belly, gorging itself on gas.