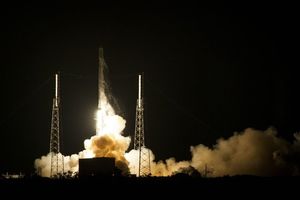 Elon, we have touch down!
Today, SpaceX launched and landed a Falcon 9 rocket in a
game-changing event
that is paving the way for a new era of reusable rocket technology.
After several delays and reschedulings, SpaceX successfully launched a Falcon 9 rocket with a Dragon spacecraft full of cargo destined for the International Space Station (ISS) this morning, January 10, at
4:47 a.m. EST
.
What was most exciting about this was the Falcon 9 rocket's descent onto the floating platform of a drone ship floating a couple hundred miles off the northeast coast of Florida in the Atlantic Ocean.
Using GPS tracking, the rocket made it to the drone ship, a pretty amazing feat!
But sadly it landed too hard, Musk announced shortly after the landing attempt.