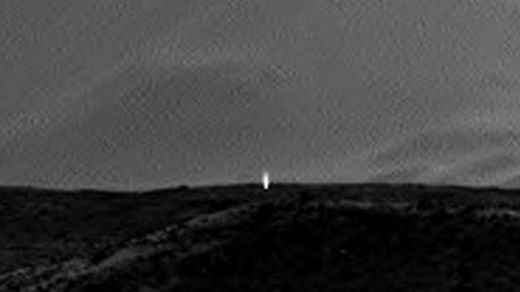 A new photograph from NASA's Mars Curiosity rover appears to showcase a strong artificial light emanating from the planet's surface, igniting speculation that the beacon suggests there is intelligent life on the Red Planet.
The photo in question was taken on April 3 by Curiosity's right-hand navigation camera, and shows what looks an awful lot like a bright, shining light off in the distance. NASA itself has not commented on the nature of the light, but UFO watchers have wasted no time suggesting it's not natural and, therefore, a sign of alien life.
"This could indicate there there is intelligent life below the ground and uses light as we do," Scott Waring wrote on his
UFO Sightings Daily
website. "This is not a glare from the sun, nor is it an artifact of the photo process. Look closely at the bottom of the light. It has a very flat surface giving us 100% indication it is from the surface."