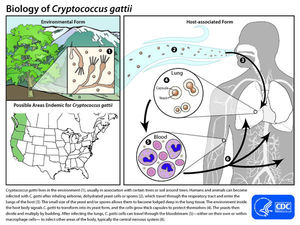 New research into a rare pathogen has shown how a unique evolutionary trait allows it to infect even the healthiest of hosts through a smart solution to the body's immune response against it.
Scientists at the University of Birmingham have explained how a particular strain of a fungus,
Cryptococcus gattii
, responds to the human immune response and
triggers a 'division of labour' in its invading cells
, which can lead to life-threatening infections.
Once inhaled, the pathogen can spread through the body to cause pneumonia or meningitis. The outbreak strain of this fungus differs significantly from other strains because it threatens the lives of healthy people -- those with a strong immune response -- rather than those usually considered at risk of infection.
Professor Robin May, from the University of Birmingham, explained, "It is important to point out that the risk to any individual is still very low: the fungus is non-contagious and cannot be passed between humans, or indeed from animals to humans, so we're not presenting a doomsday scenario here."