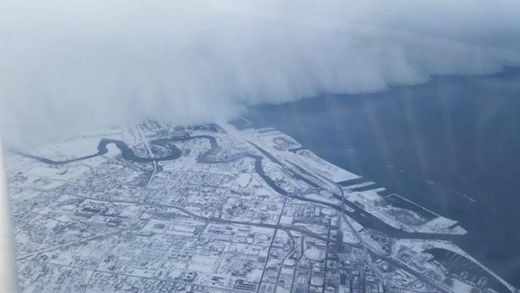 The above photo, taken from a plane above Buffalo yesterday by photographer Jeff Suhr, shows the brutal lake effect snow storm in effect over Western New York right now. Some areas are expecting up to
six feet
of snow by the end of the week.
These snowstorms are among the most intense in the world, and the processes that create them are pretty spectacular.
The Great Lakes
Lake effect snow is possible in cold spots around the world, but this post will focus on the extreme weather that's often centered around the Great Lakes. The five lakes in the Upper Midwest - Superior, Michigan, Huron, Erie, and Ontario - are the perfect size and in the perfect location to maximize the impact of this annual snow bonanza.
As prevailing winds are most commonly from the north and west, the southern and eastern shores of each respective lake are known as the "snowbelt" because they take the brunt of most heavy lake effect snow events.