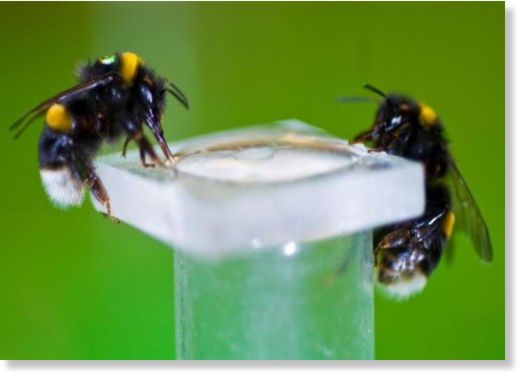 Bumblebees that have been infected by parasites seek out flowers with nicotine in the nectar, likely to fight off the infection, new research has found. The nicotine appears to slow the progression of disease in infected bees but has harmful effects when consumed by healthy bees.
Researchers from Queen Mary University of London (QMUL) and Royal Holloway, University of London (RHUL), gave bumblebees the option to choose between a sugar solution with nicotine in it and one without. Those bees infected with the
Crithidia bombi
parasite were more likely to go for the nicotine-laced nectar than those that weren't infected.
Infected bumblebees that consumed nicotine delayed the progress of the infection for a few days, showing lower levels of parasites than those that had not. However, it did not increase the life expectancy of those bees, meaning that the direct benefits of nicotine for the bee colony remain to be identified.