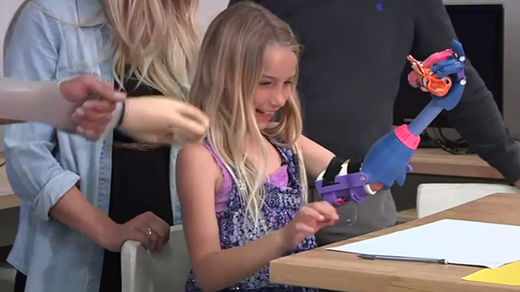 A young girl has acquired a fresh perspective about wearing a prosthetic limb since she was able to help design the device through 3D technology - and for just $50 dollars.
The day after her blue-and-pink colored 'robohand' rolled off a 3D printer at the Build It Workplace on Tuesday in Orange County, California, Faith Lennox was already pedaling a bicycle around the company's parking lot with apparent ease.
The 3D hand "has made it easier for her to balance," her mother, Nicole Lennox, told AP. "She can distribute her weight more evenly without having to lean so far" when attempting to steer with just one hand.
The company that produced the hand, Build It Workspace, was founded less than a year ago by mechanical engineer Mark Lengsfeld. He told AP he has used 3D printers to create a number of products, "from pumps for oil and gas companies to parts for unmanned aerial vehicles," but this was the first time his company worked with prosthetics.
Lengsfeld admitted to reporters he was nervous about how the hand would work.
"But she did fine with it," he said, laughing.