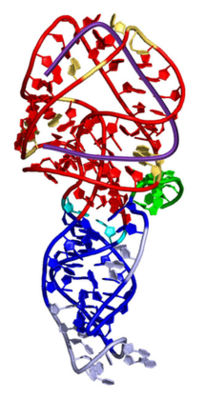 Working with a gene that plays a critical role in HIV infection, University of Maryland researchers have discovered that some human genes have an alternate set of operating instructions written into their protein-making machinery. The alternate instructions can quickly alter the proteins' contents, functions and ability to survive.
This phenomenon, known as programmed ribosomal frameshifting, was discovered in viruses in 1985. But the UMD study, published online July 9, 2014 in the journal
Nature
, is the first to show that a human gene uses programmed ribosomal frameshifting to change how it assembles proteins, said senior author Jonathan Dinman, UMD professor of cell biology and molecular genetics.
In the immune system-related gene that Dinman and his colleagues studied, programmed ribosomal frameshifting triggers a process the body can use to eliminate some immune system molecules, thereby reining in potentially harmful side effects such as fever, inflammation and organ failure. The discovery could lead to better treatments for AIDS, allergies and rejection of transplanted organs, Dinman said.
"This has useful implications in situations where you want to shut down the immune response in one part of the body but not in another, or shut down one facet of the immune response," Dinman said. "It could lead to very specific therapies without side effects."
The ribosome, the protein factory in every living cell, gathers amino acids and assembles them into protein chains to make almost anything the cell needs. A strand of ribonucleic acid, or messenger RNA, is the template.
Each amino acid is represented by a group of three molecules called nucleotides; each triad is called a codon.
Specialized molecules called transfer RNAs "read" each codon and deliver the matching amino acids to the ribosome for assembly. Some codons act as stop signs, instructing the ribosome to release the finished protein chain.