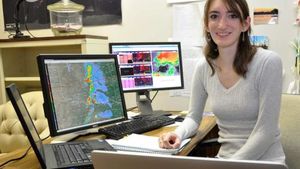 A sudden jump in the number of lightning strikes inside a garden-variety thunderstorm might soon give forecasters a new tool for predicting severe weather and issuing timely warnings, according to research at The University of Alabama in Huntsville (UAH).
The sudden increase in lightning is one sign a normal storm is rapidly evolving into a supercell,
with a large rotating updraft - or mesocyclone - at its heart.
"Supercells are more prone to produce
severe weather
events, including damaging straight line winds and large hail," said Sarah Stough, a UAH graduate student in atmospheric science. "Supercells also produce the strongest and most deadly tornadoes."