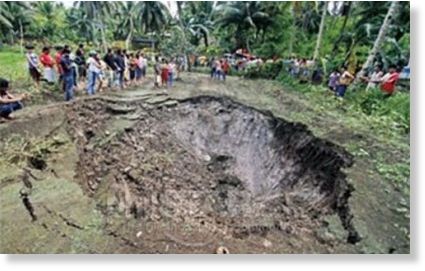 Mayor Ernesto Uy of Mabinay, Negros Oriental on Wednesday said he is awaiting the initial investigation report of the Mines and Geo-Sciences Bureau (MGB) of the Department of Environment and Natural Resources (DENR) in Region 7 on the formation of sinkholes in the last barangay of that upland municipality.
He explained that the MGB-7's investigation report would be a basis for him to determine future actions of the Mabinay local government unit regarding the sinkholes, considering that the area where they are situated is close to the proposed site for the regional centers of the newly formed Negros Island Region (NIR).
As this developed, the mayor disclosed that as of late Wednesday, he ordered the Mabinay Rescue Group to proceed to the area and monitor the sinkholes following heavy rain earlier in the day.
Last week, at least four sinkholes were found at the Malaiba riverbed with a fifth one having formed over the weekend, spurred by continuous rains and widely perceived to have been caused by what residents believed to have been an earthquake or ground shaking nearby, said Uy.
At least two tension ground cracks were also monitored to have formed around the sinkholes
, he added.