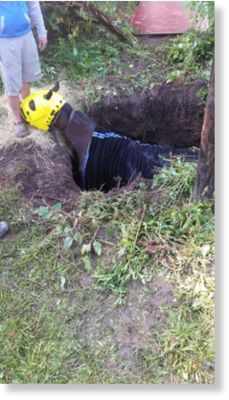 The Washington County Animal Response Team rescued a horse Friday morning from a 6-foot sinkhole at a Scenery Hill farm.
Responders lifted the 1,000-pound horse, named Chautauqua Worms, from the hole with an A-frame hoist borrowed from the county, said Ed Childers, a firefighter at the North Strabane fire department, which runs the rescue team known as CART.
The response team arrived at the Amos Road property about 6 a.m., pulling the horse from the pit at 9:30 a.m., Childers said.
"All in all, everything went pretty well," Childers said. "No injuries, no damaged equipment."
Neighbors identified the horse as belonging to horse farm owner Lisa Beinhauer. She could not be reached for comment.