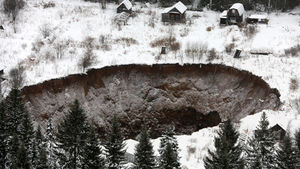 A sinkhole 20 by 30 meters (65 by 98 feet) in size has been found near a Uralkali mine in Russia's Perm region. While the company says the development is of no further threat, locals fear the whole nearby town could go underground.
The sinkhole was first discovered by Uralkali's Solikamsk-2 mine workers on November 18.
According to local emergency services, it's located some two miles from the mine itself, in an old abandoned mine.
Old, out-of-use garden patches were affected by the accident, and there is no danger to locals, as the sinkhole is in no close proximity to any residential buildings, the company said.
There are no
"
catastrophic
"
effects of the sinkhole neither for the company, nor for the locals, Uralkali CEO Dmitry Osipov said, adding that the incident has been localised.