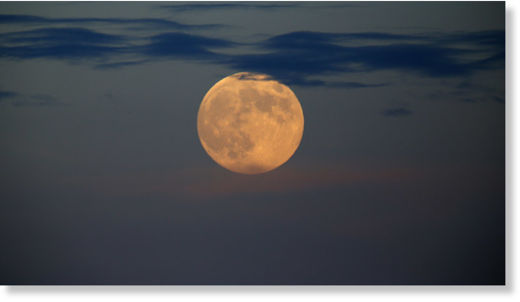 This night was a real pleasure for moon lovers as it marks the third in a series of supermoons this summer. On Monday stargazers were able to view one of the biggest and brightest moons in 20 years - and with a reddened shade.
The supermoon was calculated to be about 50,000 kilometers closer to Earth than when it is at its furthest point, known as its
"apogee."
"Because the moon is at perigee, or the closest point of its orbit, it's going to be about 13 or 14 percent bigger, optically, and ... about 30 percent brighter," Philip Erikson, principal research scientist at the Massachusetts Institute of Technology's Haystack Observatory outside Boston, told Reuters.
This moon is also called the Harvest Moon, which means that the full moon is the closest to the autumn equinox, on September 23. The term Harvest Moon comes from the days when farmers relied on moonlight to tend to their crops during the night.
"Whether we call this a super Harvest Moon or a Harvest supermoon, and whether we fuss over the fact that lunar perigee happened just one night before this moon was full, there's no denying that it's the Harvest Moon," Slooh astronomer Bob Berman said in a statement, reported Space.com, space and astronomy news website.
Super Moon♥ #supermoon2014pic.twitter.com/eCKJBumGeE

- Shoko(쇼코) (@BLAQLady99) September 9, 2014
"This is the year's most famous full moon, and one of only two that even have a name. Yet it's bathed in myth and misconception even without all the extra 'supermoon' business. It will be fun to explore the true secrets of the Harvest Moon while watching it live," Berman added.