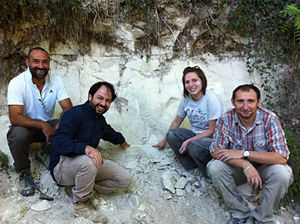 Imagine the world waking up one morning to discover that all compasses pointed south instead of north.
It's not as bizarre as it sounds. Earth's magnetic field has flipped - though not overnight - many times throughout the planet's history. Its dipole magnetic field, like that of a bar magnet, remains about the same intensity for thousands to millions of years, but for incompletely known reasons it occasionally weakens and, presumably over a few thousand years, reverses direction.
Now, a new study by a team of scientists from Italy, France, Columbia University and the University of California, Berkeley, demonstrates that the last magnetic reversal 786,000 years ago actually happened very quickly, in less than 100 years - roughly a human lifetime.
"It's amazing how rapidly we see that reversal," said UC Berkeley graduate student Courtney Sprain. "The paleomagnetic data are very well done. This is one of the best records we have so far of what happens during a reversal and how quickly these reversals can happen."
Sprain and Paul Renne, director of the Berkeley Geochronology Center and a UC Berkeley professor-in- residence of earth and planetary science, are coauthors of the study, which will be published in the November issue of
Geophysical Journal International
and is now available
online
.