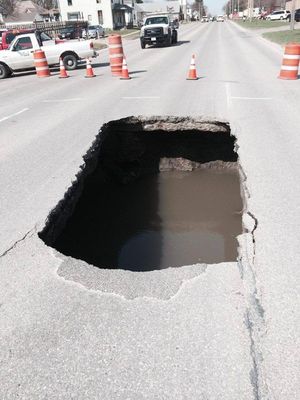 A massive sinkhole, around seven feet deep, appeared on a main road in Burlington Wednesday. Officials say a two-inch hole in an underground pipe, a water main break, caused the sinkhole.
"A lot of people are interested in it," resident Savanna Evans said. "A lot of people are taking pictures. You see it all over Facebook right now."
The sinkhole is right at the border of Burlington and West Burlington on Mount Pleasant Street.
"I drive on this street every day on my way to work, right there where this hole is," resident David Francis said.
"It does affect traffic," business owner Randy Wagler said.
Residents say they are surprised to see it.
"I kind of looked down, and was like, 'That's a big hole you've got there, mayor,'" Evans said.