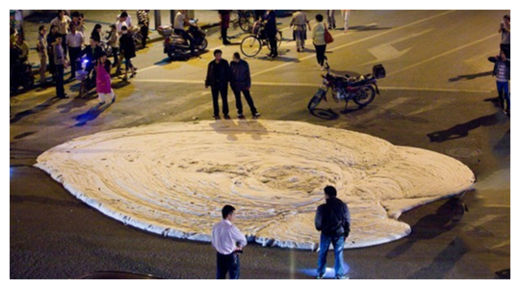 Something very strange started oozing out of the streets in the Chinese city of Nanjing on Saturday night. Generally, when weird things start erupting from the ground in Asian countries it's in the form of a giant b-movie monster, but this invasion was a whole lot realer, and a whole lot smellier.
At around 9PM, pedestrians began to notice the pavement at the Wende Baiyun Lane cross intersection started to crack and split open, and before long, a foamy white substance was spewing from the cracks, brining with it a foul-smelling stench. Within a short time, the foam had spread to a 50 meter radius and stood a foot high.
According to the Chinese news outlet
Longhoo
, firefighters and police rushed to rope off the scene, evacuating civilians and helping redirect the flow of traffic from the flow of ooze.