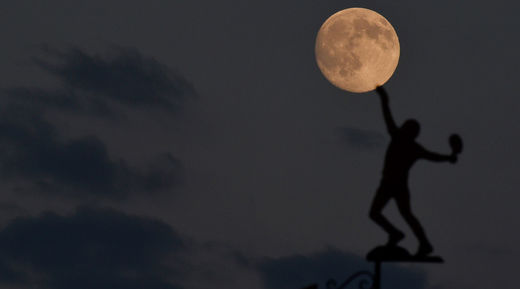 Britain will be treated to a rare astrological spectacle on Friday evening as the first blue moon since 2012 graces its skies.
The blue moon, which refers to the extra full moon that takes place over a calendar year, will not be seen again until 2018, so stargazers and astronomers alike will be making the most of the natural spectacle.
But the extra full moon is something of a misnomer, and those viewing it may be disappointed to discover that the blue moon is no bluer than a regular moon. In other words, it's going to be quite gray.
Blue moons occur due to a difference between calendar and lunar months. A calendar month is anything between 28-31 days, whereas the length between lunar months - the time between two full moons - is always 29.53 days.
The phenomenon has more significance for astrologers, people who claim they can glean meaning from the movement of the stars, than for scientific astronomers.
A blue moon traditionally marks a time of change and possibility in the astrological world.
The blue moon is the first since August 31, 2012, and won't be seen again until January 31, 2018.