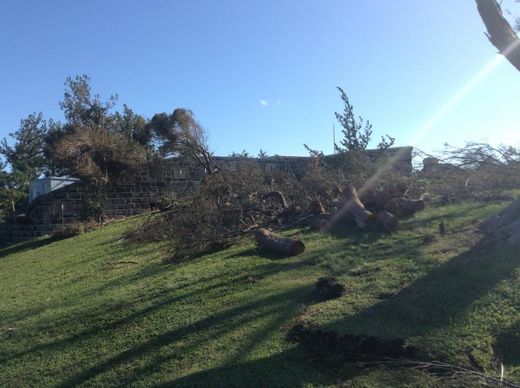 Hurricane Gonzalo departed from Bermuda leaving power outages, downed trees, and damaged homes and buildings. An on-the ground account of the storm indicated the eye passed over the island. By Oct. 20, post-tropical storm Gonzalo was approaching the United Kindgom, sparking severe weather warnings.
By Sunday, Oct. 19 Gonzalo was affecting eastern Canada. Forecasters expect Gonzalo to hold together over while traveling east across the North Atlantic where it will affect Scotland as an extra-tropical storm on Tuesday, Oct. 21.
Camille Haley was former NASA intern and is now a resident of Bermuda. She provided an account of her experience as Hurricane Gonzalo struck the island on Oct. 17.
"Light rain and wind slowly strengthened during the mid-afternoon, as Gonzalo approached Bermuda," she said. "At around 4:00 p.m. local time the wind and rain intensified by the minute. On a typical day, we can see the ocean from the veranda but there was no visibility within 100 feet at this point. I saw an electric wire fall in the neighbors' backyard; it continued to spark for hours. Trees were bending, branches were snapping and leaves were blowing everywhere. We were surrounded in darkness as the electricity in the area had gone out. Candles, flashlights and occasional strikes of lightning were our only light source.