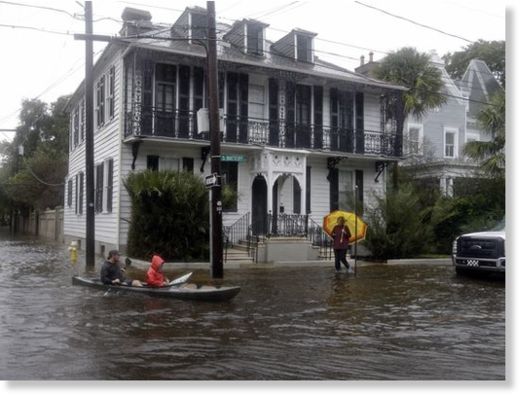 Torrential rains that brought flooding to much of the historic peninsula district of Charleston, S.C., on Saturday lashed huge parts of the Southeast, giving the region little consolation from the fading threat of Hurricane Joaquin as it moved to the northeast away from the East Coast.
Police shut down traffic onto the low-lying area of Charleston between the Ashley and Cooper rivers where the historic downtown area is located. Abandoned cars dotted many of the roads as cars stalled out.
Retail stores along King Street, a main shopping area in the port city, lined sand bags along the sidewalk as protection from the threat of rising water.
As rain totals by early morning quickly eclipsed the 21-year-old record of 3.28 inches for Oct. 3, forecasters predicted several more inches for Saturday and extended a flash flood warning until late afternoon.
Officials warned residents to avoid driving in the afternoon during high tide.
Heavy rain was forecast for the area into Sunday.