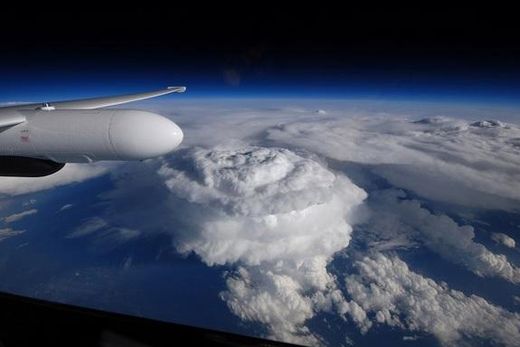 Swirling supercell thunderstorms brewed over the border between North and South Carolina in May,
showering the area with chunks of hail as big as baseballs.
The
huge storm column stretched 50,000 feet (15,000 meters) tall
.
NASA's Earth Observatory
recently released a photo that a pilot took as he flew an ER-2 aircraft over the storms on May 23. Normal commercial airplanes fly at around 30,000 feet (9,000 m), but the ER-2 soared around 65,000 feet (20,000 m).
An
anvil-shaped cloud
typically forms in a thunderstorm when cooler winds push warm air up into the atmosphere, and a particularly powerful updraft can produce a huge dome-shaped cap called an "overshooting top." Severe storms, like the supercell in the photo, tend to have large and long-lasting overshooting tops.