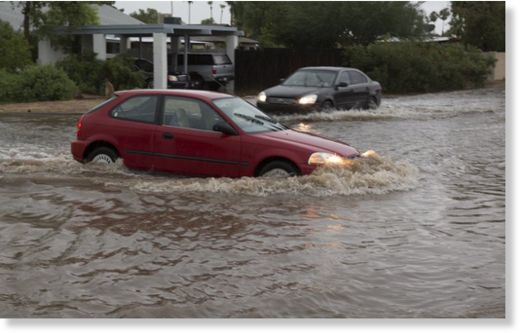 Intense storms swept through the Southwest on Saturday, snapping trees and shrouding metropolitan Phoenix in cascading showers while also bringing flooding to parts of Nevada.
The skies above downtown Phoenix were completely gray in the afternoon as strong winds, thunder and rain hit the region. The outside visibility of buildings was almost entirely obscured by rain and clouds.
The storm forced authorities to close a section of Interstate 17 for more than hour due to flooding. Flight departures and landings resumed about 3:30 p.m. after they were halted for an hour at Phoenix Sky Harbor International Airport. But airport spokeswoman Julie Rodriguez said delays are expected into the evening. More than 40 flights scheduled to land in Phoenix were diverted to other airports, she said.
"The wind caused some damage to the roof of Terminal 2 in the baggage claim area and in some of the gate areas. However, all three terminals at Sky Harbor are operational," Rodriguez said in a statement.