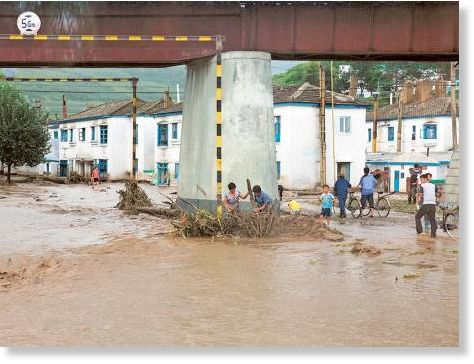 Heavy rain in North Korea killed 40 people, stranded thousands in flash floods and caused "massive" damage on the weekend, the International Federation of the Red Cross said and North Korean media said.
More than 11,000 people were forced from their homes or otherwise affected by the floods,
which hit the northeastern city of Rajin, near the border with Russia and China, on Saturday and Sunday, Hler Gudjonsson, a spokesman for the Red Cross in Beijing told Reuters.
Rajin is the capital of the Rason Special Economic Zone in North Hamgyong Province.
"It rained really hard, and fast. On Saturday morning the city was flooded. Cars were wading through water like boats," a source who was in area when it flooded told Reuters.
It was not clear what impact the rain would have in a country that said in June it was suffering from its worst drought in a century. South Korea said in July some rain had fallen in the North, easing conditions.