Thousands of Velella velella, also known as 'by-the-wind sailors' have been appearing on the beach from Washington to Southern California. The organisms are usually only found in the middle of the ocean, and the phenomenon has drawn a lot of excitement as people have been discovering them for the first time.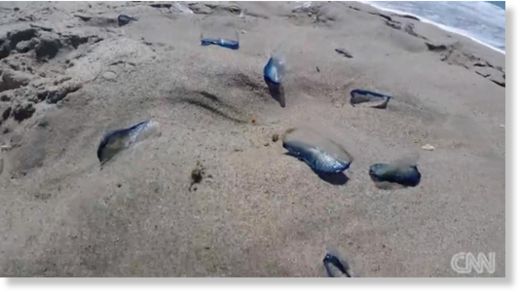 Thousands of members of a mysterious and rarely seen sea creature have begun popping up on the California shore
, creating new attention to the jelly-like species.
Velella velella, a blue sea creature that bears some resemblance of a jellyfish, is about the size of a hand and usually remains in the water. They can be seen washed ashore
in this CNN video.
But a shift in the currents and winds have brought thousands of them onto the West Coast this summer, creating an excitement over an animal of the ocean that is usually kept hidden from the public.