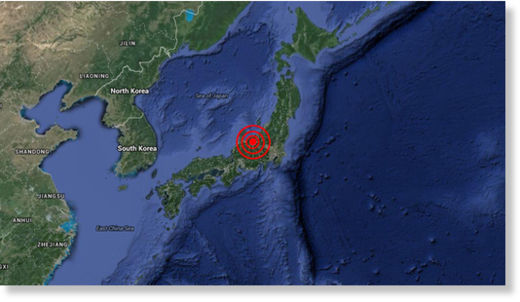 A 6.8-magnitude earthquake has hit central Japan at a shallow depth of 10 kilometres, Japan's Meteorological Agency reports. No tsunami warning has been issued.
The quake struck at 22:08 local time (13:08 GMT) and was centered in the Nagano Prefecture on the main island of Honshu, about 16 kilometers northeast of the city of Omachi.
An official from the village of Ogawa, near the epicenter of the quake, told Japan's NHK broadcaster that the residents felt a long shake and saw documents falling off the shelves.
Magnitude 6.8 Intensity 6- earthquake 22:08 Nov-22 JST at Nagano-ken Hokubu (36.7N/137.9E) Depth 10 km http://t.co/rgy1dqBnov #earthquake

- Japan Earthquake (@jEarthquake) November 22, 2014
The authorities from Nagano Prefecture haven't reported any casualties or damage yet.
According to the USGS, the quake was registered at a magnitude of 6.2 on the Richter scale.
長野市やばい。家ぐっちゃぐちゃ。震度6弱の脅威。 pic.twitter.com/ouJ3SzQZEw:HygNtoLuv63

- ニュースな話題つぶやき@移転作業 (@new_2_twit) November 22, 2014
The tremor was felt as far away as the capital, Tokyo, which is about 170 kilometers northwest of the epicenter. The JMA said there was no direct threat of a tsunami after the quake. The cities of Hotaka and Suzaka, also in Nagano Prefecture, are also in proximity of the tremors - 33 and 36 kilometers away, respectively.