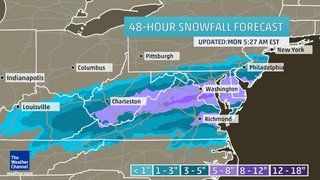 Thunder and lightning with snow, sleet and/or freezing rain reported in at least eight states
Snow pushes through Middle Atlantic and Central Appalachians into Monday afternoon, tapering off by evening.
5+ inches of snow in Washington; 1 to 3 inches in Philadelphia; Little to no accumulation in New York City.
Winter Storm Titan will deliver its final round of winter weather to parts of the East on Monday.
Here are the latest forecast details.
48-Hour Snow Forecast Power Outage Potential Monday AM Forecast Monday PM Forecast Snow, Ice Impacts