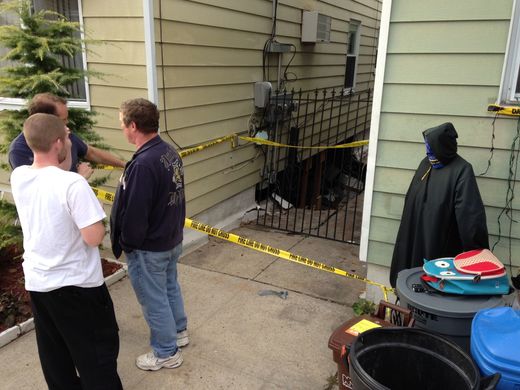 A sinkhole that opened up in the driveway between two houses on 58th Road in Maspeth forced at least a dozen residents from their homes and prompted Con Edison to cut power to part of the block on Friday.
The hole is in the walkway between 69-11 and 69-13 58 Road, located on the north side of a block between 69th Street and 69th Place, just south of the Long Island Expressway. Vacate orders were issued for both of those houses.
Danielle Maher and her husband have owned 69-11 for more than three years. SHe said said that her uncle had heard cracking sounds in the wall of the basement some time between 2:30 and 3 p.m.
"He called me outside to take a look and I same the hole," she said. "I ran into the house to grab the baby and the dogs. I didn't even make it out of the house when I heard it collapse, then I called my husband."