For the past week, sky watchers in the UK have witnessed a rare apparition of
polar stratospheric clouds
(PSCs).
Normally restricted to the Arctic Circle, the fantastically colorful clouds have appeared over the British Isles almost every day since Jan. 31st.
Colin Fraser photographed the display over Edinburgh, Scotland, on Feb. 2nd: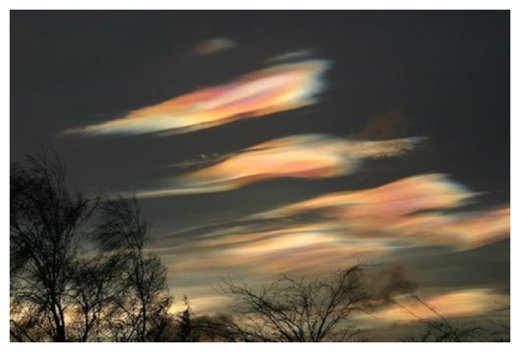 PSCs form in the lower stratosphere when temperatures drop to a staggeringly-cold -85ºC. High-altitude sunlight shining through tiny ice particles ~10µm wide produce bright iridescent colors by diffraction and interference.
But there is more to PSCs than ice. Some polar stratospheric clouds contain very small droplets of naturally occurring nitric and sulphuric acids. These droplets destroy ozone. Indeed, atmospheric optics expert Les Cowley
points out
that a
temporary ozone hole has formed over Ireland and the UK.
It is the blue patch in this Feb. 1st ozone map from NASA's
Arctic Ozone Watch
: