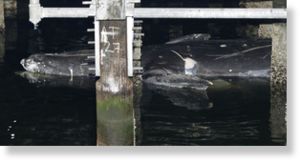 A 30-foot gray whale has turned up dead under the Washington state ferry terminal in downtown Seattle, where its stench is wafting into the noses of thousands of daily commuters.
A Washington State Ferries spokeswoman, Susan Harris-Huether, says the whale was found just before 11 p.m. Wednesday. She says people are reporting that the smell is "not good."
Harris says it's under a dock, but ferry service Thursday wasn't affected.
A spokesman with the National Oceanic and Atmospheric Administration said Thursday that officials believe the whale may have been there for about a week. Michael Milstein says it's not known yet why the animal died, how it got there or other details.
He says NOAA will work with ferry officials and others to move the animal so a necropsy can be conducted.
Source: Associated Press