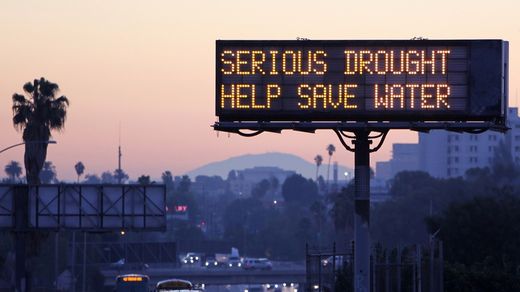 The heat records keep falling for California. The state has had its hottest first seven months of the year, crushing the previous mark. Neighboring states have also baked, though not quite at record levels, helping contribute to both the spread of drought and
large wildfires
. At the same time, cool weather had a number of Midwest states experiencing July temperatures that were closer to September norms.
On Tuesday, the
National Climatic Data Center
(NCDC) released its monthly climate update for the U.S. and it contained more cruel news for California. Precipitation was near average throughout the state, but it had a negligible impact on the state's
record-setting drought
because summer is its dry season. To reinforce that, NCDC noted that
while San Francisco received 800 percent of its usual July rainfall, that equalled only 0.08 inches.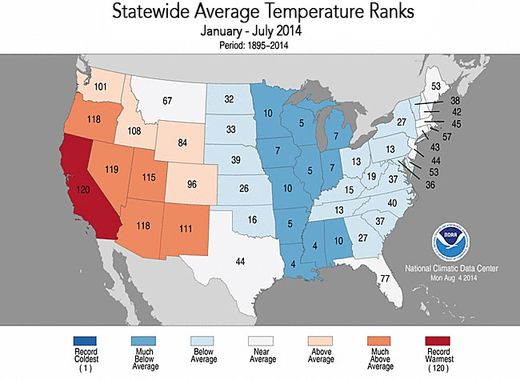 Heat continued to bake the state, fueling a drought that's projected to
cost $2 billion by year's end
. California had its fifth-warmest July on record, including pockets of record warmth along the northern coast.
July's heat kept the state on track for its warmest year in 120 years of recordkeeping
. Since January, the state's average temperature has been 4.6°F above the 20th-century average. That smashes the previous record by 1.4°F.
Five other western states had their top 10 warmest Julys as well
, which helped to fuel large wildfires. In Washington, which had its fifth-warmest July, the
Carlton Complex Fire burned more than 250,000 acres
. In Oregon, which had its second-warmest July, the
Buzzard Complex Fire charred more than 400,000 acres
. Despite those two large fires, the amount of acres burned by wildfires nationwide is at a 10-year low.
While heat was the story in the West, persistent cool weather continues to be the story for the eastern half of the country.
The Midwest and Southeast were in the bullseye for a mid-summer's chill with 12 states stretching from Louisiana to Michigan recording one of their 10-coldest Julys. That includes a record cool July for Indiana and Arkansas.