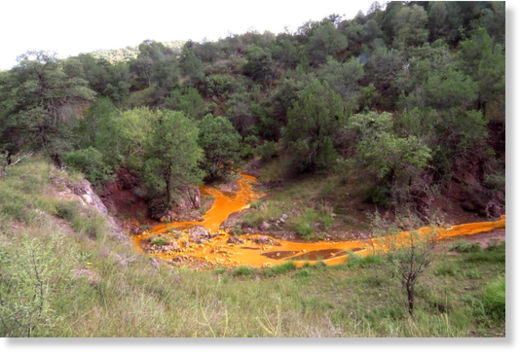 A popular tourist attraction in southern Arizona is at risk of being contaminated with orange and brown sludge that spilled from two abandoned mines near Patagonia. The Trench Camp and Lead Queen mines overflowed late last month because of heavy rainfall caused by Hurricane Odile.
The Arizona Department of Environmental Quality has issued a notice of violation to an Asarco trust that owns the Trench Camp Mine near Patagonia, Arizona. "We've talked to our consultants, and we're gonna do what the state requires us to do," Jay Steinberg, who runs the trust, said Wednesday.
A resident near the town of Patagonia noticed the sludge at the end of September, first at the Lead Queen Mine and later at the Trench Camp one, said Wendy Russell, coordinator for the Patagonia Area Resource Alliance. Both waterways lead to Sonoita Creek, which runs off into Patagonia Lake, the site of the state park.
"This is an ongoing hazard to our community's water supply," Russell said, adding that Patagonia Lake State Park is a tourist attraction. "Folks fish and swim there."