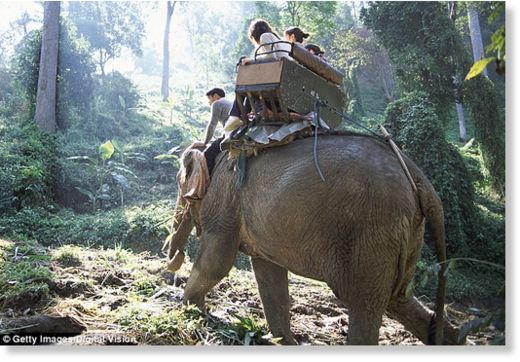 Thailand's use of elephants as tourist attractions has come under fire yet again after an animal killed its keeper and ran off with a family still on its back during a jungle tour in Chiang Mai.
The elephant reportedly 'went berserk', during a group ride on Wednesday, attacking and killing its rider and taking off into the jungle with three terrified Chinese tourists, police said
The Chinese family, two parents and their young child, were rescued soon after as other elephant keepers came to the rescue.
'The mahout [elephant keeper] who was killed was not familiar with the elephant. They (the tourists) are safe now,' Colonel Thawatchai Thepboon, police commander of Mae Wang district in Chiang Mai province said.
Police said the incident took place at 9.30am local time as a Chinese family of three - a father, mother and a young child - took a ride on the back of a male elephant.