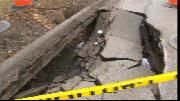 While drivers across the city look out for potholes, residents who live along Eddy Road, south of the Shoreway worry about a much bigger problem. Part of their street was swallowed up by a big sinkhole.
"It's scary, it's scary. That's literally at the corner of my street," said Unique Patterson, a resident who has to drive past it on her way home.
Several neighbors say they noticed part of the asphalt collapsing yesterday. Within a matter of minutes there was a car crater in the middle of the street.
Comment:
Sinkholes
are
scary stuff, so it's too bad they're so casually dismissed as isolated incidents by the media.
Many have died
in recent years when the earth opened up and swallowed them.