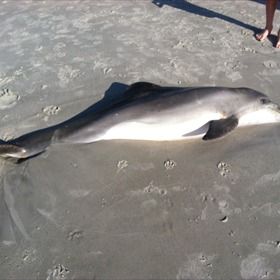 There's something fishy going on in our local waters. No pun intended. According to The Florida Fish and Wildlife Conservation Commission:
six dolphins, a shark, a humpback whale and multiple manatees/sea turtles have washed up in the last two weeks
.
"We know the dolphins are related," marine biologist Nadia Gordon said. "As far as the shark and see turtles, I can't answer that."
The morbillivirus is believed to be the cause of the dolphin deaths. The disease has claimed the lives of 80 in Northeast Florida since July 2013. On a bigger scale, 1200 dolphins have been found dead from New York to Florida since July- up from the average 180 a year.
Biologists still have work to do, but they're hoping they get a lead soon.
"We're hoping it will die off soon and we won't have to worry about it anymore," Gordon said.