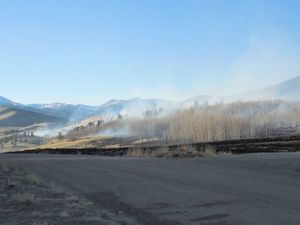 The U.S. Forest Service says "human shooting" sparked the 250-acre wildfire that is burning in the
area of US 285 and County Road 56 -
about 19 miles north of Fairplay and three miles southeast of Kenosha Pass.
Authorities are calling it the Snyder Creek II Fire because there was also a fire in the same area last year.
As of 10 p.m. Sunday, the blaze was 10 percent contained
. It's estimated to be fully under control by 6 p.m. Monday. The Snyder Creek II Fire was reported just after 4:20 p.m. Sunday.