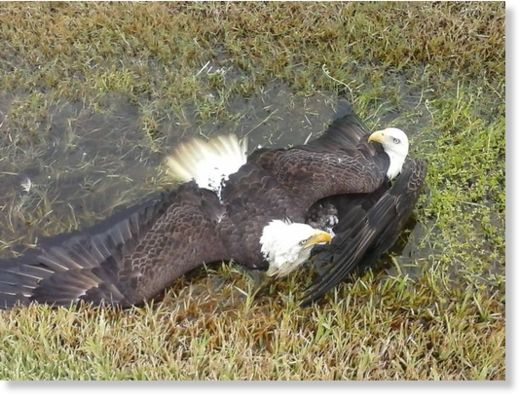 A Florida Fish and Wildlife biologist was in the right place at the right time for one lucky bald eagle.
In a Facebook post, FWC
says traffic on a Sarasota road screeched to a halt as drivers witnessed an "epic mid-air battle" between two eagles. Still fighting, the two birds crash landed into a nearby muddy ditch.
A 16-year-old girl saw the fight and told her mom that one of the eagles needed her help. She would be a good choice to come to the animal's aid; Michelle van Deventer is both an FWC biologist and
Florida's bald eagle coordinator!
Van Deventer pulled to the side of the road and jumped into the ditch after seeing the winning eagle fly off, leaving the loser behind. With help from the Wildlife Center of Venice and Sarasota County Animal Services, she was able to secure the exhausted and stressed bald eagle.
The male eagle was taken to a WCV clinic and kept overnight. After determining it had no serious injuries, it was safely released the following morning.