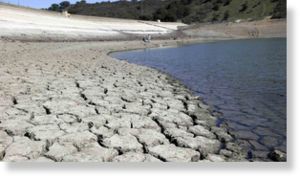 Getting out of the water at my local surf break in Pacifica, a beach town just south of San Francisco, I went to rinse off my wet suit and surfboard at the oceanfront showers, only to find this sign: "Due to the drought the available shower heads are reduced. Please limit shower time."
Yes, you can laugh that California's epic drought is even hitting people who spend their time in the water. Or that, finally, urban dwellers are feeling the pinch of an environmental catastrophe that has devastated the state's farms and ranches.
Yet the move by Pacifica to shut off showers at popular surf spots is a sign that coastal cities, where the bulk of California's population resides, are belatedly getting serious about saving water. And a new report from the California Water Resources Control Board shows that such efforts are making a difference.
For instance, the North Coast County Water District, which serves Pacifica's 39,000 residents, has cut its water consumption 26 percent in August compared with the previous year. That means on average, each Pacifica resident used about 2,434 gallons of water in August, compared with 3,283 gallons in August 2013.
That helped California cut statewide water consumption by 11.5 percent in August, up from 7.5 percent in July, and 4 percent in June compared to the previous year, according to the report.