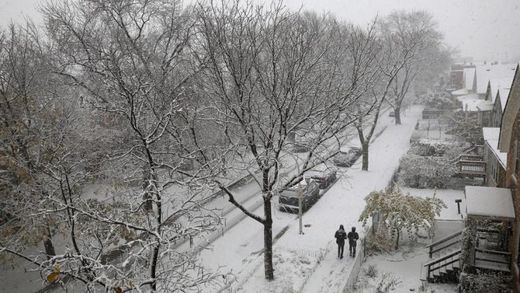 The season's first snowfall dropped as much as 17 inches across Chicago's northern suburbs, and the total of 11.2 inches at
O'Hare International Airport
made it the largest November snowfall in 120 years.
The steady stream of snow began Friday evening and carried into Saturday, bringing cold winds and slushy puddles to Michigan Avenue. But it also fashioned a wintry backdrop to the annual
Magnificent Mile Lights Festival
, transporting Chicagoans into a life-sized holiday snow globe.
The chill didn't bother the Kendalls, who traveled from Northwest Indiana for the festivities. They stood in Pioneer Court bundled in snow gear, relishing bites of candy-cane-garnished cheesecake as heavy snowflakes plopped onto their noses.
"It rings in the beginning of Christmas season," said Jessica Kendall. "The roads are warm, the snow's melting and we had a nice, wintry drive."
The storm hit hardest in the northern suburbs.
Lake County was walloped. By about 2 p.m. Saturday, there were reports of 17 inches in Grayslake, 16.5 in Hawthorn Woods, and 15.5 inches in Mundelein, said
National Weather Service
meteorologist Jamie Enderlen.
McHenry County also was socked, with 13.6 inches in Bull Valley, 12.5 inches in Woodstock and 9.5 inches in Hebron by about 7 a.m. Saturday, according to the weather service.