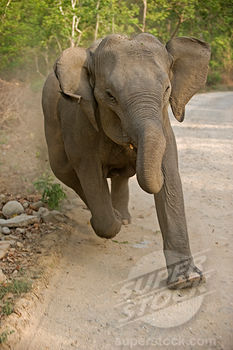 Officials are calling an animal attack "unusual"
after a wild elephant trampled an 11-year-old girl to death on Sunday near the Chi Phat eco-tourism zone in Koh Kong province.
At about 11am, the young girl, named Cheam Sokkhim,
was fishing with her mother at a protected area when the male elephant emerged and went on a rampage
, Koh Kong's Thmor Bang district police chief Saum Samei told the
Post
yesterday.
They ran, but the elephant started chasing after them, and then the daughter fell down.
The elephant then kicked and crushed her with its foot, according to Samei.
"This is the first time this has happened," Samei said. "Before, elephants used to be afraid of people, but now they chase people."
John Willis, director of programs for the preservation group Wildlife Alliance, which oversees Chi Phat,
said elephant attacks are unheard of around the eco-tourism zone.
"There have been some elephant attacks in other provinces ... but we haven't heard of any elephant attacks in Chi Phat," Willis said.