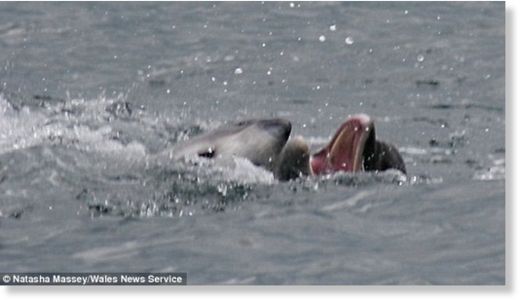 A dramatic rise in killer attacks by dolphins on porpoises is baffling scientists in one of Britain's main breeding seas. The calm waters of Cardigan Bay in Wales have been turned red in recent weeks by bottlenose dolphins killing smaller porpoises during deadly clashes.
Marine scientists are struggling to understand why the rare attacks have been on the rise - with three out of the four attacks proving fatal. Researchers at the Cardigan Bay Marine Wildlife Centre (CBMWC) said they have always known dolphins attack porpoises, but that the frequency of recent attacks is alarming.
Volunteers at CBMWC, in Ceredigion, West Wales, rescued a porpoise stranded on the beach in May after being chased by dolphins. Last month researchers witnessed three dolphins killing a porpoise - with another fatal attack a week later. Then last week three dolphins spent 20 minutes brutally attacking a porpoise close to the centre's research vessel.
The bottlenose dolphins repeatedly pounced on the porpoise, forcing it underwater then throwing it in the air close to the boat. 'One of the dolphins in particular was attacking the porpoise while the others joined in from time to time,' said researcher Milly Metcalfe. 'Although we were close by, they took no notice of us, intent on the attack.'