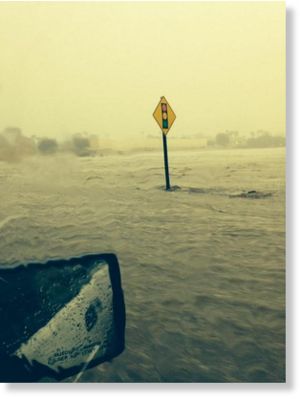 A destructive storm stemming from Hurricane Norbert sent flash floods cascading through Coachella Valley on Monday, trapping vehicles in water 5 feet deep and forcing dozens of rescues, officials said.
Between 7 and 8 a.m. - part of a two-hour window weather officials say was the peak of the storm - the California Department of Forestry and Fire Protection made 43 water-related rescues in areas the agency covers such as Thousand Palms, Indian Wells and La Quinta. More than a dozen of those rescues dealt with residential floods, but spokeswoman Jennifer Fuhrman said she was not aware of any injuries.
Meanwhile, near the western edge of Riverside County, several vehicles were stuck at the intersection of Varner Road and Bob Hope Drive in Thousand Palms, California Highway Patrol spokesman Mike Radford said. Some were abandoned in water that stood as deep as 5 feet.
The intersection was one of several he mentioned where vehicles were trapped in water that had moved "like a white-water rapid." He estimated that at least 50 vehicles had stalled, and at least 25 collisions had occurred as some tried to drive through the standing water.
In one case, Radford said, a pickup truck was traveling through flowing water that "just took that vehicle and washed it into the desert." Pictures on local news websites and social media showed water up to car doors and a woman kayaking down a street.
"This is probably one of the worst storms I've seen since I've been here, in terms of affecting roadway," Radford said.