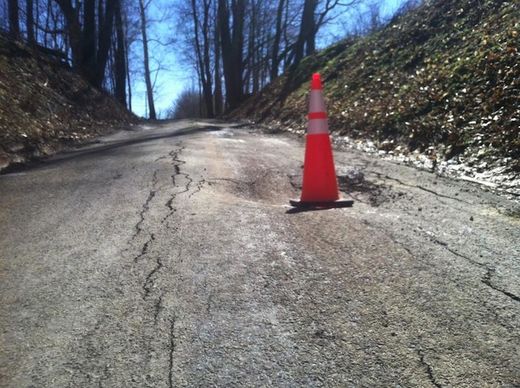 An emerging sinkhole on McIntyre Road near Edison High School forced local officials to shut down a portion of the corridor until further notice.
On Tuesday, after finding a depression caving several inches deep into the pavement, Milan Township officials closed a half-mile stretch of roadway.
Among the areas where a worker blocked off the road to all traffic, including emergency vehicles:
- Heading south, turning off Ohio 113: Vehicles can travel on McIntyre Road up until a driveway leading to a private residence.
- Heading north, turning off Seminary Road: Vehicles can only access a small portion of McIntyre Road.
No homes, businesses or points of interest are located within the barricaded area.
"We're not too sure how it happened," township road employee Dave Fox said. "We can't fill it like a pothole. We have really never dealt with anything (in the Milan area) like this before. If a car hit that spot just right, it would tear up the undercarriage and could possibly cause the vehicle to crash."