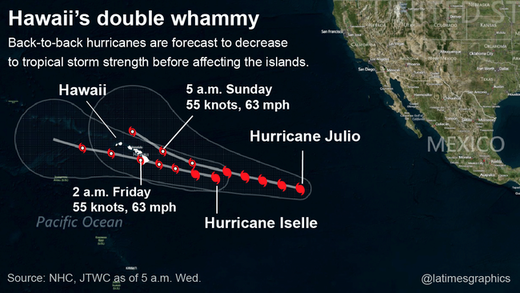 Iselle was supposed to weaken as it slowly trudged west across the Pacific. It didn't - and now Hawaii is poised to take its first direct hurricane hit in 22 years.
State officials are assuring the islands are ready and people should prepare but not panic. Tourists wonder whether their flights and activities would be disrupted and tried to get in some last-minute beach time before the surf's up, but ugly. And residents are making bottled water tougher to find than a cheap fruity cocktail.
"Everybody says this is the last day of good weather, so we came down to the beach," said Shonna Snodgrass, a tourist in Waikiki visiting from Stafford, Virginia.
Hurricane Iselle was expected to arrive on the Big Island on Thursday evening, bringing heavy rains, winds gusting up to 85 mph and flooding in some areas. Weather officials changed their outlook on the system Wednesday after seeing it get a little stronger, giving it enough oomph to stay a hurricane as it reaches landfall.