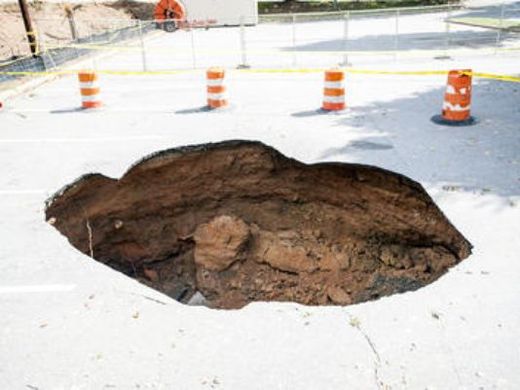 A sinkhole the size of a pickup truck opened up overnight Wednesday on a county-owned parking lot behind the former TK Tripps restaurant at College and South Charlotte streets.
Heavy rains Tuesday apparently opened up the crater, according to local developer Rusty Pulliam, who with a partner is building a retail/office complex on the site.
Workers about two months ago discovered a drainage pipe installed in 1922 on their property and the county lot, and they are working with the city to relocate it so it will drain to South Charlotte Street, Pulliam said.
"Some sections of it are 40 feet deep, and some of it had collapsed," he said.
The city had agreed to pay for half the cost of relocating the pipe, which appears to carry a stream, but the county has not taken any action, Pulliam said.