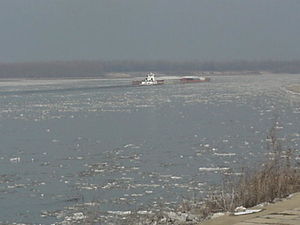 The shipping season on the upper Mississippi River will end on Thursday as ice surrounding locks and dams near Minnesota's Twin Cities forced the
earliest winter closure on records that date back to 1969
, the U.S. Army Corps of Engineers said.
"There's so much ice through the whole system," said Bryan Peterson, navigation manager for the Army Corps' St. Paul district.
"They're getting the barges they can out and not risking getting stuck there all winter."
There were two tow boats waiting to pass lock and dam No. 2 near Hastings, Minnesota. Once they moved down river, no more vessels were expected, Peterson said.
The shipping season typically ends around the beginning of December on upper portions of the Mississippi River in Minnesota, Wisconsin, Iowa and Illinois. In 1989, no more vessels reached the Twin Cities after Nov. 24, Peterson said.