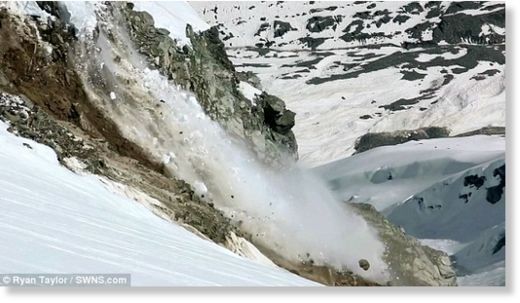 This is the breathtaking moment an enormous glacier collapsed just inches from a skier to send thousands of tonnes of rock, snow and ice thundering down a mountain.
Ryan Taylor, 22, who was seconds away from skiing down the slope in Mount Cook National Park in New Zealand, watched as rocks beneath the ice began to break free and fall.
The amateur adventure photographer filmed 30 seconds of tumbling rubble before one large block of ice dislodged, smashing into a thousand pieces and plummeting down the mountain.
The video shows more chunks of ice cascading to the bottom as Ryan watches in amazement at the incredible natural spectacle taking place in front of him.
Later in the clip Ryan points the camera at the thousands of tonnes of rock and ice flowing down the steep decline like a raging river.