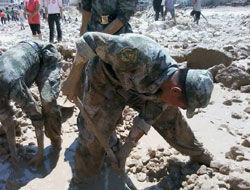 Six children have been killed and at least seven people are missing and presumed dead as a result of a mudslide in south Tajikistan, an emergency ministry spokesman told Reuters on Sunday.
Landslides and spring floods are common in Tajikistan, the poorest country in Central Asia, as over 90 percent of its territory is mountainous.
The mudslide struck on Saturday night in a village around 230 km (150 miles) south of the Tajik capital Dushanbe, near the border with Afghanistan.