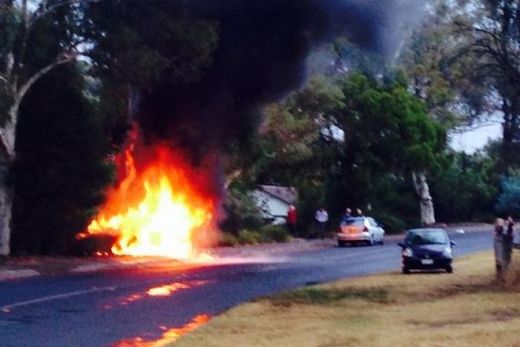 A man has escaped serious injury after his car burst into flames following a freak lightning strike near a gas main in Canberra's north.
The fire began after lightning struck on Dryandra Street in Canberra's north during a short thunderstorm over the ACT about 8:00am.
Shortly after the lightning strike a car on the street burst into flames.
Firefighter Danny Brighenti said crews at the scene were
initially puzzled by the blaze, which kept reigniting
.
"They believed there was a ruptured fuel tank which was causing the car to reignite," he said.
He said on closer inspection, once the fire died down, it was revealed a
gas main had ruptured near the car
.
Nearby resident Sarah Groubes: "
As we turned around the corner onto Dryandra Street we just saw this fireball on the side of the road
."
Commander Brighenti said the
cause of the gas leak was unclear
.
He said scenarios in which
cars were struck by lightning were rare, and it was possible a tree nearby was actually struck
.
He said it was also unclear whether the car that caught fire was parked or moving along the road at the time of the lightning strike.
"On arrival the person had got out of the vehicle, but the car was heavily involved in fire with the surrounding trees and bushes," Commander Brighenti said.
"They're not injured ... but the car is totally destroyed."
A mountain bike and an iPhone inside the car were also destroyed.