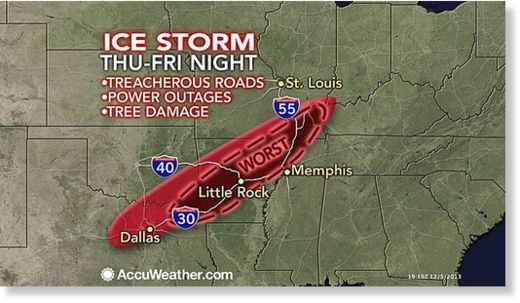 An ice storm will affect millions of people into Friday and threaten to cut power for hundreds of thousands from northern Texas to western Kentucky. Travel by vehicle or foot will be dangerous during and after the storm, due to icy roads and falling trees and power lines. Snow and ice is already making travel difficult across Oklahoma, Texas and northern Arkansas. Conditions will worsen tonight.
Metro areas from Dallas to Little Rock, Ark.; Cape Girardeau, Mo.; Memphis, Tenn.; Evansville, Ind.; and Louisville, Ky.; will be affected by a period of freezing rain that will build up on exposed surfaces, including trees and power lines.
In some locations, the storm has the potential to allow one half an inch or more of ice to accumulate on the ground and accrue on elevated surfaces.
The storm is similar in size and may be similar in magnitude to a storm just several years ago.
According to
Jesse Ferrell
, weather expert and storm chaser for AccuWeather.com, "This will be the worst ice storm for the United States since January 2009 and will affect many of the same areas as that storm."