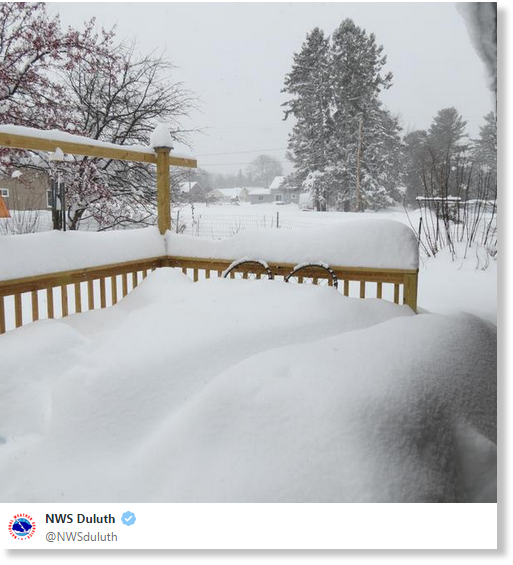 Winter's first blast of snow is one thing. But 4 feet?
A neighborhood in northern Wisconsin near the Michigan state line has been
hit with more than four feet of snow since Monday.
According to the National Weather Service in Duluth, Minn., as of 11:30 p.m. Thursday,
50.1 inches of snow had been dumped on Gile
, which is part of Montreal, Wis., in Iron County, but has its own ZIP code and post office. It's about two hours east of Duluth.
First, Gile was hit with the Arctic blast and snowstorm that moved across much of northern Wisconsin Monday. Later, lake effect snow kept piling it on.
Jay Hengtgen, owner of Burgers Bar & Grill, the only restaurant in Gile, told the
Milwaukee Journal Sentinel
on Friday that his driveway has needed plowing three times a day for the past three days.
"Looking outside right now, the snow on the one side of my building is already covering half of the bottom windows. We're going up to four feet," he said. "The initial report was 12 to 18 (inches). Then it went to 18 and 24... Then it turned into lake effect and it never quit."