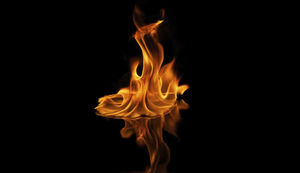 The acting district head of Soro in Darazo Local Government Area of Bauchi State, Alhaji Muhammad Kilishi, on Wednesday, informed that a mysterious fire outbreak had hit the town, razing more than 100 houses with property worth millions of Naira destroyed.
Alhaji Kilishi, who disclosed this while speaking with journalists in Bauchi, stated that as of now,
no one knew the cause of the fire outbreak, saying that people only discovered that fire would come from nowhere and gut houses.
According to him, the mysterious fire outbreak started in October, saying, however, that, so far, no life had been lost in the incident.
"This fire is quite mysterious because it is not caused as a result of an electrical fault or bush burning. One just notices that fire from nowhere will start burning and before you know it, it has started destroying houses.
"This incident started mysteriously about a month ago, but no life has been lost since the outbreak. I
don't know the meaning of this strange fire which cannot be traced to a cause
," the acting district head said.