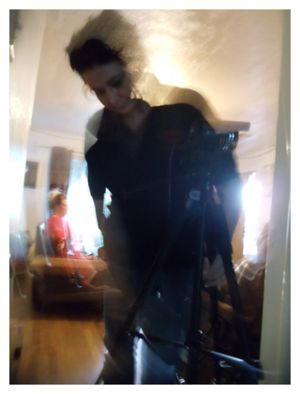 When Juan De Los Santos kids' bicycles got stolen from outside his house, he put up security cameras, hoping to catch any thieves in the act the next time.
But what De Los Santos caught on camera scared him much more than prowlers, as he believes the footage shows his home is being haunted.
"I get chills talking about it," De Los Santos said, describing the weird occurrences that have been escalating at his house on Warren Drive: the dog barking for no reason, doorknobs shaking, furniture moving and, worst of all, the faces and demon shapes he sees hovering in his backyard in the camera's footage.
"I turned it off, I didn't want to see anymore," he said of the images, explaining that he immediately called a priest and asked him to come bless the house.
De Los Santos said the blessing "helped a little, but not to where I'm satisfied," describing the scariest encounter as when he felt and heard something big behind him when he went outside to investigate noises.
"The motion detector light did not go on," he said, adding that he got chills up his spine and goosebumps when he heard grunting and saw the bushes move.
Others have had unsettling encounters in his home, so much so that his sister-in-law won't come over anymore and he won't allow his kids to sleep in their rooms, where a lot of the activity seems to be centered around.