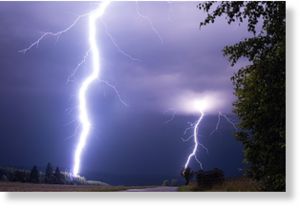 Lightning is the natural force that in any epoch was really scary for people as its strikes bring destruction, death and fires, and leave millions of people deeply shocked.
When the lightning-conductor was invented and tested at the cost of lives of several physicians, the euphoria caused by the apparent triumph was immense. But was the invention the real triumph over the natural forces? That was not a final triumph at all, and we see that every year the number of people killed or injured with lightning is increasing. In France, about one million of lightning stokes are registered every year, and they bring death to dozens of people and some 10,000 cows.
It is not ruled out that the number of victims killed with lightning strikes would be higher if the lightning-conductor were not invented. However, this invention is not an absolutely effective protection from lightning. To be more exact, lightning-conductors wonderfully protect us from "disruption from the clouds", in other words from what lighting was believed to be after electricity was opened.
It is known that lightning obeys to majority of laws on the spread of discharge, but experience shows that not all of them and not always. Lightning consists of electric discharge and something else besides electricity. Otherwise, people do not know exactly what electricity is. Majority of weather forecasts precisely name the days when lightning is possible, but there is hardly a forecast that can predict how lightning will behave in this or that case. What is more, lightning behavior is in most cases beyond understanding indeed.