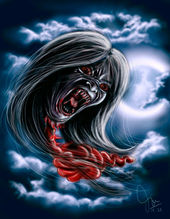 Hundreds, if not thousands, of residents of the Bali arts community of Ubud experienced a supernatural phenomenon when a giant fireball moved across the community on Monday night, March 31, 2014.
Known locally as a
"leak"
- flying fire balls are thought to be the incarnation of black magic practitioners and reside in the psyche of all Balinese, many of who will retell of personal encounters with the leak phenomenon.
The leak that visited Bali on March 31 was estimated to be the size of a large chicken cage.
The fireball first appeared on Monday night at around 11:00 pm in a position atop the
Bale Kulkul
at
Bale Banjar Taman Kelod,
just east of the
Puri Agung Palace
in Ubud.