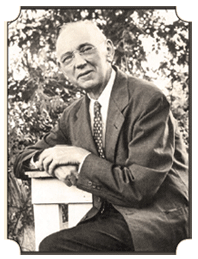 He predicted two World Wars, their start and end dates, the economic crisis in 1929 and the following economic growth in 1933. He also foretold the defeat of Germans at the Kursk Bulge, the fall of fascism and the victory of the USSR in the Great Patriotic War. They called him the sleeping prophet, as he made his predictions while asleep. He would close his eyes, fall asleep and begin to prophesy. When awake, the prophet would remember nothing of what he had spoken about at night.
This article is about one of the most famous predictors in the history of mankind - Edgar Cayce (March 18, 1877 - January 3, 1945). In the west he is no less famous than Vanga in Eastern Europe. Having no medical education, Cayce could successfully diagnose and cure people. Last year saw 130 years since Cayce's birthday.
A month before his death, when the Red Army victoriously walked through Europe, the prophet predicted the fall of communism and the collapse of the Soviet Union. He also said that Russia would successfully meet the after-communism crisis "by friendship with the nation which trusts in God even on its banknotes. "Through Russia, comes the hope of the world. Not in respect to what is sometimes termed Communism or Bolshevism -- no! But freedom -- freedom! That each man will live for his fellow man. The principle has been born there. It will take years for it to be crystallized; yet out of Russia comes again the hope of the world," he said.
He also believed that those nations who would be in good relations with Russia, would live better, gradually changing the whole world for the better. Thus, Cayce's visions came true. The USA and the U.S. dollar in particular really left a mark on the post-perestroika Russian history; and those countries that maintain friendly relations with Russia live perfectly well thanks to Russian oil and gas. But what would happen next?