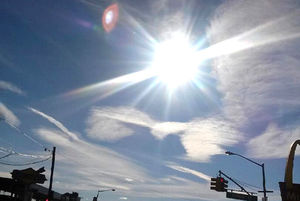 Several residents of the Hunts Point area in the Bronx reported spotting UFOs on Saturday night. Many of them called 911 to report their sighting, but when a reporter called for more information, the NYPD threatened to hang up.
According to the
New York Post
,
residents in Hunts Point began reporting bright objects shooting across the sky
at around 6:30 pm on Saturday, April 25, 2015.
Although many say they called 911, a story in the
Inquisitr
reports that the authorities were not very keen to talk about it. According to a
tweet
by a
New York Times
reporter, when he called the NYPD he was told that if he asked about the UFO he would "hear a dial tone."
The reporter, Liam Stack,
tweeted later
, "Pro tip: the NYPD public affairs office really does not like it when you call on a Saturday night to ask about UFOs in the Bronx.