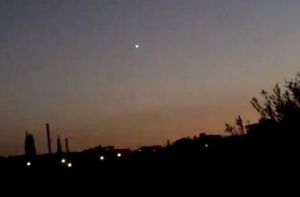 A resident of Limassol has been left stunned after spotting what appeared to be a UFO in the sky above the city.
The resident, who is unnamed, left a statement along with amateur footage on Youtube claiming that: "I saw this strange light hovering on the sky which also changed colours to green. At first I thought it was a plane but as it got closer this thing was quite big and was hovering on the sky for about an hour and 5 minutes."
The photographer zoomed in on the object - but was still unable to identify what it could be.
The crystal clear video, which was filmed at the end of September, shows what appears to be a UFO floating above the city.
The object, which looks like a bright white ball of light slowly moves around, with the photographer capturing its every move.