A young mother has told how she saw a mysterious silver object hovering in the sky above her house this morning.
Elyse O'Neill, 26, took these photographs on her smart phone after spotting what she described as a car-sized, silvery object above her back garden in Wallis, Pembrokeshire, early today.
The mother-of-one said she watched as the UFO split into two, reconnected, and then flew off.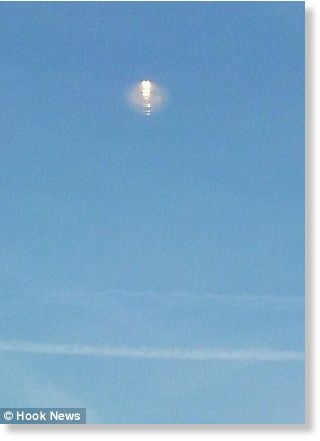 She said: 'I was standing in the garden at 6.45am smoking a cigarette when this thing shot across from the moor over on the right, and stopped right in front of me.
'It was so bizarre, it took my breath away.
'I ran inside to get my phone. There wasn't enough battery left to film it, but there was enough to take pictures, so I started snapping away.
'It was hovering, spinning like a top, and as I watched it, it split up vertically into two pieces.'