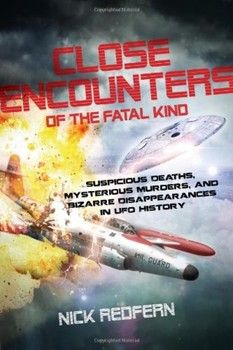 New Q&A with Nick Redfern on "Close Encounters of the Fatal Kind: Suspicious Deaths, Mysterious Murders, and Bizarre Disappearances in UFO History" due out June 23rd from
New Page Books
.
1.
Can you tell us about the suspicious deaths that surround the Roswell UFO crash of July 1947?
ANSWER:
In the book I talk about the
suicides and early deaths of a number of people involved in the Roswell case
. They were deaths that extended from 1947 to the 1980s, and included one of the sons of rancher Mack Brazel (who found the strange debris in Lincoln County, New Mexico), and a woman named Miriam Bush, who was found dead in a hotel room in 1989. She was the executive secretary at the Roswell base hospital back in 1947 and confided in her family that she saw small, strange bodies brought into the hospital in the summer of 1947.
2.
What is the truth behind the deaths of two military personnel involved in the recovery of alleged UFO debris at Maury Island, Washington State in 1947?
ANSWER:
The Maury Island case is a very weird one. It focuses on the alleged mid-air explosion of a flying saucer over Maury Island in June 1947. Harold Dahl, the man who recovered some of the debris that rained down, was threatened by a Man in Black. Two military investigators, 1st Lt. Frank Mercer Brown and Capt. William Lee Davidson, were killed when their aircraft - carrying the debris to Wright Field for analysis - crashed. Two local media men died in the wake of the affair too: Ted Morello and Paul Lance. Extensive files on the case have surfaced from the FBI, via the Freedom of Information Act.