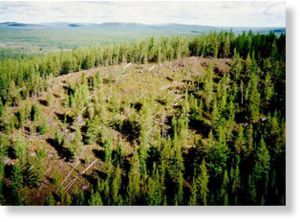 Tunguska anomaly, Krasnoyarsk region
Tunguska event - an enormously powerful explosion that occurred near the PodkamennayaTunguska River in what is now Krasnoyarsk region, Russia, on June 30, 1908. A number of theories based on UFOs have claimed that theTunguska event was the result of the activities of extraterrestrial beings and the Tunguska event is often referred to as "the Russian Roswell". The area has become a centre of a number of Siberian anomalies, and there are dozens of hypotheses on the reason for the blast.
Officially, the blast is believed to have been caused by an air burst of a large meteoroid or comet fragment at an altitude of 5 - 10 km above the Earth's surface. The energy of the blast was about 1,000 times more powerful than the atomic bomb dropped on Hiroshima and about one-third the power of the Tsar Bomba, the largest nuclear weapon ever detonated.