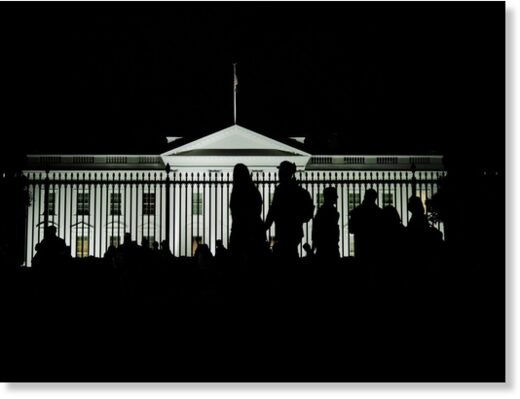 Complexity, conflicts and grave national security concerns.
Unidentified Anomalous Phenomena (UAP) language, which could be included within the 2024 National Defense Authorization Act (NDAA), has created alleged divisions among executive branch colleagues in Washington, D.C.
But may some of these apparent divisions stem from conflicts of interest?
Firstly, let's look at Lloyd Austin, U.S. Secretary of Defense.
As reported by journalists Michael Shellenberger, Andrew Mohar, and Phoebe Smith within the publication known as
Public
,
sources have alleged that Austin is attempting to undermine a UAP amendment included in draft NDAA legislation.
Sources have confirmed to Liberation Times that these aforementioned allegations are indeed correct.
Austin is a former board member of the defense contractor Raytheon Technologies
, which may have at least partially influenced his need to express concerns about the Schumer amendment.
The Schumer amendment would grant the U.S. Government the
power of eminent domain over materials and biologics of non-human and unknown origin potentially held by defense contractors
.
Setting aside his former direct ties with Raytheon,
Austin allegedly fears such language (if passed into law) could jeopardize national security
.
But where did the Schumer UAP language originate from in the first place?
As previously reported by Liberation Times, the amendment, introduced by Senate leader Chuck Schumer, was
drafted in collaboration with White House officials
.
Secretary of Defense Austin's senior colleagues within the White House do not necessarily share his UAP-related National Security concerns.
Liberation Times understands that officials within the White House, including President Joe Biden's National Security Advisor Jake Sullivan, decided the Schumer amendment was required, at least in part,
after serious national security-related UAP disclosures were made by former senior intelligence officer David Grusch
.
But one of the main catalysts for the legislation occurred in February 2023, following the shootdowns of three unidentified objects.
Following the shootdowns, a senior naval commander is purported to have approached Jake Sullivan, which led to the White House learning about alleged crash retrieval and reverse engineering UAP programs
,
something previously reported by Australian journalist Ross Coulthart
.
The differing opinions between Jake Sullivan and Lloyd Austin represents just one aspect that might concern those who value transparency and honesty on the UAP issue.
And there's potentially more to it.
If Austin is opposed to transparency, then that
raises questions about the oversight of the Pentagon's UAP office
, known as the All-domain Anomaly Resolution Office (AARO), which is
led by his deputy, Kathleen Hicks
.
While the AARO's Director, Dr. Sean Kirkpatrick, searches for alleged UAP programs, it appears that those at the highest levels of government, such as Austin and Sullivan, have already been made aware.
In addition to the defense establishment component, there is the intelligence community component relating to potential conflicts of interest and a lack of transparency.
Another aspect of Public's recent article concerns
former Principal Deputy Director of National Intelligence, Stephanie O'Sullivan, who sources claim has knowledge of a UAP crash retrieval and reverse engineering program.
It is unclear whether the current Principal Deputy Director of National Intelligence, Stacey Dixon, possesses such knowledge.
Dixon, as stipulated in previous NDAA legislation, is meant to play an oversight role over the AARO alongside Deputy Defense Secretary, Kathleen Hicks. However, the Office of the Director of National Intelligence (ODNI) has yet to confirm whether she has assumed this role.
If Dixon did possess greater awareness regarding UAP programs, then it may present a conflict of interest, given that the AARO is still attempting to verify the existence of such UAP programs.
As reported by Public, the Intelligence Community's Inspector General (ICIG), Thomas A. Monheim, on 15 September, stated that his office "has not conducted any audit, inspection, evaluation, or review of alleged UAP programs within responsibility authority of the DNI that would enable ... a fulsome response."
Matthew Pines, a civilian intelligence analyst has
noted on the social media platform, X
, that this excluded the word 'investigation'.
And Liberation Times is aware of multiple interactions between UAP whistleblowers and Monheim's office relating specifically to Dave Grusch's allegations regarding UAP programs.
One defense intelligence source told Liberation Times:
"I am highly surprised by the most recent response by the Intelligence Community Inspector General . I am personally aware of several individuals who have spoken to the ICIG at length and in an official capacity.

"This being the case, if the ICIG is not conducting an official inquiry into these matters, then why waste taxpayer dollars and people's time for an effort that doesn't exist? Something doesn't seem right with this scenario."
It is unclear why the ICIG is so cautious in confirming its active investigations into UAP programs.
However, Liberation Times is aware that neither the ODNI nor the ICIG can confirm the emergence of whistleblowers, including David Grusch, or reference their cases, due to the whistleblower protections they are obligated to uphold.
Monheim may wish to turn his attention to Stephanie O'Sullivan though.
O'Sullivan, who, according to Public, has denied her awareness of a UAP program to Vice Chair of the Senate's Intelligence Committee, Marco Rubio, now serves on the Board of Trustees of the Aerospace Corporation.
Sources have highlighted to Liberation Times that
O'Sullivan's previous roles within the CIA as critical to explaining her apparent denial of UAP programs to Senator Rubio
, as reported by Public.
O'Sullivan was Deputy Director of the CIA's Directorate of Science and Technology
, before becoming the agency's Associate Deputy Director.
The CIA may play a key component in any alleged crash retrieval program and could look to exploit UAP technology for its own uses. Although this is speculation, it potentially (if claims are proven true) explains why O'Sullivan's former roles caused her to deny knowledge, as claimed.
But that's not O'Sullivan's only potential conflict of interest. Another is the Aerospace Corporation, where she currently works.
Why? Because the Aerospace Corporation appears to be collaborating with the AARO.
Its Director of OSD Support, George Tromba, wrote on LinkedIn:
'We are hiring initial cadre supporting DoD's new All-domain Anomaly Resolution Office (#AARO) as they go where the science takes them in research and analysis of Unexplained Aerial Phenomena (#UAPs). Please DM if you'd like to discuss these opportunities further.'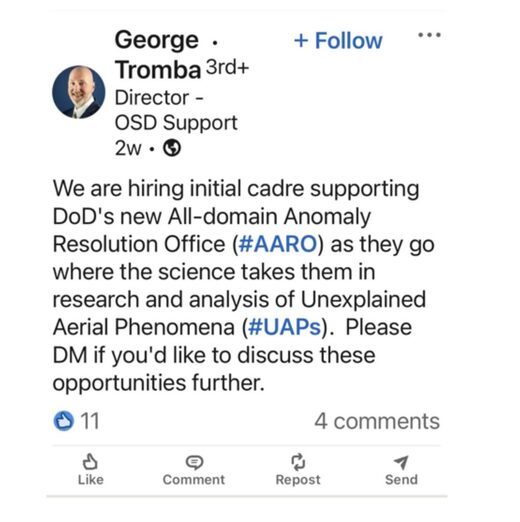 If this information is accurate,
then O'Sullivan is in a difficult situation, as the AARO is actively seeking information on programs she may already be aware of.
But perhaps the Aerospace Corporation retains greater knowledge regarding potential UAP programs than one may imagine?
For instance, it employs Dr. Eric Davis.
In 2020, Davis
told the New York Times
that he gave a classified briefing to a Defense Department agency about retrievals from "off-world vehicles not made on this earth."
Therefore, knowledge about alleged programs isn't perhaps new to the company.
And when it comes to the nature of UAP, the Corporation may be aware of some of the most alarming aspects.
Sources have told Liberation Times that the
presence on the Aerospace Corporation's website
of a historic agreement from 1971 between the USA and Soviet Union to prevent nuclear war is significant.
The treaty, in Article III, states:
'The Parties undertake to notify each other immediately in the event of detection by missile warning systems of unidentified objects, or in the event of signs of interference with these systems or with related communications facilities, if such occurrences could create a risk of outbreak of nuclear war between the two countries.'

This is thought to be a reference to UAP, following incidents whereby unknown objects were mistaken as intercontinental ballistic missiles, almost sparking a doomsday scenario.
With these conflicts of interest present within Washington, D.C., coupled with its revolving door relationship with defense contractors, both former and current members of the executive branch may find themselves treading a fine line and aware of the potential legal implications at hand.
Furthermore, the CIA's Science and Technology directorate is something to consider and may come under increased scrutiny within the halls of Congress over its potential involvement in any UAP coverup.
The current situation reflects conflict. Conflicting views on the new UAP language, and perhaps conflicts of interest.
What is Lloyd Austin truly concerned about - national security or the interests of Raytheon Technologies?
And whose interests are Stephanie O'Sullivan acting on behalf of, those of the American public and democratic oversight, or the CIA and the Aerospace Corporation?
There are now allegations floating around about present and former senior executive officials regarding UAP programs. If true, such officials could be implicated in a monumental coverup and significant proportions.
One could argue that the only hope is that the Schumer amendment passes, allowing the White House to position itself as the driver of transparency through an official disclosure process, rather than the keeper of secrets.