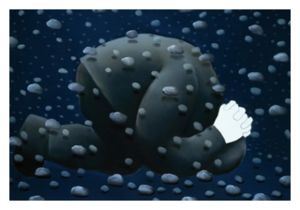 Throughout history, there have been numerous recorded instances of strange objects falling from the sky - fish, frogs, candy, jellyfish, beans, nuts, seeds, and all manner of bizarre and unlikely objects.
A popular theory explains these events as being caused by strong winds that whisk things up from the ground or water and hurl them towards an unsuspecting town many miles away.
But can this theory also explain showers of heavy stones that have been known to damage houses and even kill people and livestock?
A Long History of Raining Objects
One of the first recorded instances of "raining" objects comes from the writings of Roman philosopher and naturalist Pliny the Elder, who documented storms of frogs and fish in the 1st century A.D. in what is now Italy. In the 3rd century A.D., ancient Greek rhetorician and grammarian Athenaeus wrote in his work
The Deipnosophists (Book VIII)
:
In Paeonia and Dardania it has, they say, before now rained frogs; and so great has been the number of these frogs that the houses and the roads have been full of them; and at first, for some days, the inhabitants, endeavoring to kill them, and shutting up their houses, endured the pest; but when they did no good, but found that all their vessels were filled with them, and the frogs were found to be boiled up and roasted with everything they ate, and when besides all this, they could not make use of any water, nor put their feet on the ground for the heaps of frogs that were everywhere, and were annoyed also by the smell of those that died, they fled the country.
Since then, numerous other unusual instances have been documented, including a storm in Italy in 1840 that deposited thousands of partially germinated Judas Tree seeds native to Central Africa; a dusting of sugar crystals in 1857 in Lake County, Calif.; a rain of hazelnuts over Dublin, Ireland, in 1867; live pond mussels in Paderborn, Germany, in 1892; and jellyfish in Bath, England, in 1894.