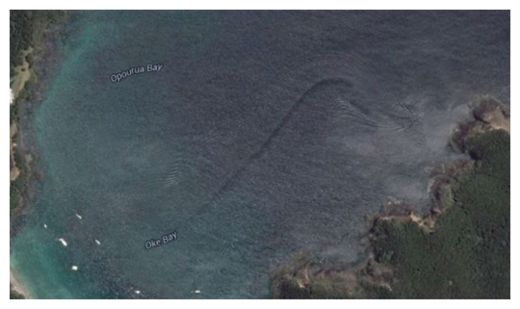 A mystery sea creature seen on Google Earth is suspected to have caused an
unexplained wake in New Zealand's ocean waters.
Opposing Views reports that last week an
unusual wake
was seen at Oke Bay of the Bay of Islands located in the Far North District of the country's North Island.
Pita Witehira of Hamilton, New Zealand, found the interesting image on Google Earth while he was doing some holiday research. The unidentified creature is thought to be around 40-feet long, judging by the size of the wake.
Witehira rules out a boat causing the wake since white froth wasn't seen in the water. He has a different explanation for it.
"The Native Maori would call this a Taniwha ('Troll') as it appears not to be a whale and it is far too big to be a shark. It is moving too fast and turning too sharply to be a whale."
The Google image was reportedly captured by satellite around 11:30 a.m. on January 30 of this year.