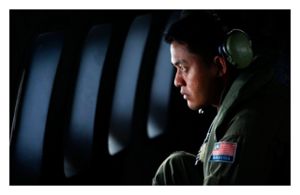 Australia admits it may look at a new patch of ocean. What's more worrying than the undiscovered yet is that not one piece of floating wreckage has been spotted where it should've washed up.
Something significant was missing when senior ministers from Malaysia, Australia and China announced a new effort to find the wreckage of Malaysia Airlines Flight 370 on Thursday.
There was no mention of what is fast becoming the most perplexing feature of this multi-layered mystery: why has no floating wreckage turned up?
Make no mistake, the more time that passes without a single piece of floating wreckage being found the stranger it gets.
There is no previous case in the history of modern intercontinental jets where a crash into an ocean has not produced floating wreckage - and within days of the disaster.

No matter how violent the impact of an airplane hitting the water there will always be some scattered debris that never sinks.
Last fall the Australian Transport Safety Board, who are directing the sea search for the Boeing 777, said they had assigned a team of experts usually used to predict the path of oil spills to produce a "drift model" - a highly sophisticated calculation combining ocean currents, wind and weather patterns and knowledge of the buoyancy of airplane wreckage - in order to predict when and where wreckage from Flight 370 would appear in places where it would be spotted.
At that time the Australians said that their best guess was that wreckage could take as long as a year to appear and that the most likely place was the long coastline of Western Sumatra on the Indonesian archipelago.
With more than a year gone by nothing has turned up.