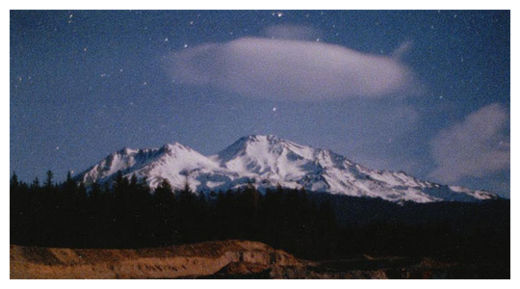 When you first catch sight of Mt. Shasta, you feel there is a great medicine centered there, as though God put it in the middle of the dark plains of Northern California just to relieve the sight of deep green forests with a crystal peak of blazing white. It stands alone, rising high above the surrounding hills, collecting clouds out of nowhere which circle around its peak like a lonley tribe dancing around a fire. All the strenuous heights of the surrounding ranges look like little ant mounds from the upper slops of this behemoth. The sight of the full moon dancing with dramatic, phantasmogoric clouds as it casts a great halo over the misty hillsides below, helps you believe that perhaps you really are standing on the
axis
mundi
- the place where heaven and earth meet... Until you get kicked out for drinking wine in a spiritual healing circle. (But I'm Irish! How else do I heal my spirit!)
Half of those who believe the mountain is holy are making a dollar at it, exploiting its global reputation as a spiritual retreat with outrageously priced "vortex tours" and "spiritual attunement workshops." The other half are poor as pigeons, living in the forests in little tents or shrub huts even through the snow-heavy winter and the sun-blasted summer, striving for the upper branches of human consciousness in the place where "earth ends and heaven begins."
Who dwells here but bearded yokels, skinny-dipping hippies, and crystal-gazing con artists?
Legends dwell here. And plenty of them!