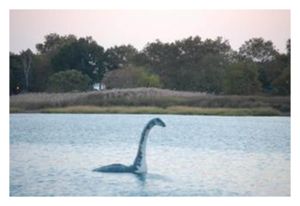 A TV documentary is to investigate the existence of Scotland's other monster -Morag, who is reputed to live in Loch Morar in Lochaber.
More than 30 sightings of Morag date back to 1887 and at least 16 involve multiple witnesses.
In 1948 "a peculiar serpent-like creature about 20ft long" was reported by nine people in a boat, in the same place as the original 1887 sighting.
The best known encounter, in 1969, involved Duncan McDonnel and William Simpson, and their speedboat, with which they claimed to have accidentally struck the creature, prompting it to hit back. Mr McDonnel retaliated with an oar, and Mr Simpson opened fire with his rifle, whereupon it sank slowly out of sight.
They described it as being brown, 25 to 30 feet long, and with rough skin. It had three humps rising 18 inches above the loch's surface, and a head a foot wide, held 18 inches out of the water.
The Loch Ness Investigation Bureau expanded its search to include Loch Morar in February 1970.