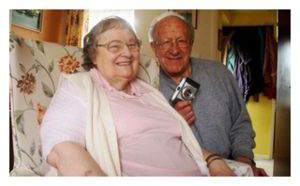 Diane Berthelot had been unwell for months after having her gall bladder removed and was taking antibiotics for an infection when she went into Worstead village church in Norfolk to rest and escape the heat.
While she sat on a pew close to the font and prayed for a full recovery, her husband Peter and son David wandered around the empty church taking photographs.
Mrs Berthelot remembers vividly tingling all over and feeling "warm and comfortable" while sitting on the wooden bench with her eyes closed and head bowed.
When she felt better the family left the church and did not think about the incident until six months later when the camera film was developed and they held a slide show of their holiday snaps for their lodger at their home in Chelmsford, Essex.
One photo clearly showed a woman wearing a bonnet and dressed in light-coloured, old-fashioned clothes, sitting facing Mrs Berthelot on a bench directly behind her.
She said: "When we saw the white figure sitting behind me on the projector screen, we just stood there with our mouths open."